'Life In Pieces' Season 2 Is Cause For Celebration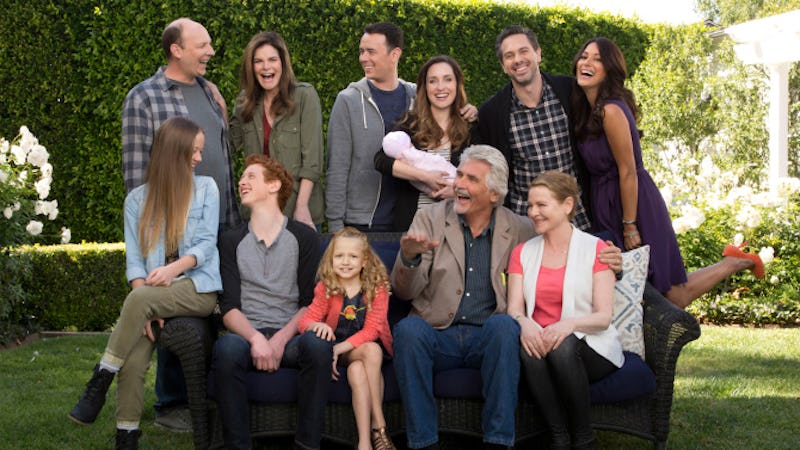 Great news, Life in Pieces fans, the family that you know and love is coming back for more hijinks and hilarity. TVLine reported on Wednesday that CBS has renewed Life in Pieces for Season 2, and I think this calls for a major celebration. Because the show did incredibly well for a new series. In fact, it ended its first season as the number one new comedy of the season. That might have something to do with the fact that it followed another CBS hit, Big Bang Theory, but I think it has more to do with the fact that the show is downright hilarious. After all, not even the laziest of Big Bang Theory fans are going to stick around for a show that's no good. No, I think Life in Pieces' success has more to do with the amazing writing, the complicated family dynamics, and the hilarious scenes that kept fans coming back for more.
So let's celebrate this show's amazing success, shall we? To do so, here are some of the funniest moments from the show's inaugural season. Put your feet up. Grab some popcorn. And enjoy the funniest moments from Season 1 of Life in Pieces while you wait for Season 2 to bring even more.
The Time They Got Really Serious About Ping Pong
Serious doesn't necessarily mean graceful.
The Time They Loved Each Other So Much
Whoever said moving was easy on a family probably never had to do it themselves.
The Time Matt Dated His Coworker
And it made for some really awkward office exchanges.
The Time Colleen Met The Whole Crew
With a family that size, hijinx were bound to happen.
The Time Date Night Went Really Awry
It's not a Friday night unless someone ends up in the hospital.
The Time Tim Made Up For His Poor Gift Giving
Who wouldn't be thrilled with a game of Bible Chess?
The Time Matt Walks In On His Parents
All the more reason to move out of the garage.
The Time Jen Gave Birth
And it wasn't nearly as beautiful as everyone makes it out to be.
The Time Tyler Got A Girlfriend
And no one knew how to... react.
The Time The Family Gave Thanks
It wasn't exactly heartfelt.
Moments like these are exactly why I'm so glad that Life in Pieces is coming back for another round of hilarity.
Image: CBS