The 'Gilmore Girls' Revival Is Finally Complete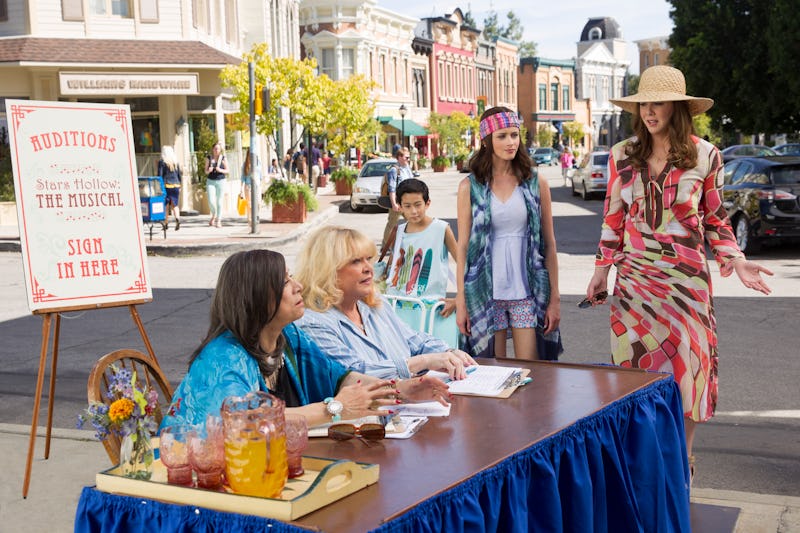 According to Luke Danes (played by actor Scott G. Patterson), Netflix's highly-anticipated return of the early-'00s series, Gilmore Girls , has finally wrapped filming. Which means that it's time to rejoice, because there is only post-production standing between you being able to finally watch the four extended episodes of more Stars Hollow. However, in actor's excited tweet, he joked that there might be a chance that the Gilmore Girls revival could do more than just make fans' dreams come true. Patterson joked that Lauren Graham might land the Gilmore Girls revival an Emmy nomination nomination.
If you've followed the show since it's original days, you would know that, while Lauren Graham has been nominated for both a Golden Globe and a Screen Actors Guild Award for her performance as Lorelai Gilmore, she has yet to be nominated for an Emmy. And, as far as Emmys go for the beloved comedy, the furthest they have come was one Emmy nomination and win for Outstanding Makeup For A Series in 2004. Even though Patterson was likely joking, I think that now it's finally time for the Emmys to start to give recognition to the actors who play the wacky characters on the show.
The eligibility period for this year's 70th Annual Emmy Awards lasts from June 1, 2015 to May 31, 2016 — and the mini-series won't be premiering until the end of 2016 — so, unfortunately, they miss the cut-off for the September 18 live-taped show. However, the Gilmore Girls: Seasons (as the new revival is called) series will then qualify for the 2017 Primetime Emmy Awards instead. And, hey! Who really cares about waiting if it means we'll get to see Lauren Graham go up on stage to receive an Emmy? Lorelai Gilmore would be so proud.
Alas, 2017 Emmy nomination and win or not, if there's one thing that Patterson's excited tweet means it's this: The storylines and acting work in the show is going to knock our socks off. Just thinking of Lauren Graham's performance being Emmy-worthy means that we could be expecting the huge outburst from Lorelai that she's been holding in for years. Whether it's moments of heartbreak, joy, or anger, this cast is ready to deliver one straight year of intense life in Stars Hollow. So all I have to say is bring it on.
Images: Saeed Adyani/Netflix