Sports Fans Might Know This 'Bachelorette' Suitor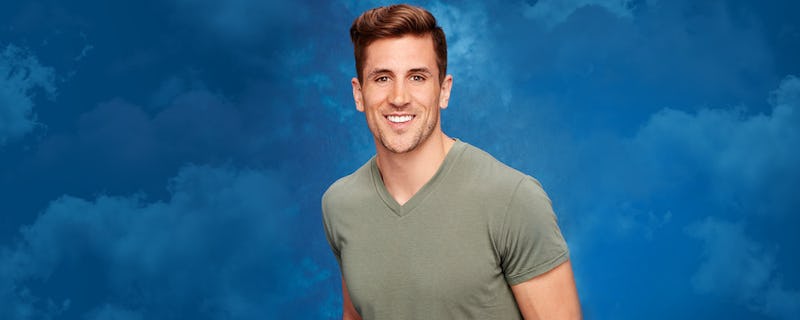 A mere 12 days stands between us and the premiere of The Bachelorette Season 12, and now we know the 26 suitors who will all be vying for JoJo Fletcher's affections. Among them are guys named Chad and guys named Chase, guys in kilts and guys in Santa Claus costumes. (I'm not kidding.) But there's at least one face in the group of handsome contestants that at least some viewers will probably recognize: "former pro quarterback" Jordan Rodgers. I'm not sure what the demographic overlap between hardcore sports fans and hardcore Bachelorette fans is, but at least some of you are freaking out right now while the rest are scratching their heads in puzzlement. Who is Jordan Rodgers… and why does he sorta look familiar?
Well, it turns out there's a good reason: not only has he played pro football himself, but he has a prrretty famous older sibling in the same line of work. 27-year-old Rodgers got his start in the NFL in 2013, when he signed as a free agent with the Jacksonville Jaguars — but was released only a few months later because he had missed most of the off-season workouts due to a hernia surgery, according to FOX Sports.
He was also briefly signed to both the Tampa Bay Buccaneers and the Miami Dolphins in short succession, but was ultimately cut by both teams. After those three strikes, Rodgers briefly turned his attention to our neighbors up north, signing with the BC Lions of the Canadian Football League… before retiring from the field to instead become a sports broadcaster, according to the Vancouver Sun.
That may not sound like the most illustrious resumé in all of professional sports, but, to be fair, it would be hard for anyone to measure up to the storied career of Jordan Rodgers' older brother, Aaron. If that name sounds a tad bit more familiar, there's good reason: 32-year-old Aaron Rodgers has been the starting quarterback for the Green Bay Packers for the past eight seasons, ever since legendary QB Brett Favre left the team for the New York Jets (and then the Minnesota Vikings) in 2008. In that time, he has led his team to victory against the Pittsburgh Steelers in Superbowl XLV — and himself to two NFL Most Valuable Player awards, in 2011 and 2014.
Although Jordan has long existed in his brother's shadow, he's now primed to break out into the spotlight: Bachelorette host Chris Harrison himself told Yahoo! that Rodgers is one of the "five men to watch" in Season 12. "JoJo has a spark with him right off the bat," Harrison teased.
The billion-dollar question is if he is here to extend his fame or find love. Is he just there trading on his brother's name? Is he here to make a run to be the next Bachelor? JoJo is very smart and has a good BS meter. Jordan was one of those guys from the beginning that she was very taken with, but also very leery of for that exact reason. She keeps an eye on him. He's got game and is very good at wooing JoJo, but she sometimes has a feeling about it being potentially too good to be true. We'll see if she asks the tough questions even if she won't like the answer.
Jordan Rodgers shouldn't be too worried if his broadcasting career doesn't work out: between his status as one of The Bachelorette's most exciting suitors and his recent cameo in Pitch Perfect 2 , it looks like Hollywood is ready to welcome the hunky footballer with open arms.
Images: Craig Sjodin, Rick Rowell/ABC