11 Comedy Memoirs If You Need A Laugh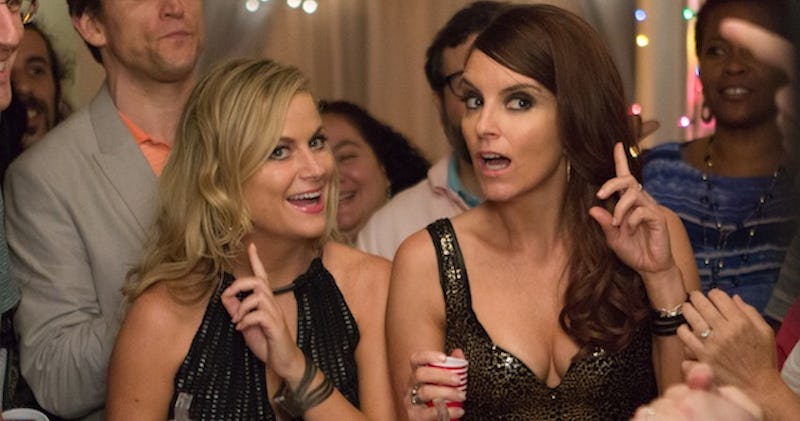 A good comedy memoir is the best medicine on Earth (note: I am not a doctor). Everyone has their go-to genre to cheer up. When life gets you down, you might peace out to Westeros or Narnia. Or when you find yourself in the doldrums, you might reach for a hefty work of literary fiction to help you wallow. But for me, at least, the best attack on a gloomy mood is a well-written comedy memoir.
I was bitten by the funny memoir bug when I was about 10 or 11. My favorite musical at the time was Gypsy, and some negligent adult allowed me to check Gypsy: Memoirs of America's Most Celebrated Stripper out of the library. I was embarrassed to read it in public, because the cover was just as scandalous as you might think. And I'm sure a lot of the stuff about early burlesque theatre flew right over my head. But I loved the way that Gypsy Rose Lee looked back on her dysfunctional family with humor. I loved peering into someone's strange and sometimes sad past, but more than anything, I loved the way she could spin tragedy into comedy.
Some memoirs exist to give you a new perspective on life, or to remind you that people can overcome adversity. These memoirs exist because sometimes you just have to look back at your life and laugh:
If you're a Tina Fey fan, chances are you've already read this book at least twice. Consider this an invitation to read it again (or for the first time, even if you don't know much about Tina Fey). Fey writes about her awkward childhood, her years as a struggling twenty-something trying to break into comedy, and her rise to SNL fame. But she also has time to skewer the beauty industry and the "boy's club" of TV, and just generally inspire her readers to be as bossy and as funny as possible.
Steve Martin started his career at age 10. So he has plenty of comedic memories to go around. This book is funny, of course (it's Steve Martin). But it's also candid and, at times, heartfelt. Martin chronicles his life in comedy from his start as a teenaged magician in Disneyland, but he also paints a portrait of the era he grew up in, and of the trials and tribulations of starting out so young.
I, like everyone else on this planet, wish that Mindy Kaling could be my best friend. But she's probably too busy (and she lives on the other side of the country), so I'll have to settle for re-reading her first memoir. It's the perfect blend of bubbly, snarky, honest, and sheer fun. It's like a sleepover with friends, except you also get to hear about Kaling's adolescent awkwardness and her opinions on rom-coms as a sub-genre of science fiction.
Writing a book, as Amy Poehler reminds us several times in Yes Please, is very hard. But in this case, the hard work has paid off. Poehler is hysterically funny and inspirational, of course, because that's who she is. But she's also made of stern stuff, and her book is a testament to how strong you have to be to make your living as a funny woman.
Issa Rae is the creator of a hit web series, but, according to her memoir, she's also a hugely awkward introvert (and she's not shy about saying so). Her collection of essays is full of insight and honesty, but she has a gift for turning her misadventures into hilariously identifiable stories. It's not quite the same as her acclaimed web series, but it's a far more personal, and equally funny, piece of writing.
You might be noticing a slight pattern here: a lot of these comedic memoirs are written by people with painfully, unrelentingly awkward childhoods. Jenny Lawson is no exception, but she does take it to the next level. Her memoir is all about those excruciating moments that define us. And she doesn't pull any punches.
7. Harpo Speaks! by Harpo Marx and Rowland Barber
For the old school comedy fan, you can't get much more classic than the Marx Brothers. (If you've never seen a Marx Brothers movie, please do so at this time. I'll wait.) Harpo, famously mute onscreen, finally gets a voice in this absurdly funny, outrageous memoir. He writes about growing up in poverty, clowning his way to the top, and getting up to no good with the cinema and literary greats of the 20th century.
Look, I know David Sedaris is old news by now. But damn is he funny. There's a reason his comedic memoirs are so widely read. He doesn't just crack jokes or try to get by on shock value: he digs down deep into the recesses of his childhood and his offbeat family history, and he uncovers gem after gem. And Me Talk Pretty One Day is quite possibly the funniest memoir ever he's written.
If you've ever said, "Who's that one woman from SNL? The Debbie Downer lady? Where'd she go?" this book has all the answers. Rachel Dratch is an actress and comedian by trade, so of course she's ready with zany stories about showbiz and being typecast as trolls. But she also has some sharp observations on life, love, and a late-in-life unexpected pregnancy.
Celebrity chef Eddie Huang is also a hilariously gifted writer and comedian (because life is unfair), and his memoir is a candid look at growing up in theme-park America. It's got humor, family, and, most importantly, food. What else do you want in a memoir?
No list of funny memoirs is complete without Allie Brosh. Very few other cartoonists could cover everything from dogs to cake to depression with the heart and humor of Hyperbole and a Half. The illustrations are laugh-out-loud funny on their own, but Brosh's writing makes this memoir into the chaotic, hilarious book that it is.
Images: Universal Pictures