'Catfish' Goes Back To Its Love Triangle Roots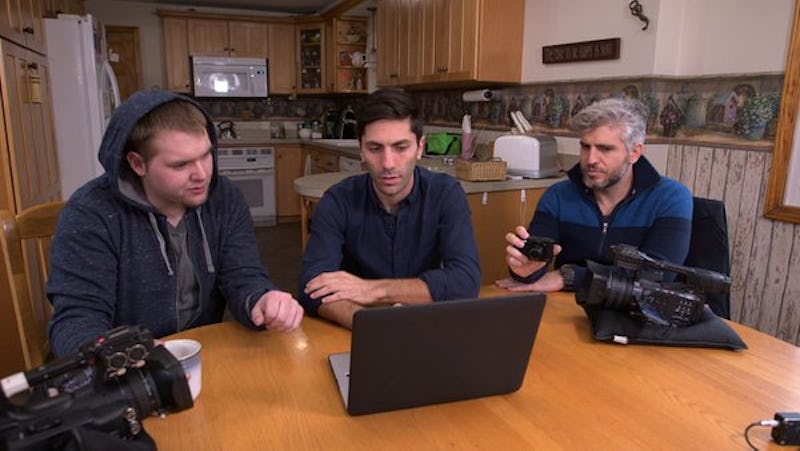 Sad but true: This season of Catfish is coming to a close — for now, anyway. And in Wednesday night's midseason finale, we got a doozy of a story to hold us over until new episodes are back on MTV. In the latest edition of Catfish , Vince and Alyssa started as a love story online, but slowly, their relationship ruined Vince's real life. Yikes!
As Vince and Alyssa's story goes, they dated exclusively online because Alyssa was always full of excuses about why she couldn't meet up — a classic Catfish tale if I've ever heard it. But eventually, they broke up and Vince started dating a girl named Liz for almost two years... until it all came crashing down. Alyssa started trying to contact Vince again, and although he rebuffed her advances, she just kept trying to call him. Not even him changing his number could stop her from tracking him down, and eventually, it ended up ruining Vince's relationship with Liz.
Now, Vince's goal is to find out who Alyssa really is and get Liz back. That's a lot to accomplish, but if anyone can get it done, Nev and Max can.
And there's a little bit more to the story, too. According to Alyssa, she not only lost her mom to breast cancer, but was diagnosed herself, and at that point, her cousin Melissa would text Vince with updates. But Vince didn't believe this story, so he split, and it wasn't long after when he met Liz.
The obvious questions we're left with is: Is everything Alyssa told him true? Right away, we know it's not, because Nev and Max get ahold of the real Alyssa — the one the woman Vince had been talking to stole her photos (and name) from. Next step: Meeting up with Liz, which happens at a coffee shop the next morning. The reason their breakup happened was because all this time he'd told her that he and Alyssa had met in person before... until he told her he was going to be on Catfish, and she put the pieces together. Liz just can't get over the fact that Vince lied to her.
But Vince still needs to get closure, so after getting "Alyssa" to agree to a meeting, off they go to Indiana. When they arrive at her house, they find out that she's actually "Alyssa's" cousin, Miranda, and she lied about everything — not just her name and appearance. She didn't have breast cancer and neither did her mom, but Vince isn't innocent here either. He's actually been flirting with Miranda too, so Liz was right not to trust him.
In the end, Liz decided she doesn't want to be in this relationship after all, and Vince vowed to change his ways for his next relationship. And as for Miranda? Like lots of Catfish, she was bullied as a kid and used this as a way to gain her power back. She admitted that she's even gone so far as to find a plastic surgeon to change the way she looks.
But after a long talk with Nev and Max, it seemed like she might be able to get to a better, more confident place someday, and I hope she does. And in the update, it seems like she is doing way better. As for Vince, he's MIA, but Liz agreed to talk and she's doing much better. This may have been one complicated love triangle, but I'm glad that Catfish was able to send us into the hiatus on a high note, with both Liz and Miranda in a happier place.
Image: MTV