Which James Is Which On 'The Bachelorette'?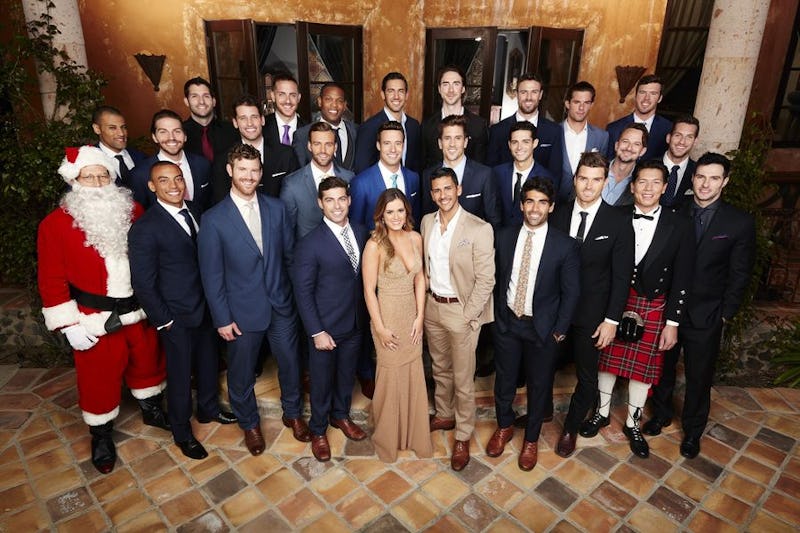 With the announcement of The Bachelorette Season 12 contestants (yay!), viewers get to see the 26 lucky hunks vying for JoJo Fletcher's heart this season. Though fans have to wait until May 23 to really get a feel for the guys and their personalities, ABC has already released their photos and bios — which, when you think about it, is kind of like the equivalent of looking at their online dating profiles (if they had any). So, go ahead and pick your early favorites — while you're at it, let's distinguish between James, James, and James. Because yes, there are three different contestants named James, and yes, I am now attempting to figure out what the plural of their name would be (I'm gonna go with "Jameses").
While the rest of the contestants have typically generic names (there's a Luke, Peter, Daniel, two Nicks, and a Jonathan, just to name a few), the one three-peat offender is James: James F., James S., and James Taylor, because of course. Since the whole "first name and last initial" thing reminds me way too much of elementary school classroom etiquette, there has to be a way to distinguish these guys other than just using the first initial of their last name. And lucky for us, there is!
Get to know the three James below.
James F.
According to James F.'s ~official bio~, he's a 34-year-old boxing club owner, so I'm going to assume he is super in shape. He has three tattoos, but "all are being lasered off," and I need to know why. Dude's clearly in this for the long haul and he "would love to have the marriage my parents have," which I find super endearing. He's also a loving uncle and "sometimes I feel like my heart could burst" around his sister's kids. I approve of you, James F.
James S.
James S. lists his occupation as "Bachelor Superfan," so I imagine he's the kind of guy who live-tweets The Bachelor and is living out his life goal by now being on The Bachelorette. He's clearly romantic (he lists The Notebook as one of his fave movies) and is serious about sex ("I've been intimate with very few women because I think sex is very important and not to be taken lightly," his bio reads). He was also in a relationship for seven years, which shows he's serious about commitment (that ended because his girlfriend wouldn't move).
James Taylor
And last by not least, there is the aptly named James Taylor (seriously), who, like the man I can only assume is his namesake, is a singer-songwriter. He's 29, 6'2", and rocks a stubbly ginger beard. He describes himself as "funny, outgoing, kind" and lists Wedding Crashers as one of his fave films. He seems like a party guy with a big heart — especially based on his answer to the "three things you'd bring with you to a desert island" question:
"Umbrella, cold beer (unlimited supply, of course), and a beautiful woman," he wrote. "I think I could tolerate just about anything under those conditions!"
Mark your calendars, Bachelorette fans: May 23. ABC. Let the James begin!
Images: Craig Sjodin/ABC