The Most Unusual Film The 'Bachelorette' Guys Love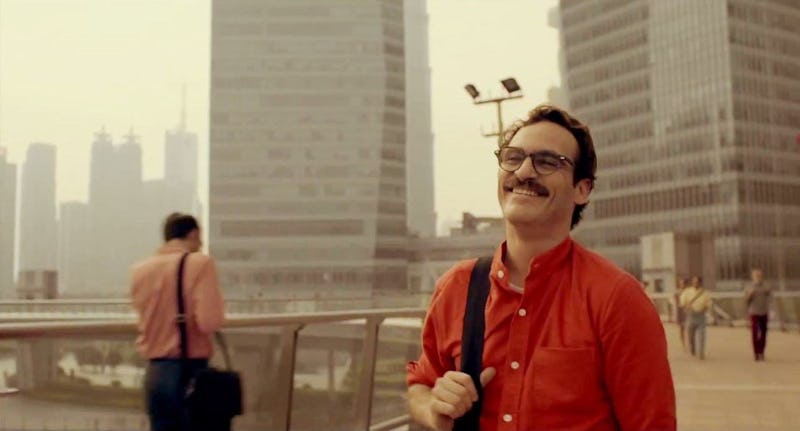 Before the new season of the Bachelorette with JoJo Fletcher premieres on May 23, ABC is letting fans of the reality show get to know the 26 contestants that are vying for Fletcher's heart. These handy questionnaires that each guy fills out gives us a sense of who they are, what they do, how tall they are, and how many tattoos they have. But it also allows them to share the Bachelorette contestants' favorite movie, which may seem silly, but is a helpful hint to what you'll be Netflix and chilling to on a Friday night. Often the choices are similar and to be expected for a group of late 20s, early 30s guys; there are multiple mentions of Gladiator, Star Wars, Dumb and Dumber, Braveheart and Good Will Hunting. But, sometimes, a choice will pleasantly surprise you for not being so on-brand. This season's surprise movie choice, which managed to get two mentions, is Her. Yes, the Spike Jonze indie romance starring Joaquin Phoenix as a man named Theodore who's looking for love and finds it with his computer. And honestly, it's the perfect choice for any Bachelorette contestant.
It's a love letter to those who pine for the days when romance wasn't so technologically advanced. Jonze's film is sweet and small and not what you expect a 27-year-old bartender named Ali to pick to show that he's worth that final rose. (Though, you may expect this choice from Brandon, the 28-year-old whose occupation is "hipster" and who says he wants a "Notebook-style" love story. #sorrynotsorry Brandon) Not because choosing Her isn't a revealing choice about you, but because it's almost too unique of a choice for a mainstream television show like this.
Choosing it doesn't give you any brownie points, because many people will probably just say, "What movie is that?" Her is a romance (an Oscar-nominated one), but on a smaller scale than say The Notebook, which is the go-to choice for men who want to come off as being romantic in a very obvious sense. (Sorry, Chad, the 28-year-old luxury real estate agent who was one of many men who wrote The Notebook as one of his favorite films, but was the only one that in parenthesis jotted down "don't make fun of me." We will certainly not make fun of you, Chad.) The choice of The Notebook is sweet, but it's passé. It's so early 2000s, when you need to get into the 2010s with your romantic movie choices.
Her is an enlightened choice, because it's about a lonely man who's trying to find love in the technology age. He's not afraid to try new things in hopes of finding love, things that others may think seem silly. Even dating a computer operating system. (Though, it should be noted, this OS is voiced by Scarlett Johansson). Theodore is just leaving himself open to the idea of falling in love with anyone he feels a connection with, kind of like what a contestant on the Bachelorette may say is there reason for going on a reality show to find the love of his life. It's about the genuine experience of letting go and allowing romance to find you in new ways.
It's why choosing Her as your favorite movie should at least be enough to keep you until the third or fourth episode. JoJo deserves to see what kind of date guys who pick Her as their favorite movie are capable of planning, right?
Image: Warner Bros. Pictures