7 Lipstick Shades That Are Interview-Appropriate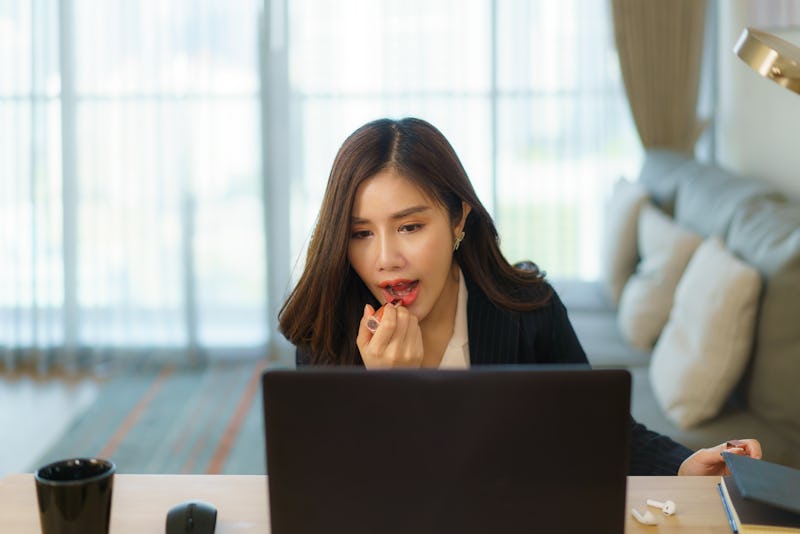 Prasit photo/Moment/Getty Images
Preparing for an upcoming job interview is one of the most nerve-wracking things you can go through. From prepping for interview questions to coming up with your own list of questions to ask afterwards, there's so many things to think about. The one thing you shouldn't have to worry about? Feeling comfortable in your outfit or with your hair or makeup. You want to look polished and professional, but still like yourself. If you're a person who wears lipstick every day, you may be wondering, is it okay to wear lipstick to an interview?
The consensus among career coaches seems to be that it's totally OK to wear lipstick — in fact, some would argue that you should choose lipstick over lip gloss. It all depends on the environment of the office you're interviewing in, but the basic guideline is to wear a lipstick color that looks like your lips. A quick swipe of color will make you look more polished, but it won't be distracting to the interviewer. Career coach Ronnie Ann Himmel writes on her blog you should avoid red lipstick in an interview. A job interview should be about your skills and it's very possible they could be distracted by a bright lipstick shade.
It's all about the culture of your field as well. Interviewing at a creative fashion startup? You are totally fine wearing red lipstick. But if you're interviewing in a more conservative field, stick to something more neutral.
Here are seven no-fail shades that are perfect for any interview.
Nars Dolce Vita, $28, Nars Cosmetics
This cult favorite lipstick goes on sheer and smooth.
MAC Finally Free Lipstick, $17, M ac Cosmetics
MAC's sheer lip line comes in a million colors, and this is a nice neutral.
Laura Mercier Sheer Lip Color, $25, Shop Spring
Want something really lightweight? This Laura Mercier shade is perfect.
Want more fashion and beauty tips? Check out the video below and subscribe to Bustle on YouTube!
Urban Decay Sheer Revolution Lipstick, $22, Urban Decay
If you have lighter lips (or tend to go more neutral with your lip colors), this Urban Decay shade is a reasonably priced pick.
Neutrogena Lip Color Stick in Caramel, $8, Target
Want a little sparkle? This shade is subtle, not over the top.
Vapour Organic Beauty Siren Lipstick in Plush, $25, Target
The shape of this lipstick shade is similar to a lip balm, so you can apply it without a mirror. Perfect for putting on right before you
Glo minerals GloSheer Lipstick in Aruba , $18, Glo Professional
I love this pinkish shade, and it looks perfectly sheer.
What you wear to an interview is ultimately about what makes you feel comfortable and confident, but with these perfect lip shades, you won't have to worry.
Images: Prasit photo/Moment/Getty Images; Courtesy of Brands