What To Wear To An Interview In The Summer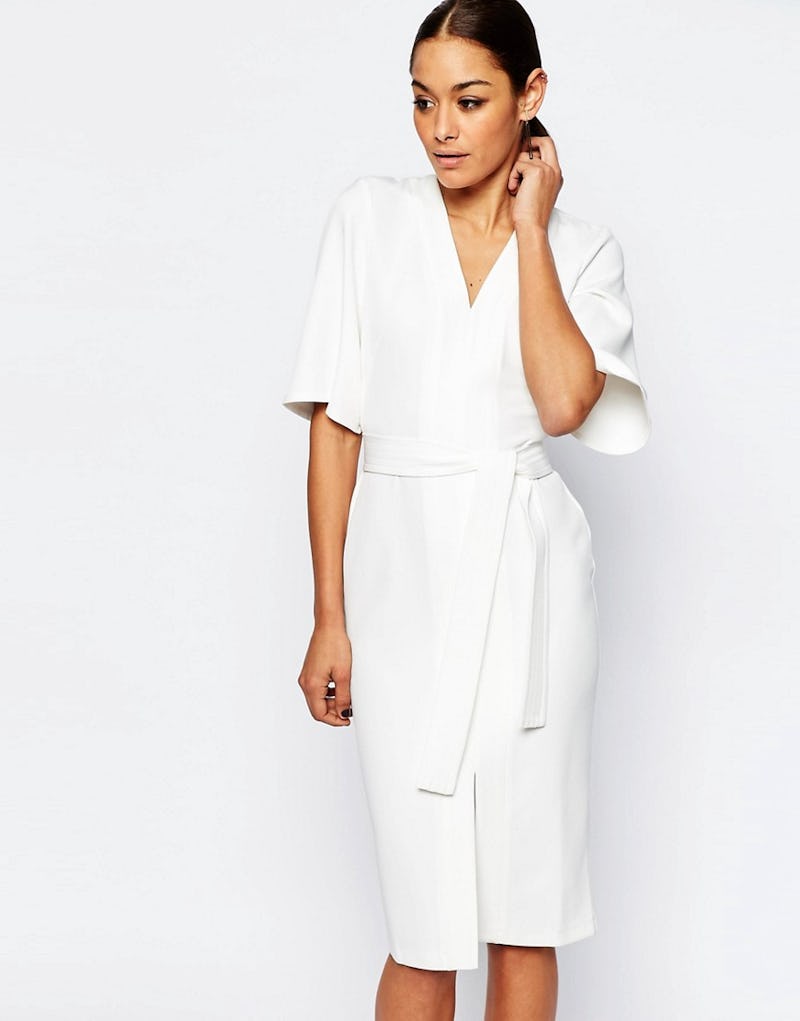 Long gone are the days of wearing a frumpy, ill-fitting suit to a job interviews. Thanks to lighter fabrics and good tailors, we can say goodbye to the fugly interview outfits of the past — but there's one more issue: What does one wear to an interview in the summer? You know, when temperatures hit above any level of comfort and sweat is literally running down every crevice of your body?
Though I very much love New York, I also very much hate it. Especially in the summer, when the entire city turns into a steamy hot box that traps every unfortunate scent. And the subway? Forget about it. It's extra hot and extra smelly in it. Which makes dressing for the summer extremely difficult. I practically live in linen the entire season, or any other light fabric that won't absorb too much sweat.
When I was interviewing for my first job, it continued on until the first week of June. And given that my outfit of choice were a pair of cropped trousers, white button up, and a faux fur pullover vest topped off with a tie, I was hot. Very, very hot, especially when I threw a blazer on. To me, there were no other options. But luckily, now that I know more about fabrics and fit, I've been able to adjust accordingly. Ditch those rules we learned from our school advisors — this is the new school of thinking.
Think: Light fabrics, chic skirts, and adding just the right amount of color. Let's get some inspiration going, shall we?
1. The Maxi
Waisted Maxi Dress, $115, stories.com
Ditch the sneakers for dressed up flats or heels, add a portfolio and blazer, and you're good to go.
2. The Jumpsuit
Club Monaco Ellia Belted Jumpsuit, $279, clubmonaco.com
Love this with a statement necklace.
3. The Two-Tone Skirt
Two-Tone Skirt With Slit, $49.90, zara.com
Neutrals always kill.
4. The LBD
ASOS CURVE Plain Wiggle Cut Out Back Dress, $67.94, asos.com
Love this with mule-like shoes.
5. This Lace Dress
Forever21 Plus Size Crochet Midi Dress, $29.90, forever21.com
Plus blazer, this one's a killer.
6. This Red Stunner
1- 01 Babaton Lenora Dress, $245, us.aritzia.com
If you want to make a statement, this one's for you.
7. The White Jumpsuit
Boohoo Plus Caitlyn Strappy Wrap Front Jumpsuit, $35, boohoo.com
To make this one a little more conservative, pair with a sleeveless turtleneck — that's my favorite styling trick!
8. This Simple Dress
Violeta Textured Dress, $69.99, shop.mango.com
The trick to dressing this up is to add killer accessories.
9. The Wrap Dress
ASOS Clean Obi Wrap Dress With V Front, $72.79, asos.com
How chic is this?
10. This Metallic Skirt
Mango Metallic Pleated Skirt, $59.99, shop.mango.com
I love me a little shiny piece!
11. This Breezy Jumpsuit
Vince Camuto Faux Wrap Jersey Jumpsuit, $98, shop.nordstrom.com
I'm feeling the breeze right now.
12. This Linen Beauty
Zara Skirt With Gold-Toned Details, $49.90, zara.com
This is styled flawlessly.
13. This Grey Beauty
H&M Jumpsuit With Wide Legs, $19.99, hm.com
Love the monochromatic look with the matching shoes.
14. The Shirtdress
Belted Chino Shirtdress, $128, jcrew.com
Love this with single strap sandals.
15. This Maxi
Silk Wrap-Front Maxi Dress, $178, madewell.com
No AC? No problem. Summer heat may be bringing you down, but it certainly won't be messing with your interview! These pieces will keep you feeling fresh all day long. Make sure to arrive at least 15 minutes ahead of time, freshen up, and you'll be ready to kill that interview.