5 Steps That Will Help You Land Your Dream Job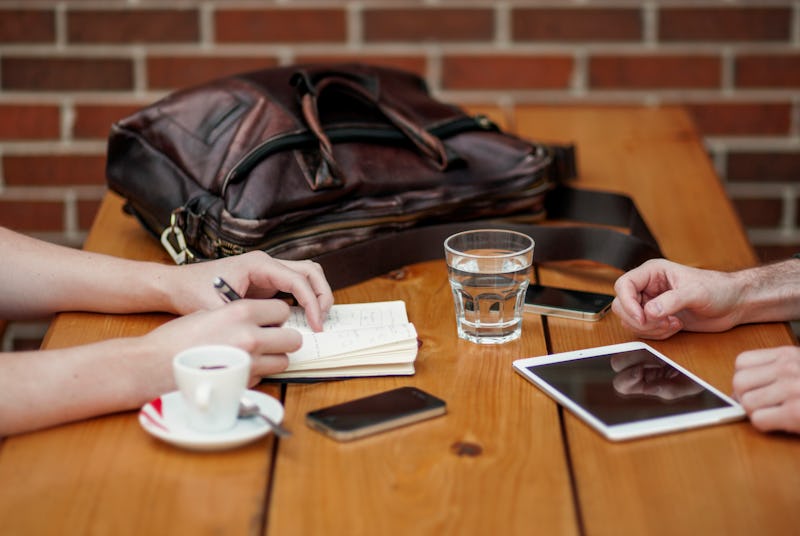 A couple decades have passed since we were first posed the most popular question among the kindergarten set: "What do you want to be when you grow up?" Even if we're no longer spouting sincere ambitions to become an astronaut president who moonlights as a marine biologist and still finds time to save the world as her superhero alter-ego, many of us still find ourselves a long way off from working in our dream job. Whether you're a soon-to-be grad or out in the workforce realizing it's time to take charge of your career, getting on the right track to finding your dream job is a job of its own.
As daunting as the journey may be, LinkedIn career expert Catherine Fisher tells Bustle, "you may be even closer than you thought you were." While speaking with Fisher about career advice, she shared an anecdote about how when NASA was recently recruiting an astronaut, three million LinkedIn members qualified based on their skill set. This surprising revelation doesn't mean that every one of them is just an interview away from getting launched into space, but it does prove that your greatest career ambitions are "not always a far off dream, you may already be on the right path." Among its many tools to guide you professionally, LinkedIn has recently released data segmented by industry that can help reveal just how close you are to breaking into the career you really want. Read on for Fisher's breakdown of LinkedIn's features and tips for taking control of your professional life, and landing the job of your dreams.
1. Identify what it is you want to do
Maybe you're the type who's had their life plan drawn out since they were just a precocious kindergartner, but maybe you're not. Even if you're out of school and working your first job, it's totally normal if you still don't have a clue about what you really want to do. Instead of trying to pin down the exact job title you should try to pursue, imagine your dream career more broadly. Identify interests and skills you have or want to strengthen. What gets you excited? In what areas do you excel? Use tools like LinkedIn to determine "what careers you're drawn to and what makes them interesting," advises Fisher. Explore your options with an open mind, and consider opportunities not just by title but by how they relate to your interests, skills, and professional and personal ambitions. Don't feel locked into a career path because of your college major or even your first job.
If you're still in school and are about to graduate, the new app LinkedIn Students will help you figure out what your next steps are. The app utilizes the student's alumni network, allowing you to explore different career paths based on alumni profiles, explore companies that hire from your school, and read exclusive articles for students on how to optimize their job search.
2. Fine-tune a skill set that's in demand for your dream role
LinkedIn acts as a great tool for exploring what skills are in demand for specific industries and what companies are looking for specific jobs. Explore profiles of individuals who hold positions you're interested in, and examine their career path and skill set. Browse jobs you're interested in, and "identify what kind of skills are needed," says Fisher. When you look at specific job openings, LinkedIn tells you how many applicants have applied and the top skills they have. Use the jobs tab to get a better idea of the company — see the team of people who work there, "see what they studied in college, see the skills that they acquired."
3. Bring your LinkedIn profile to life
Fisher emphasizes the importance of "showing up very professionally and putting your best foot forward." LinkedIn is the epicenter of your online professional identity, not only providing you with tools to explore, but also acting as your public resume and portfolio for job recruiters. Fisher stresses to keep your profile in tip-top shape. Have a professional profile picture, "make sure it's up to date," and make it engaging with "visual uploads." Share the projects you've been involved with and provide links to your work. In your summary section, be candid about your ambitions. Define your career track and if you're looking for change, Fisher says to "tell people you're pivoting your career."
4. Follow and connect with leaders within your desired industry
Find inspiration by following "the companies and leaders making a difference in the industries" you're interested in, encourages Fisher. Stay up to date with the latest articles, see what topics industry leaders are talking about, and be engaged with the goings-on in the field. Follow Influencers, top business leaders who are invited to LinkedIn to speak about business, business problems, and their professional world, as well as the people they themselves are learning from.
If you score an interview, Fisher insists on "coming in really prepared, doing all your homework on that company." Pay particular attention to any shared connections you might have with your interviewer (contacts, education, previous companies), and if they recently shared a story about their industry. A little research will provide you with some common ground during the interview, and you'd be surprised by the points of commonality you might come across.
5. Discover your personal connections and reach out
If you do find connections who work in fields you're interested in breaking into or at companies you're interested in joining, reach out. If it's a secondary connection, politely ask for an introduction. Fisher recommends to "reach out and ask for 15 minutes." Even a brief conversation can open the door to new opportunities, or at the very least provide you with additional insight. Make the most of your network, and "start talking to people in the industry you're interested in."
Images: Unsplash (4); App Store