Why You Shouldn't Spray Perfume In Your Hair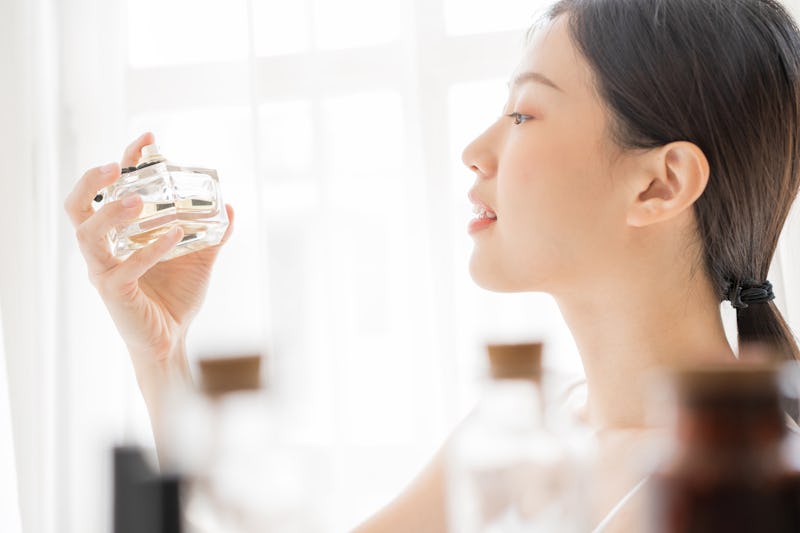 Saksit Kuson / EyeEm/EyeEm/Getty Images
If you've ever fallen in love with a particular fragrance, you've probably tried spraying it in your hair. After all, hair holds scent well and you get to smell it more every time you turn around. Perfect, right? Well it turns out you probably shouldn't spray perfume in your hair. And that's because of the alcohol. When sprayed in the hair, the higher alcohol content found in most perfumes will work to dry out your strands, according to Cosmopolitan.com. While applying perfume to your locks every once in a while probably isn't the worst thing you could do, if you make it a habit, it could do some damage.
So if you feel like you want to scent your strands everyday, instead of spraying perfume directly into your hair, there are a couple of other options to try that won't be as drying. The first is to spray your perfume into the air and walk through it. Celebrity stylist Serge Normant told Popsugar.com that the scent settling on your strands instead of being sprayed on at close range will help alleviate alcohol's impact so your hair doesn't become saturated with it. Another option is to spray perfume onto your brush before running it through your hair. This will more lightly scent your locks but also help prevent damage from alcohol. (Plus, your brush will smell amazing.)
Of course, if you still like having a product to spray in your hair for a stronger scent, try a hair mist instead. Hair mists will not only provide fragrance but also usually have some sort of beneficial properties like hydration or UV protection. If that sounds like your kinda thing, here are seven hair mists to try.
Hair Perfume, $20, A mazon
This mist will leave your hair smelling sweet and feeling soft with added UV protection.
Hair Fragrance Mist, $20, Amazon
Smooth hair while you scent it with this mist that also leaves strands shining.
Flowerbomb Bomblicious Hair Mist, $50, Nordstrom
This ultimate floral perfume can also leave your hair feeling soft.
Angel Perfuming Hair Mist , $40, Nordstrom
Not only will this hair mist fragrance your hair, but it will also neutralize any unwanted odors that may be lurking in your locks.
Original Fragranced Hair Shine Mist With UV Protection , $22, Jet
Smooth, hydrate, and protect hair while also making it smell totally amazing.
J'adore Hair Mist, $48, Sephora
Hair will be protected against environmental aggressors while smelling like your signature scent.
Black Opium Dry Oil For Body And Hair , $60, Sephora
Nourish your hair and even skin with a perfumed dry oil.
Because you can still rock your favorite scent everywhere without damaging your hair.
Images: Getty Images; Courtesy of Brands