Do You Need A Hair Perfume?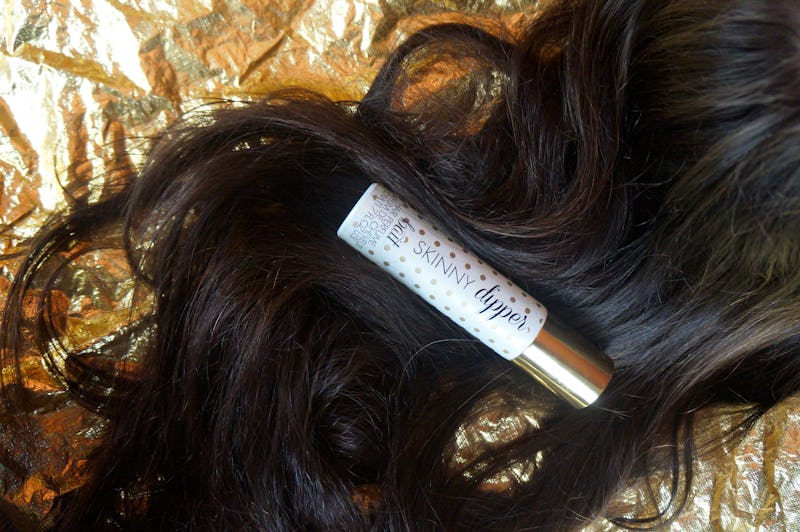 I love having short hair, but if there's one thing I miss deeply about long hair, it's the perfumed hair flip. Hair is by far the best carrier for fragrance (which explains why hair perfumes are having such a moment) since it absorbs odors so readily, and I learned that lesson young.
When I was a teen, I had waist-length hair and was obsessed with coating it in a thick layer of perfume every morning. This had the dual effect of making my hair smell really good while probably also making it dry and brittle. I didn't care about the latter, though. As long as I could flip my hair over my shoulder and leave a scented trail a mile behind me, I considered my hair to be in top form.
Sadly it's true that spritzing regular perfume in your hair is going to have negative consequences. Not only are you wasting a possibly expensive fragrance (I don't know about you but I'm not about to spritz my Tom Ford Black Orchid willy nilly) but you also risk damaging your hair. Most regular perfumes contain a ton of alcohol and other ingredients that can be very harmful to hair.
That's why I was excited to learn about Bait Hair Perfume, a line of fragrances designed specifically for hair.
First off, Bait Hair Perfume does contain some alcohol. As they explain on their website, the alcohol is a necessary ingredient that quickens drying time for the fragrance and is included in such small quantities that it won't hurt your hair. Other than the alcohol, their hair perfumes contain fragrance and silicones for shine; that's it! No parabens or sulfates included, and they're cruelty-free.
Intrigued, I had to try these hair perfumes. Sadly, I no longer have enough hair for a fragranced hair flip test. I mean, I still try, but it's... disappointing.
Instead, I tried Bait out on my sister's long hair. (Of course you can use these on short hair as well; the fragrance just won't travel as far.)
Bait has four fragrances: Femme Fatale, Heart Breaker, Day Dreamer, and Skinny Dipper. They sent me mini sizes of each in addition to the full sized version of Skinny Dipper, their best seller. Each fragrance is $36 and a set of all four fragrances in the mini size is $12.
Each hair perfume is designed with a specific type of woman in mind. So let's talk about what kind of woman you want to be this summer, shall we?
Femme Fatale
Bait describes this fragrance as a "sensual scent [that] has been known to lead to irresistibly dangerous situations" for the woman with a "mysterious and seductive manner." With notes of exotic fruits, warm vanilla, and dark amber, this is undoubtedly the heaviest of the four scents. The first blast is very fruity, but then over time it gets sexier with hints of vanilla and amber. It's a scent that draws you in, making it perfect for letting your hair down on a date.
Heart Breaker
With sugary notes of pink cotton candy and vanilla cupcake, this fragrance is for the "queen of the dance floor and the life of the party." As someone who doesn't usually like too-sweet scents, I was surprised by how lovely this one is. The first spray definitely makes me think of smelling cotton candy at a fair, and then it quickly dries down into a warm vanilla scent reminiscent of a bakery.
This scent is for the girl who knows she's heart breaker and doesn't feel the least bit bad about it. Yeah, obviously I'm going to put a T. Swift gif here.
Day Dreamer
Day Dreamer was my least favorite because I'm not a huge fan of citrus-based scents, but if you are then you're sure to love this one. There's a strong orange sherbet note right off the bat, and then the coconut and vanilla notes come out to play although the citrus stays at the forefront. It's a light and playful summer scent perfect for "a bohemian beauty forever radiating good vibes."
Skinny Dipper
Finally, Bait describes their best-seller as "an intoxicating cocktail of coconut, suntan lotion, and pool side aroma." This is obviously the ideal summer scent for the beach babe who chills on the sand all day and then leads everyone else in skinny dipping at night. I'm not usually one for coconut or suntan lotion scents, but I was very into this fragrance. It does smell like your typical coconut suntan lotion, to be sure, but like a much sexier, more sophisticated version. It's kind of like how I imagine Beyonce's hair would smell: sexy but in a fun, winking way.
Whichever fragrance you choose, you're sure to wonder how you ever got by in life without hair perfume. Forget about dry shampoos that leave a weird smell and white residue: this hair perfume will freshen up your hair in between showers. Use it after a long day at work, a sweaty gym work-out, a night in a smelly bar, or the morning after an unplanned sleepover. (What? They'll think you just woke up with your hair smelling like coconuts or cupcakes or whatever.)
Not only did this hair perfume make my sister's hair smell better and look shinier, but the scent lasted for ages. Bait promises their scents last up to 12 hours. You can spray it on in the morning and go about your day, and whenever anyone says "Wow, what smells so good?" you can flip your hair and smile.
Yep, it's you. Or more specifically, your hair. Now we just have to cross our fingers and hope that Bait releases some more hair perfumes. After all, there's more than four types of women. If they come out with equally sexy winter fragrances, I might even grow my hair out.
Images: Kelly Dougher; Giphy