16 Vegetarian Memorial Day Recipes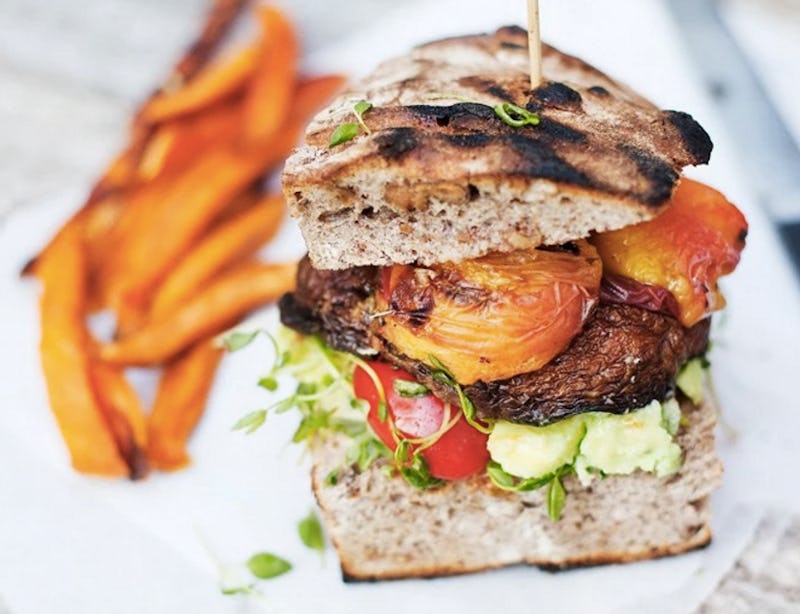 Memorial Day is here again, and finally it is warm enough to hang outside. Before you plan your big party, consider adding these vegetarian Memorial Day recipes to your grilling lineup. When it comes to the menu at a barbecue you can pretty much bet on seeing some hot dogs and hamburgers, but when you are the vegetarian at the party, the pickings are usually slim. With the exception of potato salad and maybe a macaroni dish, there isn't much left for the vegetarians to eat besides potato chips. Not that I have ever been ungrateful for potato chips, of course, but even as someone who does eat meat, I have to admit that hot dogs and hamburgers can be tiresome. It's grilled meat with cheese, we get it!
As we spend this holiday in the company of friends and family, honoring those who died serving this country, I invite party hosts everywhere to accommodate the diets of those they host. Plus, vegetarian food occasionally gets a bad rap, but I dare you to find even one recipe on this list that doesn't sounds amazing, if not better than another grilled patty.
Vegetarians and carnivores alike will love these dishes. I guarantee it.
1. Lemon Ginger Fruit Salad
This delicious fruit salad is from A Beautiful Mess. The star shaped pineapple is optional, but mandatory in my opinion.
2. Chickpea Veggie Burger
This veggie burger from A Better Happier St. Sebastian is sure to be a hit.
3. Summer Quinoa and Veggies Salad
A Farm Girl's Dabbles dreamt up this killer summer salad that's definitely going to please a crowd.
4. Creamy Tomato Mac and Cheese
Pasta lovers unite. This dish is from A Pretty Life in the Suburbs and it is SO. GOOD.
5. Mini Black Bean Tacos
Size doesn't matter when it comes to tacos, especially these from A Spicy Perspective.
6. Quinoa-Stuffed Eggplant
Not throwing an outdoor party? No worries. Try this dish from Adventures in Cooking.
7. Garlic Parmesan Potato Skins
Nothing sounds or looks as delicious as these potato skins from Apron and Sneakers.
8. Southwest Quinoa Bowls
These bowls are perfect to share. Ari's Menu has the full recipe.
9. Chopped Bean and Corn Salad
This salad from A Pretty Life in the Suburbs is as delicious as it is pretty.
10. Veggie Pizza Squares
Pizza squares are perfect to pass around the party. Back to Her Roots has the delicious recipe.
11. Buffalo Cauliflower Gratin
Spicy and healthy. Doesn't get any better than this dish from Big Girls Small Kitchen.
12. Grilled Eggplant Red Onion Goat Cheese Pizza
Pizza! This veggie pizza from The Brewer and the Baker is as good as any pepperoni rival.
13. Portobello and Peach Burger
A mushroom burger might sound crazy, but I firmly believe this dish from Green Kitchen Stories will win over any carnivore.
14. Sesame Soba Noodle with Edamame
Naturally Ella has this awesome summer noodle dish.
15. Broccoli Rabe and Black Bean Quesadillas
Who could say no to a quesadilla like this from Cookie and Kate?
16. Salted Chocolate Avocado Pudding Bowls
And for dessert, I present these avocado pudding bowls from Oh She Glows. Yum.
Images: A Beautiful Mess, A Better Happier St. Sebastian, A Farm Girl's Dabbles, A Pretty Life in the Suburbs (2), A Spicy Perspective, Adventures in Cooking, Apron and Sneakers, Ari's Menu, Back to Her Roots, Big Girls Small Kitchen, The Brewer and the Baker, Green Kitchen Stories, Naturally Ella, Cookie and Kate, Oh She Glows