17 Things 'The OC' Taught Us About Relationships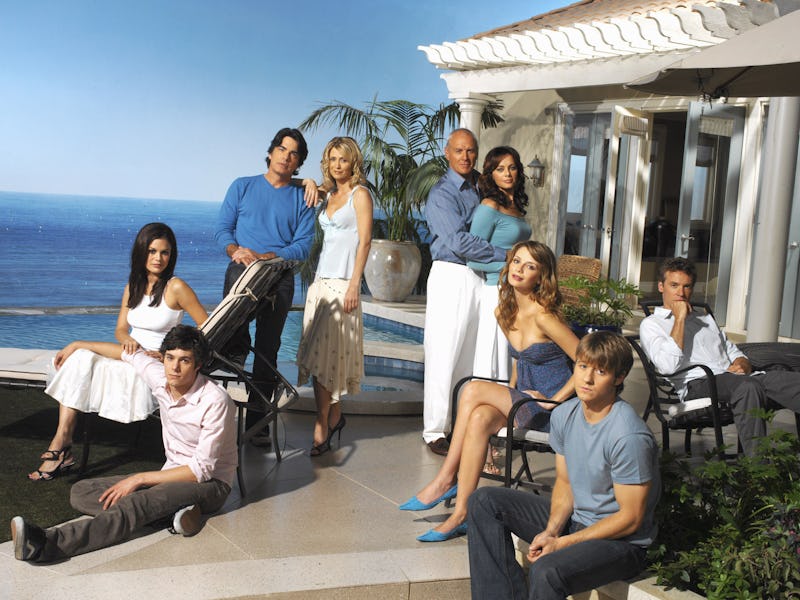 With the recent news of Adam Brody and Leighton Meester's secret marriage, I've been thinking a lot about Seth Cohen, teen dramas, and The OC. While it breaks my heart that real-life Seth and real-life Summer (Rachel Bilson) did not end up real-life together, their relationship on The OC taught me countless crucial life lessons, as did the romantic sagas of other characters. Here are a few of them.
1. FOREPLAY IS EVERYTHING
Sandy Cohen's phrasing here is as elegant as his eyebrows: "The appetizer is as good as the main course."
2. YOU CAN'T BE FRIENDS WITH EVERYBODY
For example, you cannot be pals with people you're desperately, hopelessly, pathologically in love with.
3. YOU SHOULD TELL PEOPLE HOW YOU FEEL, EVEN IF IT'S AWKWARD
Like that time Seth climbs a hot dog cart and tells Summer he loves her.
4. IT'S OK TO BE A GOOFY ROMANTIC
Even burritos have a role to play in your Romantic Destiny.
5. DON'T LEAD PEOPLE ON
Seth dates Ana when he still has feelings for Summer, which ends up hurting everyone.
6. DON'T DATE SOMEONE YOU MET AT THERAPY
Oliver Trask was bad news for Marissa Cooper. I'm not saying every boyfriend you find at the psychiatrist's office will eventually hold you hostage, but the odds are certainly higher.
7. MARRIAGE SHOULD BE SEXY
There should be passion. Flirting. Olive-feeding.
8. IT'S OKAY TO MAKE THE OCCASIONAL ULTIMATUM
You can't wait your whole life for someone. And conversely, you can't expect someone to wait for you forever. It's not fair.
9. DON'T SLEEP WITH YOUR EX'S MOM
Even if your ex's mom is really, really sexy and not even that close with her daughter anyway. The truth always comes out.
10. THERE'S NOTHING WRONG WITH A GOOD REBOUND
It's totally healthy to use someone as a distraction from someone else. Especially if both someones are really cute, and, honestly, will always be obsessed with you anyway.
11. KNOW YOUR LIMITS
When it comes to dealings with both men and wine, you must find balance.
12. LOVE MAKES YOU DELUSIONAL
Love makes you believe and say crazy things, which is why you should have a best friend, like Ryan, who will tell you when you're being absurd or just plain lying to yourself.
Seriously, thank God Seth has Ryan.
13. PERSISTENCE PAYS OFF
In the beginning, Summer is zero percent interested in Seth. However, he (slowly and diligently) wins her over with his nerdy charm and obvious gestures.
14. BAD SEX HAPPENS
Summer and Seth's first time was terrible. But they got past it.
15. SURPRISE KISSES CAN BE EFFECTIVE
Especially if you have a perfectly chiseled face and bad boy charm.
16. THERE'S NOTHING SEXIER THAN A GOOD COMEBACK
What Seth lacks in athletic build, he makes up for in wit and self-deprecation.
Oh and this.
17. EVEN GROWN UP, WE ARE ALL 15 AT HEART
Which is why The OC will always be my go-to source on love, heartache, relationships, and sex.
GIFS: Cohen Chrismukkah
Image: Fox