These 'Lizzie McGuire' Quotes Are 2000-And-Great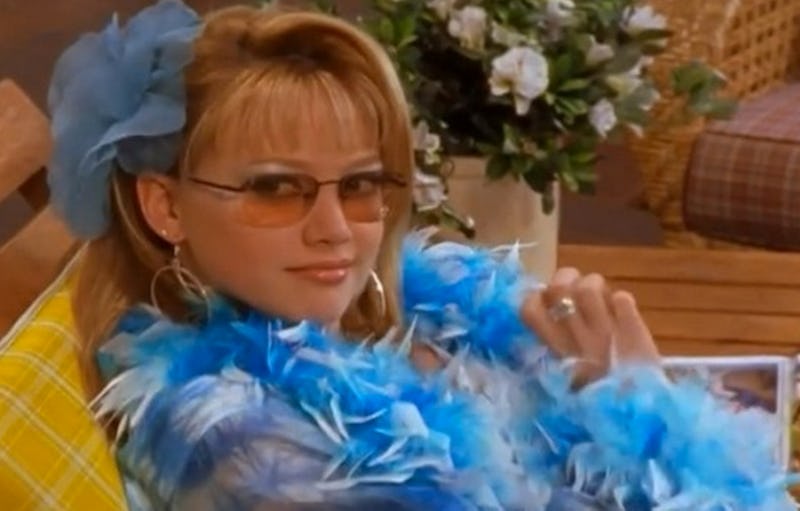 Miss the Limited Too fever dream that was the early '00s? Have I got a solution for you! Now, I can't help you travel back in time, but I can recommend a television program: Look no further than Lizzie McGuire. From 2001 to 2004, the Disney Channel original series gifted its audience with gorgeous early aughts fashion (the printed flared pants! The rhinestone-covered tank tops! The three-bun half-up, half-down confection of a hairdo!), and it also gifted its audience with A+ early aughts pop culture jokes. Over the course of two seasons and a movie, the characters on Lizzie McGuire said some wonderfully '00s one-liners. And I've selected some of my favorites.
The Lizzie McGuire quotes below allude to something or someone that entered the zeitgeist in the late '90s and early '00s. Some have remained in the zeitgeist, some have faded away, all had A Moment around the turn of the millennium, and all were namechecked by Lizzie McGuire.
Ready to revisit some of the '90s/'00s zingers uttered by Lizzie, Miranda, Gordo, Matt, and a few other Lizzie McGuire characters? Crack open a bottled frappuccino, throw some butterfly clips in your hair, and get ready to jump into Lake Nostalgia.
1. "Why Do We Have To Draw Fruit Anyway? I Want To Draw *NSYNC." — Miranda, S1E2
Hey, who doesn't want to draw *NSYNC?
2. "Miranda's In Love With Acting! Maybe When She's Around 30, She Can Play A Teenager On Dawson's Creek." — Lizzie, S1E14
What have we here? Is one '00s teen show cracking a joke about the another '00s teen show's casting choices? *Slow clap.*
3. "That Wasn't Comedy. But You Know What Is? Malcolm In The Middle!" — Mr. Dig, S2E15
Mr. Dig tells it like it is.
4. "Your Parents Are So Blair Witch." — Miranda, S1E4
And no, they didn't make Lizzie stand in a spooky corner of a spooky forest shack and stare at a spooky wall.
5. "Yo! My Name Is P. Diddy." — Gordo, S2E10
When Puff Daddy changed his name to P. Diddy in 2001, the world was never the same.
6. "Everyone Knows That You're The Tiger Woods Of Term Papers." — Miranda, S1E6
Aaaaaand as of 2009, that means something completely different.
7. "That [Sweater Is] Not Really 'Oops, I Did It Again,' That's Just 'Oops.'" — Miranda, S1E2
Sick burn, Miranda.
8. "Aaron Carter Walked On This Ground! I'm Never Wearing These Shoes Again!" — Miranda, S1E7
Just as Kate Sanders ruled Hillridge Junior High, Aaron Carter ruled the late '90s and early '00s.
9. "I Think The Diamondbacks Are Overrated. A Bunch Of Banjo Hitters & Journeymen." — Gordo, S2E21
Is that a jab at the 2001 World Series champs that I smell?
10. "While Everyone Else Was At The Water Park Trading Beanie Babies…" — Gordo, S1E6
Excuse me, but who would dare bring a Beanie Baby to a water park? What if the tag got wet?! The horror!
11. "Gordo Turned Out Great. All Moody & Troubled Like Freddie Prinze Jr." — Lizzie, S1E2
FPJ was the heartthrob to end all heartthrobs in the late '90s/early '00s.
12. "So I Said To 'Em, Harry Potter Should Be Seen, Not Just Read, & That's Why They're Making The Movie." — Matt, S1E15
I mean, he's not wrong.
13. "I'm Hurt, I'm Tired, I'm Hungry, & I Wish They'd Vote Me Off This Island." — Lizzie, S1E5
Just a casual reference to then-new show Survivor, NBD.
14. "OK I Need One Part Clueless & Two Parts Legally Blonde." — Lizzie, S2E33
This quote showed up to the party with a great late '90s movie and a great early '00s movie? This quote is so fetch (oops, wrong reference).
15. "She Uses Picture-In-Picture To Watch MTV & Cartoons." — Sam, S1E8
Ah, I miss the days when picture-in-picture was the pinnacle of TV technology.
16. "Jennie Gets [A Bra] & Becomes Brandi Chastain." — Lizzie, S1E12
Brandi Chastain and that winning goal are forever iconic.
17. "He Can Have His Own Cooking Show — BAM!" — Sam, S1E30
Thanks to his TV show (and that catchphrase), Emeril Lagasse became (and has continued to be) a household name in the late '90s.
18. "That'll Take Her Out Of Cheerleading For A Month, Thanks To Sabrina The Teenage Witch."— Gordo, S2E4
Uh, would Lizzie McGuire and Sabrina Spellman get along like gangbusters, or would Lizzie McGuire and Sabrina Spellman get along like gangbusters?
19. "Wait, Did That [Free Cell Phone] Include Long Distance?" — Gordo, S2E18
Remember when a phone plan that didn't charge extra for long-distance calls seemed like the greatest thing to ever happen to cellular devices? Were we ever so young?
...Seriously though, what kind of monster takes a Beanie Baby to a water park?!?!
Images: Disney Channel; crazyrunaway, ineedthisforreactions, gifpeanutbutter, veromargan, blooderrin, mylifethroughlizziemcguire (2), mtv (2), icefire149, whatshouldglotzbachcallme, wolf-rayet, monksonthelam, babyyoure-notalone, pyns, your-reaction-gifs, spacecadet, 2ndhand-embarrassment, thisonesforthehistorybooks/tumblr