'Grey's Season 13 Is Right Around The Corner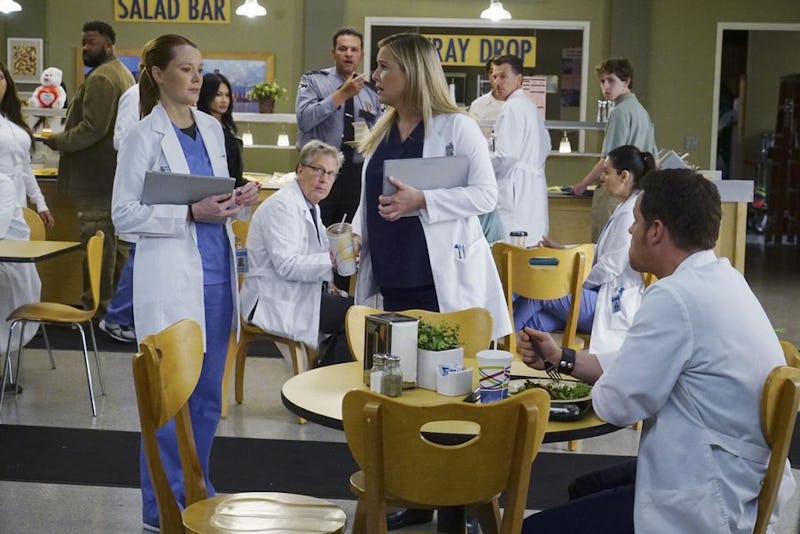 It's hard to imagine ABC without Shonda Rhimes' Grey's Anatomy anchoring Thursday nights. The series has been on the network since 2005, when it was a cultural juggernaut, and while it's shown some signs of age in the years since, I have to say that Season 12 has been as good as the show ever was. With the May19 finale looming, we Grey's Anatomy fans have a whole summer without new episodes from Meredith and the gang at Grey Sloan, and are already wondering when Season 13 of Grey's Anatomy will premiere — plus who's gonna be coming back for another year at the most unlucky hospital on the planet.
Well, lucky for fans, ABC announced early on in 2016 that it would be renewing Grey's Anatomy for Season 13. No premiere date has been announced, but the network did reveal at their May upfronts that new episodes of Grey's would air Thursday nights as usual, beginning sometime in the fall. That's just a few months away, unless ABC picks a late October premiere date and makes us all really, really sad. Fingers crossed for September.
Interestingly, many of the contracts for Grey's cast members are up after Season 12. This means actors Ellen Pompeo (Meredith), Chandra Wilson (Bailey), James Pickens, Jr. (Weber), Sara Ramirez (Callie), and Kevin McKidd (Hunt) will have to renegotiate and re-sign, or say goodbye and ship out of Grey Sloan. Justin Chambers, who plays OG cast member Alex Karev, confirmed in March that he would be back for Season 13, according to TVLine, and,the site also reports that the likelihood of McKidd re-signing was "very high."
Personally, I can't see very many of the other veteran cast members not signing their new contracts… except, possibly, for one. Ramirez's Callie has been an integral part of the Grey's Anatomy cast since Season 2. Remember when she was married to George? Yet recently, the actor tweeted something cryptic about her character's fate, and the Internet exploded with the possibility that the character won't return in Season 13.
Since Callie did just break up with her girlfriend and lose custody of her daughter, I can totally see her bailing on Grey Sloan and going elsewhere to take some time for herself There's even the possibility that she could be killed off the show, too. However, that tweet could just mean that Ramirez is done shooting for Season 12 and will be back for more episodes. Without confirmation from Ramirez or ABC, though, it's anyone's guess.
Regardless of what happens with Callie, though, here are a few plotlines that need to shape up or ship out on Grey's Anatomy Season 13.
Jo & Alex Staying Together
Jo just told Alex that she couldn't marry him. Like, ever. Because of this, they need to break up and never, ever, ever, get back together. Alex has been through too many heartbreaks to have a woman that he can never have consistently breaking his heart. I think that would mean Jo's departure from the show, because they can't get rid of Alex Karev. It may be rough, but in the words of Lucious Lyon, sometimes you need to sacrifice your queen.
Amelia & Meredith Fighting
Amelia and Meredith fight because they are both incapable of processing human emotions normally, and they don't know how to deal in the aftermath of Derek's death. This needs to stop. Meredith needs therapy, and Amelia needs to be happy in her marriage (if it happens, which I hope it does) to Owen Hunt. Let's opt to make some other people miserable this season. Meredith and Amelia have suffered enough.
Catherine Meddling In Avery & April's Business
You know things are bad when your former mother-in-law is trying to sue you. That's what happened to April this season on Grey's Anatomy, and who is to say that it can't happen again? Avery and April seem OK for now (I hope that they get back together, but they will be the will-they-or-won't-they until the show ends), and part of that is because Catherine isn't involved. Stay out of it, Debbie Allen.
All right, Grey's fans — enjoy the Season 12 finale, because we have quite a bit of time to wait until Season 13.
Images: Richard Cartwright/ABC; Giphy (3)