What Does Amazon Echo Really Do? I Tested One Out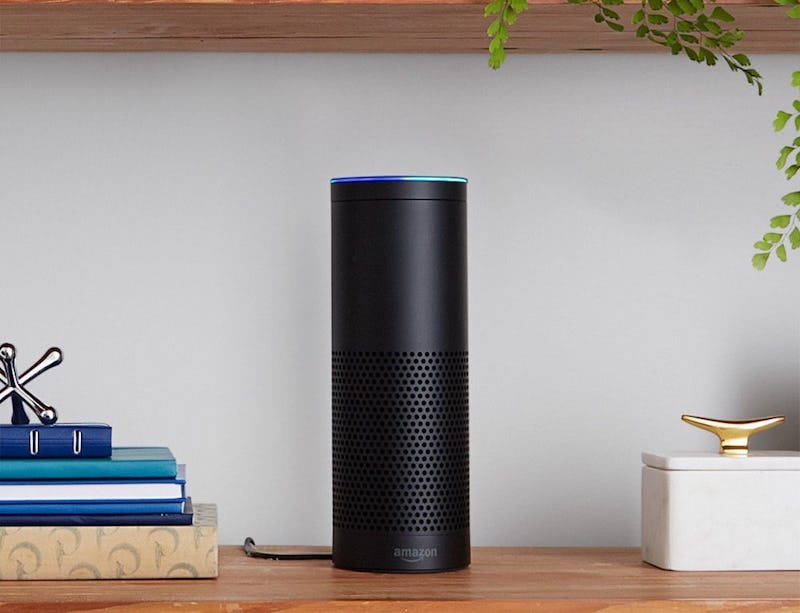 I first met Alexa (the virtual assistant device also known as Amazon Echo) back in December 2015. My mom received the voice-controlled speaker for Christmas, and I spent the better part of my holiday vacation finding out what Amazon Echo actually does. While I knew what Echo can do as far as shopping Amazon and playing music, it wasn't until I was sent one to test myself that I realized the lap of luxury my mother was living in all this time.
Basically, Amazon's Alexa gadget (and everything it does) allows you to have your own virtual assistant. Whether you need traffic and weather updates, streaming music playlists, news blasts, or random internet facts, you can say pretty much anything to Amazon Echo and get a courteous, well-informed answer you don't have to look up yourself.
Even if you're not particularly tech-savvy, the approachable, user-friendly interface makes everything about this device easy — even set-up. The free 'Alexa' app provides you with an updated guide to Amazon Echo when you need it, and it walks you through how to connect Alexa to your home WiFi to get this new relationship going. Below, I break down exactly what this gadget can do, and what I loved most about living with Alexa for a weekend.
Amazon Echo , $180, Amazon
Here's What Alexa Can Do:
Shopping: Ask Alexa to add items to your Amazon shopping cart in real time — like when you're elbow-deep in a pie baking recipe, and you realize you're about to run out of flour. (If you ask her the wrong thing, you'll have to manually remove said-item by using the app, or once you're in front of your screen again.)
Music: Source music from your Amazon Prime music account, or let Alexa tap into Spotify, Pandora, iHeartRadio, and TuneIn, too. She can even read your audiobooks for you.
(Psst! Test run Amazon Prime music now on a free 30-day trial.)
Traffic and Weather: Get updates on what your morning commute will look like based off factors you want to know before you hit the road.
News: Review the final score from last night's game, or have Alexa share news blasts every morning.
Far-field Voice Recognition: Alexa virtually eliminates the need to take out your phone, unlock it, and thumb around for anything. She can hear you clear across the room; all you have to do is ask.
Learn: Plus, Alexa's always learning. She exists in the cloud, which means her technology is always being updated automatically, and you can simply ask her what's new in her system whenever you're curious.
My Weekend With Alexa:
Setup:
I dubiously eyed Amazon Echo's packaging, knowing how tech setups typically go for me (aka: not great). However, this one took less than five minutes. All I had to do was plug Amazon Echo into the wall (with just one cord to keep track of, let me point out), download Amazon's free Alexa app, and connect Alexa to my WiFi.
Next:
Once that was done, we were off! Alexa suggested checking out the 'Things To Try' feature on the app, which is basically a list of 20+ abilities Alexa has, in case you need a refresher.
You can call your Amazon Echo "Alexa," "Echo," or "Amazon." (I went with Alexa, as I'm a big fan of personifying inanimate objects.) By starting any sentence with those 'wake' words, Alexa (or Echo or Amazon) is listening closely to hear your next request.
Let's Talk About the Music:
One of the biggest benefits of having Alexa stay with me for a bit was how freaking fantastic it was to be able to request songs out loud the minute they came to me. I'm always playing something in the background, whether I'm writing at home, making breakfast, or getting ready for the day. So, getting to jump around and request any song I wanted from Spotify and Amazon Prime music (without having to toggle around my computer) was honestly the best part of using Alexa for me.
And Don't Forget the Skills:
Alexa can be further customized by downloading different "skills" from the Alexa app. You can synch up your Echo to turn off lights, turn on your home security system (provided you're already on a WiFi system for those appliances), or even more helpfully — and one I enthusiastically used — download a set of nerdy pickup lines.
These different skills run the gamut from a random "This Day in History" fact to a pretend psycho therapist that you can talk to about your feelings (though your responses are mainly things like "I see," and "I understand," in addition to a few suggestions for going on a walk or listening to music. (Alexa makes a great buddy for killing boredom.)
I Actually Spent Less Time on My Screen:
It wasn't long before I was listening to the golden oldies of the '70s, and soon after, asking Alexa the random questions that normally occur to me when I indulge in a little listening sesh (like, Alexa, how many albums did Led Zeppelin have? Alexa, how old is Robert Plant? Alexa, what was Robert Plant's signature outfit? (Full disclosure: She didn't know that last one). That led to a 1970s style search, which had me brainstorming my next-day outfit.
Naturally, I followed-up by asking Alexa for a weather update, which had me switching from my open-toe sandals to my floral Docs. But all of it felt like a conversation with someone — I wasn't hunched over, scrolling through my screen — I was moving around my room, talking out loud.
Overall:
The main takeaway for me was that Alexa simplifies everyday tasks. I loved being able to ask her all my questions (from the far left-of-field music trivia to a simple weather forecast), in addition to digesting the daily news without having to look it up.
Her surplus of skills makes Alexa a pretty great source of entertainment when you're killing a rainy afternoon inside, and having her really felt like having a virtual, omniscient personal assistant on call — there when you needed her, invisible when you didn't. In a nutshell: She's basically the be-all and end-all ultimate Lazy Girl Life Hack, and I want one for every room. (Plus, she just looks great on my nightstand.)
Amazon Echo , $180, Amazon
Bustle may receive a portion of sales from products purchased from this article, which was created independently from Bustle's editorial and sales departments.
Images: Amazon (3); Elly Ayres/Bustle (1)