12 Responsibilities Of Being Maid Of Honor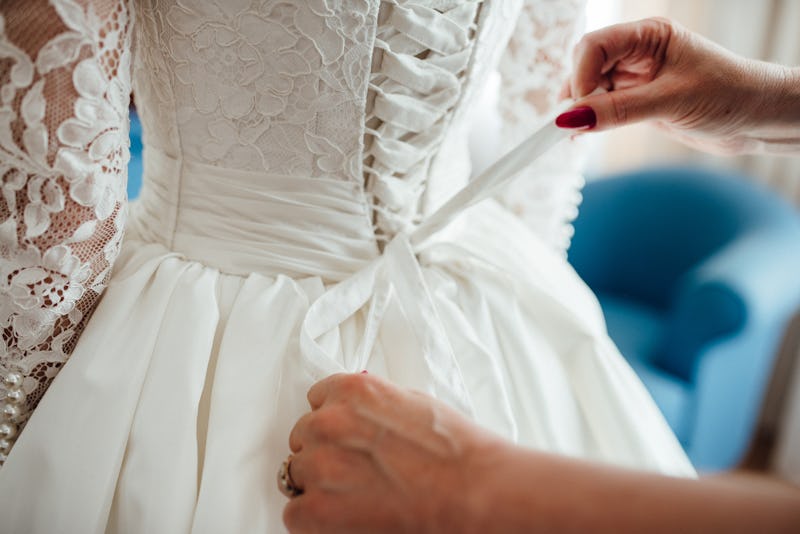 Andrii Omelnytskyi / EyeEm/EyeEm/Getty Images
So your best friend just got engaged. Unless she has a sister or relative she's super close with, it is entirely possible you will be asked to step up as maid of honor. But, uh, what does a maid of honor do, exactly? This job can entail quite a different workload depending on who the bride is and what style of wedding she has in mind. Of course, the maid of honor's level of involvement can also vary based on different factors, including the time commitment you're up for, and whether or not a wedding planner is involved. But whether you're someone who has been waiting for this since forever or a total newbie to the rituals of matrimony, a simple breakdown of what a maid of honor does can always help refresh your memory.
Besides just generally being a helpful buddy to the bride, there are 12 tasks a maid of honor should keep in mind in the lead-up to and on the big day. You don't have to do all of these things, and should definitely coordinate with the bride on what to prioritize (she might not even want a bachelorette party, for instance). But being a maid of honor is more than just hard work — it's also a lot of fun and a beautiful way to show your friend just how much you care. And, best of all, you know she can return the favor when it's your turn to get hitched, if that's something you want. Either way, you'll be sure to have her eternal gratitude for helping her make the big day as memorable as can be.
1. Host the Bridal Shower
Traditionally, the maid of honor plans and hosts the bridal shower. Sometimes, the mother of the bride takes on the planning role, in which case you might be tasked with managing invitations and RSVPs.
2. Plan the Bachelorette Party
That is, if she wants one. Keep it as classy as you know she would like.
3. Accompany the Bride to Wedding Appointments
Whether it's picking out a dress or tasting cake samples, the bride could always use some friendly advice to help her plan for the wedding.
4. Shop for Bridesmaid Dresses
This is both a task and an opportunity to insist on veering away from matching poofy pink dresses.
5. Coordinate the Bridesmaids Team
Make sure all the bridesmaids get their hair and makeup done, get to the ceremony on time, and have the right bouquets.
6. Spread the News about the Registry
And keep track of gifts so writing thank you notes afterwards is a breeze for the bride.
7. Be the Bride's Right-Hand Woman
Whether it's for fun tasks, like getting the dance floor started, or not-so-fun jobs, like keeping a tipsy, overly chatty cousin away from the bride while she's getting her hair done, your job as maid of honor is to have her back and make sure her big day is as worry-free as possible.
8. Offer Moral Support
Before, during, and after the ceremony, the maid of honor is the go-to-gal when the bride needs to express any jitters or worries she might be feeling.
9. Hold the Bride's Bouquet
While the couple exchanges vows, the maid of honor is in charge of holding the bouquet.
10. Witness and Sign the Marriage Certificate
Along with the best man, the maid of honor is in charge of making this whole shebang legally binding.
11. Make a Toast
Keep it short and sweet (and not embarrassing!), and you'll be a hit with the bride and her guests.
12. Prepare the Bride for Takeoff
When the reception is over, help the bride change into her honeymoon clothes and hold onto her dress for safekeeping until she's back.
With everything well planned, there's no reason you shouldn't have a drink and enjoy the party too!
Images: Andrii Omelnytskyi / EyeEm/EyeEm/Getty Images; Giphy