17 Harry Potter Father's Day Gifts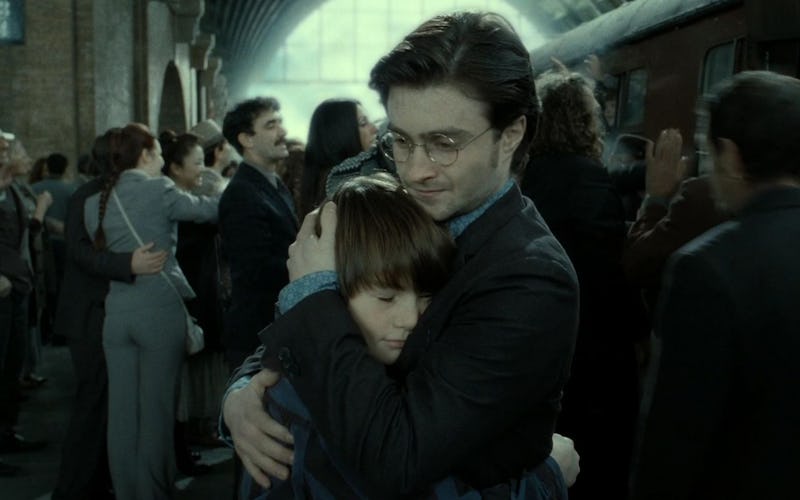 My dad was obsessed with Lord of the Rings when he was a kid, so he was very happy to pass on his love of fantasy literature and give me a copy of the Harry Potter series. He read the series along with me, discussed all the theories with me, and took me to see Harry Potter and the Sorcerer's Stone in theaters. He even ordered Hogwarts scarves for the family in our corresponding house colors. Needless to say, being a huge Harry Potter fan seems to run in the family. The snitch doesn't fall far from the snitch-tree, and it's truly a great series to read with your dad because there are so many great father-kid relationships in the story.
Harry Potter Box Set, $52, Amazon
Now, my dad strongly dislikes certain Potter-themed goods (don't get him started on wands, because he will go off on how much money they're making just by selling sticks). However, there's actually a lot of great HP merchandise out there for fathers, if you know where to find it. After all, you need to show your dad how much you appreciate him (and how much you appreciate that he didn't name you Albus Severus). So if you're searching for the perfect gift for your Harry Potter-obsessed dad this Father's Day, don't stress: consider this list your Room of Requirement, full of presents just waiting to be selected.
1. Harry Potter Tie
A tie is the classic "dad" present, but why not personalize it by choosing a Harry Potter-inspired tie? Choose whatever house your dad prefers (or whichever house colors look best with his blazers).
Harry Potter House Ties, $20, ThinkGeek
2. Hogwarts Water Bottle
If your dad is athletic (and/or likes to stay hydrated), this gift is perfect for him: a Hogwarts-themed water bottle. It's both practical and magical.
Hogwarts Black and White Water Bottle, $22, Harry Potter Shop
3. Hogwarts House Coasters
My dad went through a phase where he was obsessed with coasters. He would buy them constantly, until we had more coasters than drinks to put on them. However, over the years, those coasters have slowly disappeared... So maybe it's time to get him some Hogwarts house coasters?
Ravenclaw Coasters, $20, Harry Potter Shop
4. Wand Pen And Bookmark
So maybe your dad doesn't want a wand, because he, like my father, thinks it's just a stick and you could just go find a stick in your backyard for free. BUT what would he say to a wand that was also a pen?? This super cool replica of Dumbledore's wand doubles as a pen.
Official Wand Pen & Bookmark, $9, Amazon
5. Hagrid's Hut Candle
In my opinion, candles are an amazing gift, because you can never really have too many. Well, maybe you can have too many when your desk drawers are filled with evidence of your Zoella-and-Ingrid-Nilsen-inspired candle-buying shopping spree. But here's the trick: if you buy candles as gifts, you can satisfy your candle buying urges AND find your dad a great Father's Day present. For example, you can buy this "Hagrid's Hut" scented candle here from WhiskeyDiamondCandle on Etsy.
Hagrid's Hut Soy Candle, $11, Etsy
6. Vinyl Laptop Sticker
If you need something small for your dad this Father's Day, how about a vinyl laptop sticker? Dress up his Macbook with this Dobby sticker from SoulVinyls on Etsy.
Dobby MacBook Decal, $2, Etsy
7. Butterbeer Stein
Nothing says "classic Dad gift" like a beer stein... especially when it's a BUTTERbeer stein.
Butterbeer Stein, $18, Amazon
8. Hogwarts Alumni Shirt
Maybe he's past the age of actually attending Hogwarts, but your dad can still be an alum. I know my dad loves receiving random t-shirts as gifts, because he wouldn't buy them himself but he actually wears them all the time.
Hogwarts Alumni T-Shirt, $30, Harry Potter Shop
9. Hogwarts Alumni Baseball Cap
Is your dad more of a ball cap person than a t-shirt person? No fear: the Hogwarts alumni print is available in many forms.
Hogwarts Alumni Sporty Hat, $15, Etsy
10. Firewhiskey Flask
If your dad is the one who taught you how to enjoy fine whiskey, combine his Ron Swanson attitude with Harry Potter and give him one of these awesome Ogden's flasks. Buy them from LeeloJewelrySupplies on Etsy here.
Ogden's Olde Fire Whiskey Flash, $12, Etsy
11. HP Leather Journal
Though he never writes in them, my dad hoards nice leather journals. You can find this awesome Hogwarts one for your dad from BlankLeather on Etsy.
Harry Potter Notebook, $24, Etsy
12. Marauder's Map Blanket
James Potter was the original HP dad, so why not salute YOUR dad — and the Marauders — with this awesome map blanket? My brother actually bought this one for me, and I can confirm that it's epic.
Marauder's Map Woven Tapestry Throw Blanket, $36, Amazon
Image: Warner Bros (1)