How To Celebrate Memorial Day If You Hate Crowds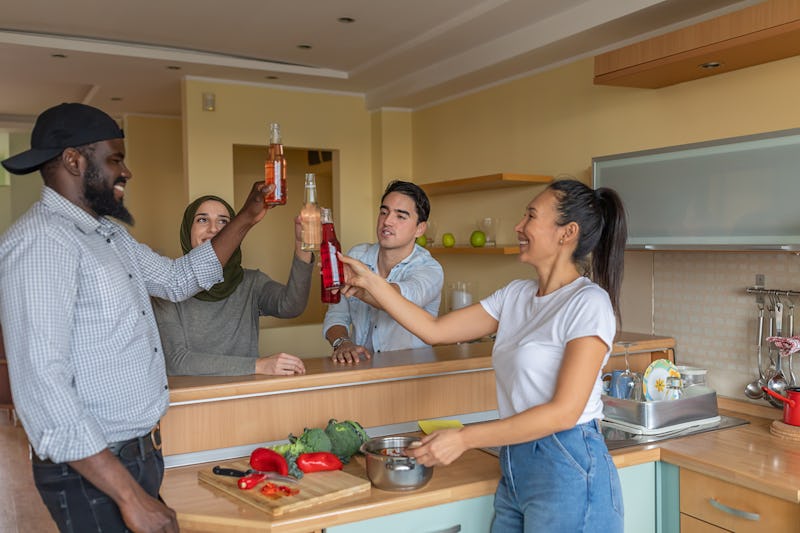 BrankoPhoto/E+/Getty Images
You plan an epic celebration for Memorial Day at the beach and when you arrive, there's more people than grains of beach sand... ugh. There are few things worse than muscling through a crowd of sweaty strangers when you just want to party with your friends. But believe it or not, there are actually ways to celebrate Memorial Day if you don't want to be surrounded by a huge crowd. You just need to avoid the typical public spots most people will be on Memorial Day. Resist the urge to do the expected, and do the unexpected instead. This is your long weekend, so if crowds aren't your thing, then stay far away. There should be zero moments spent on your rare and precious time off doing anything that doesn't make you happy.
So don't settle for being stuck in traffic, waiting in line, or making your way through a mass of strange shoulders and elbows when you could still have fun far away from all that noise. Preserve your sanity and do your own thing. Invite your closest friends along, or spend this three-day weekend getting some much needed alone time. Either way, you'll have a blast. Here are all the ways to enjoy Memorial Day without facing the loud and messy crowds.
1. Stay home
We all know that no pants are the best pants. And since nudity isn't allowed in public, go pants-less and just stay home. Bask in the quiet and enjoy your own company. There's no such thing as too much relaxation, so get some solid chill time in this weekend.
2. Host or attend an intimate gathering
Memorial Day parties don't have to have 30-plus attendees to be a good time. If someone you know is having a small party, head that way. Or better yet, host your own. Invite only your faves, order some food, and your guests will probably all bring you wine or booze, so that's a sweet bonus.
3. Visit your family
Most people party with their friends on Memorial Day, but switch things up this year and head back home for the weekend. Have a nice relaxing barbecue with Mom and Dad, and enjoy the comforts of your childhood home. And the free laundry.
4. Shop online
Do not fall for all the stellar in-store sales. They come at a price. And that price is enduring tons of other shoppers getting in your way. There will be plenty of amazing deals online, so if your plans involve some retail therapy, do it safely from your couch.
5. Watch all the summer movies
Memorial Day is the kickoff to summer. And summer is the start of blockbuster movie season. But instead of hitting the theaters with everyone else and catching new releases, stay home and rent the summer movie classics instead.
6. Head out to sea
You won't find a crowd of people in the middle of the ocean or lake unless you're on a cruise ship. So rent a canoe and head out on the open water solo, or gather a group of friends and split the cost of a boat rental for the day. There's always a max number of passengers when it comes to water travel, which is perfect for avoiding crowds.
7. Get your fitness on
Hit the gym during peak times when you know everyone is out and about, and you'll probably have it all to yourself.
8. Go out before 10 a.m.
If you really want to hit the beach this weekend, just go early. Hit the sand at 8 a.m. and leave by 10 a.m., and you probably won't be surrounded by tons of people. Same goes for shopping or running errands. Early birds do get the worm, you know.
9. Read all the books
You have a stack of books on your nightstand that you've had no time to read, right? Well, now you have time. Get lost in the pages, and don't look up until Monday night. That sounds like a perfect weekend to me.
Image: BrankoPhoto/E+/Getty Images; Giphy (7)