13 Books About Falling For Your Best Friend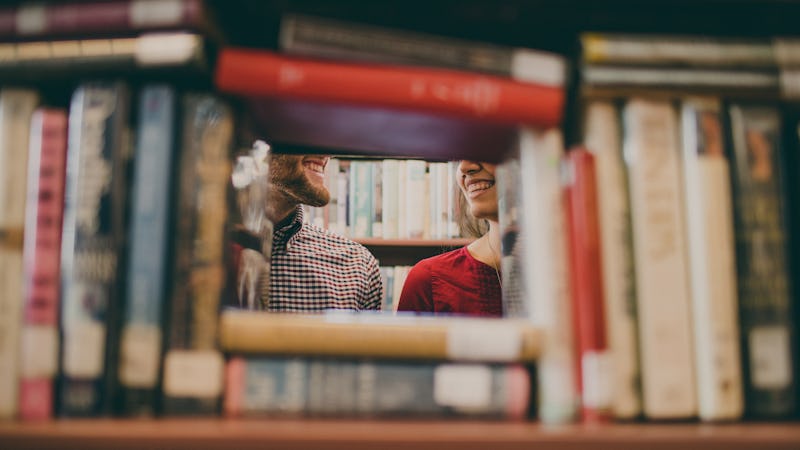 Falling in love may be a unique experience for everyone, but love stories, on the other hand, tend to rely on the same tropes. Frantic confessions of love at the airport gate, fake fiances-turned-real romantic interests, forbidden love — from the heartwarming to the outrageous, we've read these stories time and time again, but it doesn't stop us from loving books about falling in love with your best friend. But why? It's a familiar story we can all relate to.
When I was a teenager, my first boyfriend was my childhood friend from down the street. He's was the first person I really kissed, the first boy I went on serious dates with, and even the guy I lost my virginity to. Like most young relationships, it didn't work out in the end, but I still remember it fondly, in part because it was with one of my best friend. Even though we didn't get our happy ending, falling in love with your best friend is like living a fairy tale.
The love between best friends is unlike any other, and although a best friends can make the best partners — they know you better than anyone else, you share everything with one another, you like doing the same things — turning a BFF into a BF or GF comes with its own set of complications. What if it doesn't work out and you can't be friends anymore? What if your best friend doesn't feel the same way as you? It's this mix of perfect romance and potential drama that is what makes reading about them so fun.
From classic Jane Austen novels to modern YA romances, here 11 books about falling in love with your best friend, because who makes a better romantic partner than your favorite partner in crime?
1. Love, Rosie by Cecelia Ahern
You know that song by Bonnie Raitt, "Something to Talk About?" It should be the theme song to Cecelia Ahern's Love, Rosie, a sweet and charming romance novel about two friends, Alex and Rosie, who everyone else knows are meant to be, but who seem to be clueless to their own perfect match. When they finally decide to give their relationship a try, a big move and a surprise pregnancy, one with a man who isn't Alex, throw a wrench into their happily ever after. But is that really where their story ends?
2. Blurred Lines by Lauren Layne
Parker and Ben met in college, but despite how close their relationship became, they always stayed just friends. That is, until six years later when the pair, who live together platonically, find themselves trying out a "friends with benefits" arrangement. In a sweet and sexy novel about the deep connection and chemistry between friends, Lauren Layne's Blurred Lines seeks to find out what happens when friendly relationships cross the line.
3. Harry Potter and the Deathly Hallows by J.K. Rowling
Though their ultimate pairing was controversial (even J.K. Rowling herself said she wished she never put them together), Ron and Hermione are a prime example of longtime best friends who eventually realize that they're meant to be something more. It may have taken seven books and multiple brushes with death, but Hermione finally showed her feelings for Ron with a kiss in Harry Potter and the Deathly Hallows, and Potterheads everywhere swooned.
4. The Summer I Turned Pretty by Jenny Han
The first in her wildly popular Summer series, Jenny Han's The Summer I Turned Pretty takes the idea of best friends falling in love and turns in into a love triangle. Belly loves summer, because that is when all of the magic happens. But this summer is different, because the boys she's known since she was a kid, the ones she looks up to, are changing, and so is she. The first in Han's Summer series, The Summer I Turned Pretty is a the perfect summer romance read about growing up and making hard choices.
5. The Body Finder by Kimberly Derting
If realizing you're in love with your best friend isn't difficult enough, try having the power to sense dead bodies on top of it. Violet, a young girl who can sense dead bodies and imprint on their killers, wants to use her bizarre gift for good, and she convinces her best friend Jay to help her. And while they search for the serial killer lose in their town, Violet begins to realize that Jay's protectiveness of her may be a little more than friendly. A unique take on the friends-in-love trope, Kimberly Derting's The Body Finder combines science fiction, murder, mystery, and a love story to create a thrilling and romantic read.
6. Anna and the French Kiss by Stephanie Perkins
When Anna is forced to go to Paris for boarding school, the only thing that makes her feel better is Étienne St. Clair, the smart, beautiful boy she meets who would be perfect for her — if only he were single. Anna and Étienne form a close friendship, but in Paris, a city bursting with love, could they become more? Anna and the French Kiss is a sweet, heartwarming story about young love, new adventures, and waiting for the right moment.
7. Better Off Friends by Elizabeth Eulberg
Everyone says that boys and girls can't be friends because attraction always gets in the way, but Macallan and Levi don't let that stop them from being BFFs. But when their closeness starts to interfere with their love lives, preventing Macallan from getting a boyfriend and possibly ruining Levi's relationship, these two friends begin to wonder if maybe, just maybe, they are meant to be something more.
8. Emma by Jane Austen
Jane Austen was a master at crafting heartwarming love stories, including this one about two life-long friends slowly, and after a few botched romances, figuring out their feelings for one another. If Emma and Mr. Knightly aren't the perfect example of best friends turned ideal partners, I don't know who is.
9. Crazy For You by Jennifer Cruise
When Quinn decides she doesn't want to live her "beige" life anymore, she leaves her boyfriend and old lifestyle behind to start an affair with her ex-brother-in-law and current best friend. Her new life seems to be going great (and a whole lot sexier), but things get even more complicated for Quinn when her ex decides to try and win her back. Torn between her best friend-turned-steamy lover and her old flame, Quinn gets wrapped up in a seriously steamy romance.
10. Side Effects May Vary by Julie Murphy
After Alice finds out she is dying, she decides to do everything on her bucket list: the good, the bad, and the ugly. She enlists her best friend, Harvey, to help her. The only catch? Harvey is head over heels for Alice, and she knows it. And when Alice finds out she is in remission, she must go back and right all of her wrongs, especially the ones against the best friend that has always been by her side.
11. The Grisha Trilogy by Leigh Bardugo
Over three books, Mal and Alina battled darkness, monsters, and pure evil, but despite all the shadows around them, they also found time to fall in love. After all, nothing turns best friends into lovers faster than saving the world together.
Images: John Felise/Unsplash