There's No Limit To Your Mini Frapp Flavor Options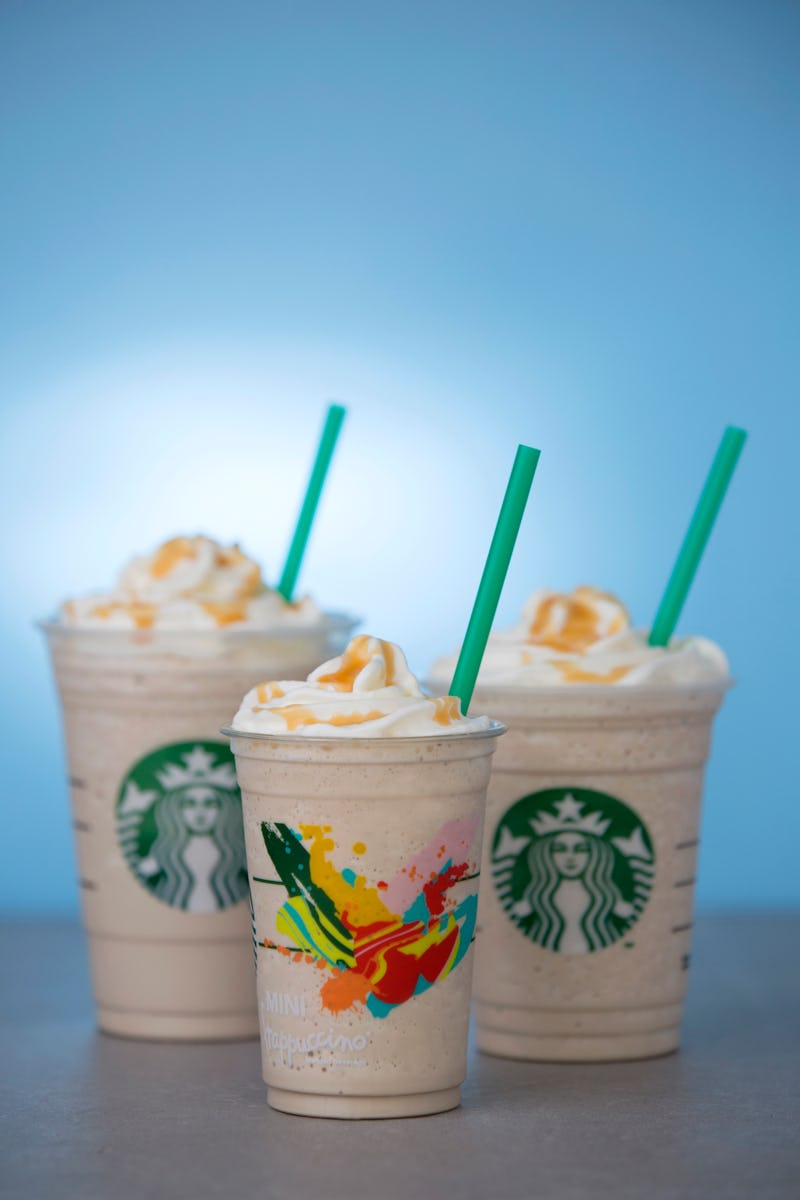 I don't know if you guys have noticed, but Starbucks has been turning it out this year in terms of special flavors and treats. Beginning May 16 (today!), we've got yet another summer promotion in which to partake: Mini Frappuccinos are baaaaaack! Obviously, the question on everybody's mind now is what flavors you can get a Starbucks Mini Frappuccino in. And you know what? I think you guys are going to like the answer. Because the answer is every flavor.
Yes, yes, you read that correctly: Not only is the 10-ounce mini Frappuccino back for the whole summer, because last year's very brief debut charmed everybody and people kind of insisted that the size make a triumphant return, but moreover, you can miniaturize any flavor you want. Permanent menu. Seasonal menu. Secret menu. That weird combo that you only order when there's zero line and the baristas don't look too exhausted. AND the mini Frapp is 20 to 30 cents less than a 12 oz. tall, which means you can totally tell yourself that it's OK to ~experiment~ with all kinds of flavors. Like this list of ones I have very kindly provided for you. Or also other ones. You do you.
Here are a few ideas to get you started, but remember — if Starbucks can make it, you can order it. Knock yourselves out.
1. The Permanent Menu
Java Chip Frappuccinos bring me back to middle school, when I wore bell bottom jeans and Ramones t-shirts and left a lingering scent trail of Bath & Body Works Sun Ripened Raspberry. Now I can relive my glory days but with a mini size Frapp, because I'm old now and too much sweetness at one time makes me lethargic.
2. A Limited Edition Flavor
Honestly, nothing sounds like a better incentive to Keep Being An Adult Even Though It's 3 p.m. On A Wednesday And I Don't Wanna than a li'l midday S'Mores Frappuccino pick me up. There is "marshmallow-infused whipped cream" involved. A lot of it. That is an ideal sentence, and also an ideal treat.
3. A Secret Menu Recipe
Ummmmmmmmmmm did YOU guys know you could add a banana to a Frappuccino?! If you did know this, I'm furious that you did not tell me. Because now, if I'm feeling really OK with asking the barista to do extra work (which may be never, but also this drink looks amazing), I can ask them to make a Chunky Monkey Frapp. Yes. Banana, mocha, hazelnut and toffeenut syrup, and all the sunshine in the world are the ingredients, from what I understand.
4. That One Flavor You Keep Saying You'll Try But Haven't Yet
Like, I think I would like the Green Tea Frapp, since it's full of matcha powder and milk and ice and whipped cream, and I love how it looks...but I'm also a creature of habit who likes to get her same, well-known treats. BUT, now that there is this mini option, I feel okay trying this green dude, since he is very small and non-threatening.
5. Your Own Magnificent Creation
Skim milk, extra shot (or two if my direct deposit came through that day), no-whip Mocha Frapp, and I'm bouncing off the walls. In a good way. Also does anyone automatically sing, "Orange Mocha Frapp-uh-chino!" in their heads when talking about this flavor, or did I just watch Zoolander too many times?
Images: Starbucks (5); Giphy