Mini Frapps Are Back At Starbucks!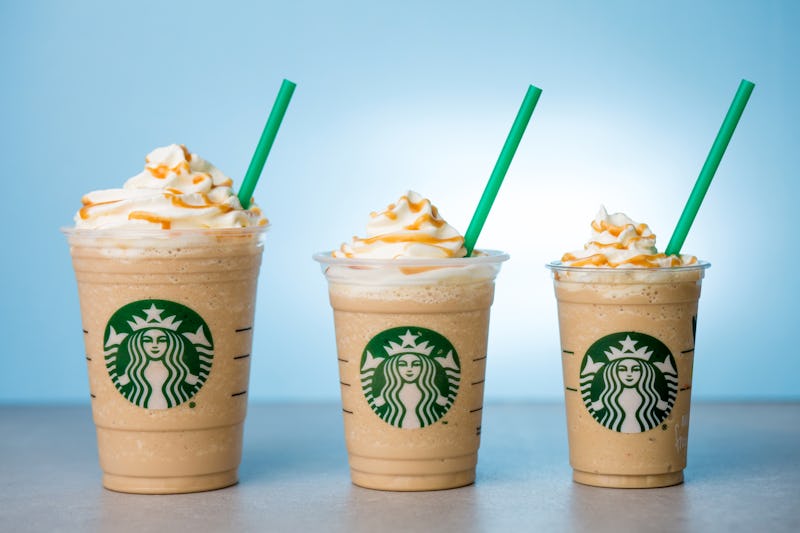 Here's a delicious nugget of news that is bound to make your day seem a whole lot sweeter — Starbucks' Mini Frappuccinos return May 16, and they are just as adorable as you remember. I'm sure there is a very scientific reason that explains why we humans are so drawn to miniature versions of our favorite treats, and I promise to go research that later, but not until I get my hands on one of these baby Frapps, first. They're just so cute you guys.
As you may recall, we first met the Starbucks Mini Frappuccino around this time last year when they made their grand debut last May. The drinks were only around for a few months, and once they disappeared off the menu their absence was truly felt. That's why Starbucks decided to bring back the tiny treat for a second round this summer, and is there someone in corporate I can write a thank you note to? Because this move is seriously appreciated.
So what makes a Mini Frappuccino different than its regular sized counterparts? Nothing, really, except for the cup. Order up the 10-ounce Mini Frappuccino in whatever flavor you wish, and Starbucks will make it happen. I personally plan on getting a Mini S'mores Frapp, like, immediately, but feel free to fill that cup with whatever blend of coffee and creme your little heart desires. Ten ounces may not seem like much (by comparison, a Tall Frappuccino is 12 ounces, and a Grande is 16 ounces), but you'd be amazed by how much happiness Starbucks manages to fit inside that cup.
The Mini Frapps are available in stores now, and will be throughout the rest of summer while supplies last. Oh, and the price on these is pretty sweet, too. According to a Starbucks rep, the Mini Frappuccinos cost between 20 to 30 cents less than a 12-ounce Frappuccino (the price varies a bit depending on market, and what it is you're actually ordering). Honestly, this could be the perfect opportunity to discover your new favorite Frapp (hint: if you haven't tried the Caramel Waffle Cone Frappuccino, do it now).
I wasn't kidding when I said everything just tastes better when it's in mini form (see for reference: mini cupcakes, mini macarons, mini pizzas), and this only proves that theory to be all the more true. But hey, don't take my word for it. Head on over to Starbucks to test out the idea for yourself.
Images: Starbucks; Giphy