13 New Memoirs To Read This Summer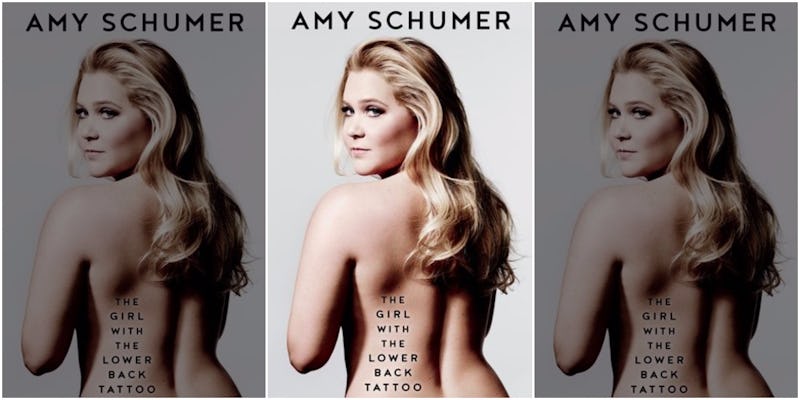 Summer is the best time to relax, soak up some much needed sunshine, drink fancy piña coladas, and read the many books that you've been so excited to get to. Even if you don't have summer break to look forward to anymore, it still seems like summer gifts you with a few extra hours to get things done, see your friends, spend time trying out new recipes, and actually finishing multiple books to satisfy your book loving soul.
I love to challenge myself with my summer reading list. While I can never get enough YA beach reads during the summer, I also love to sit down and spend a day reading a complicated love story, a twisted mystery, or a brutally honest memoir. The things I love most about memoirs are the lessons you can take away.
The memoir debuts for 2016 make up a relatively big list, and this summer has some great options in store for you. From Shane Dawson's newest essay collection to Top Chef host, Padma Lakshimi, gracing us with her incredible memoir, I simply can't wait. Get ready to spend your summer with some incredible writers, heartbreaking stories, hilarious truths, and so much more with these 13 new memoirs:
Crime writer Emily Winslow was a young drama student at an elite conservatory when she was raped in January 1992. Twenty years later, her attacker is arrested in New York City. Winslow follows the case through the justice system — and recounts her quest for closure.
Nadja Spiegelman, the daughter of Maus creator Art Spiegelman, once believed her mother was a fairy. But as she grew and changed, their relationship grew tense. This memoir dives into the complicated history of her family as Nadja Spiegelman explores her mother's and her grandmother's past.
3. Sex Object by Jessica Valenti (June 7; Dey Street Books)
Jessica Valenti is one of the most recognizable feminists of her generation, and her memoir, Sex Objects , is a funny, sometimes heartbreaking look at her life and her daily experiences with sexism and misogyny.
In I'm Just A Person , Tig Notaro, one of America's most original comedic voices, tells the painful story about how — over the course of four short months — she was hospitalized for a debilitating intestinal disease, her mother passed away, she went through a breakup, and she was diagnosed with breast cancer. She shares her story in a hilarious, heartbreaking, and absolutely phenomenal way.
Shane Dawson, the hilarious YouTuber and author of I Hate Myselfie , is back at it again with an even further in-depth look at his life. From his most bizarre moments of childhood to dressing in drag for the first time, from clashes with celebs to coming to terms with his bisexuality, Dawson reveals all in his newest collection of essays. If you're a fan of his, it's safe to say this is already pre-ordered for you, but if you haven't been introduced to this YouTube sensation, I'd recommend checking him out if you're a millennial who loves to laugh.
Victoria Fedden — nine months pregnant, 36-years old and still living with her parents — has her life completely flipped upside down when a squad of federal agents burst through her parents front door and arrest them for a pump-and-dump scheme. Being a single mom is tough enough, but when she doesn't have her parents to rely on, she nearly loses her mind. Dubbed a "real-life Arrested Development ", this is a memoir you certainly won't forget.
7. Double Cup Love by Eddie Huang (May 31, Spiegel & Grau)
If you're a big fan of the new ABC hit show Fresh Off the Boat, based on Huang's first memoir, you're in for a treat with Double Cup Love . Huang, a first-generation American, sets off to China with his two brothers, determined to understand himself and his culture.
8. Saving Alex by Alex Cooper and Joanna Brooks
When Alex Cooper was 15 years old, she came out to her Mormon parents as gay. That's when things took a turn for the worst. She was taken from her Southern California home to Utah, where a group of Mormons took her in and promised to save her from her homosexuality. They trapped her in a world of abuse and terror. This certainly isn't a lighthearted beach read, but it is one that tells an important, brutal story.
9. Being Jazz by Jazz Jennings (June 7; Crown Books for Young Readers)
You may recognize LGBTQ activist Jazz Jennings from her hit TLC show, I Am Jazz. In her memoir, Being Jazz : My Life As A (Transgender) Teen , Jazz reflects on her role as an activist and role-model, educates others on her life as a transgender teen, and discusses the joys and turmoil of being a teenager. Jazz will inspire you to be unapologetically yourself.
I'm not sure about you, but when I found out Padma Lakshimi, aka the gorgeous host of Top Chef, was coming out with a memoir, I marked it in my calendar immediately. Before Lakshimi found her calling through television and food, she traveled in-between continents as a child, never truly holding on to a home, but always looking forward to visiting her grandmother's kitchen. Her story includes ferocious and incredible women, delicious recipes, and an illuminating lesson about how we eat is an extension of how we love.
11. Toni Tennille: A Memoir by Toni Tennille (April 1; Taylor Trade Publishing)
Remember jamming out to Love Will Keep Us Together alone in your room after your crush picked up your dropped gel pen in middle school? Or was that just me? If you or your parents were a fan of the mid '70s pop duo Captain and Tennille, you need to begin your summer by reading this memoir. This duo seemed perfect for each other, so it was a shock when Toni divorced her husband. This is her side of the story — the truth behind her emotionally inaccessible husband, and how she became a stronger woman through it all.
Can't get enough of musically themed memoirs? Not to worry — Dave Holmes is releasing an exceptionally funny and memorable story, one told in the form of a song playlist. Holmes grew up as the artsy kid in a sporty family; he was the closeted gay kid at his Catholic college; later, he soared to stardom as the runner-up in MTV's first Wanna Be A VJ contest in 1998. This memoir will fill your summer with nostalgia, music, and laughter.
Last, but obviously not least, is Amy Schumer's highly anticipated memoir, The Girl with the Lower Back Tattoo . The Emmy Award-winning comedian, actress, and writer dives into her past to reveal the stories and experiences that transformed her into a woman who stands up for what she believes in and can make you laugh unlike any other. Finish your summer off with one last hurray with Schumer's memoir.