PEN Letter Supports Egyptian Novelist In Prison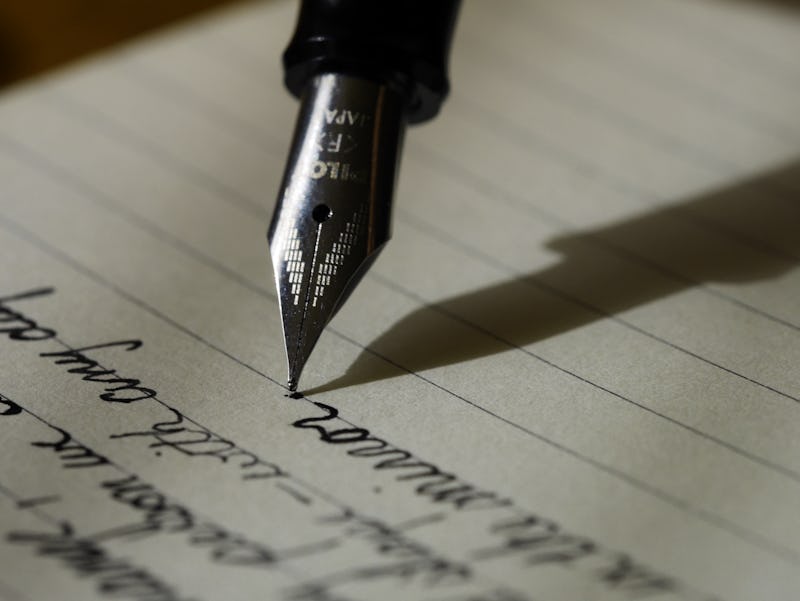 Whether you live in a country where freedom of expression is protected or not, all writers have a common interest in supporting the principle — and they tend to take it pretty seriously. Over 120 writers have signed a PEN letter supporting Ahmed Naji, an Egyptian novelist currently serving a two year prison sentence for "injuring public modesty" with his work.
Ahmed Naji's graphic novel The Use of Life is an experimental work that focuses on life in a dystopian city and is rooted in Arabic classics — including some of their more risqué aspects. The main character in the novel smokes, drinks, and has an affair, and the novel includes sexually explicit scenes. Despite receiving critical praise — and despite the fact that Egypt ostensibly guarantees freedom of speech — Ahmed Naji was convicted and sentenced to two years in prison after a 65-year-old man filed a complaint claiming he experienced heart palpitations due to the novel. Because freedom of speech in Egypt really is more of a theory than a reality at this stage.
Prosecutors in Naji's case argued that the novel was "vulgar" and called it a "disease;" Naji also told the press that prosecutors have acted as though the novel is about real people and real events. Though the judge in the first trial in December of 2015 acquitted the author, prosecutors appealed the case to a higher court where Naji was found guilty in February of this year.
The conviction sparked outrage in Egypt. Seven members of the committee that wrote the Egyptian constitution have condemned the sentence, and over 500 Egyptian writers and artists have signed a statement of support and solidarity. And that sense of solidarity has gone international as well. More than 120 writers and artists have signed a letter from PEN America supporting Naji, including Chimamanda Ngozi Adichie, Phillip Roth, Margaret Atwood, Roxane Gay, Khaled Hosseini, and Dave Eggers.
"Writing is not a crime," the letter reads. "As you know, Egypt's 2014 Constitution protects freedom of expression under Art. 65. In addition, Art. 67 expressly protects freedom of artistic and literary creation and forbids the jailing of writers and artists for publishing their work. The charges against Mr. Naji, brought under Art. 178 of Egypt's Penal Code, directly contravene these constitutional provisions."
The letter adds that this sentence is only part of the recent crackdown on writers and journalists in Egypt.
Ahmed Naji was also awarded the PEN/Barbey Freedom to Write Award this year. "Naji's case is emblematic of Egypt's escalating crackdown on artistic freedom in flagrant disregard for its own constitutional protections and at the expense of the country's rich cultural traditions," PEN America Executive Director Suzanne Nossel said in announcing the award. "PEN hopes that this award will spur writers, readers, advocates, and world leaders to press Egypt to release Naji immediately and to stop treating creativity as a crime."
The right to freedom of expression — including the right to pen novels about taboo subjects — is a human right. And writers and artists everywhere can appreciate that, whether we live in a society where that right is guaranteed or not. Because we're all in this together.
You can find a full list of signatories here.
Images: Aaron Burden/Unsplash