17 Best #RunningManChallenge Videos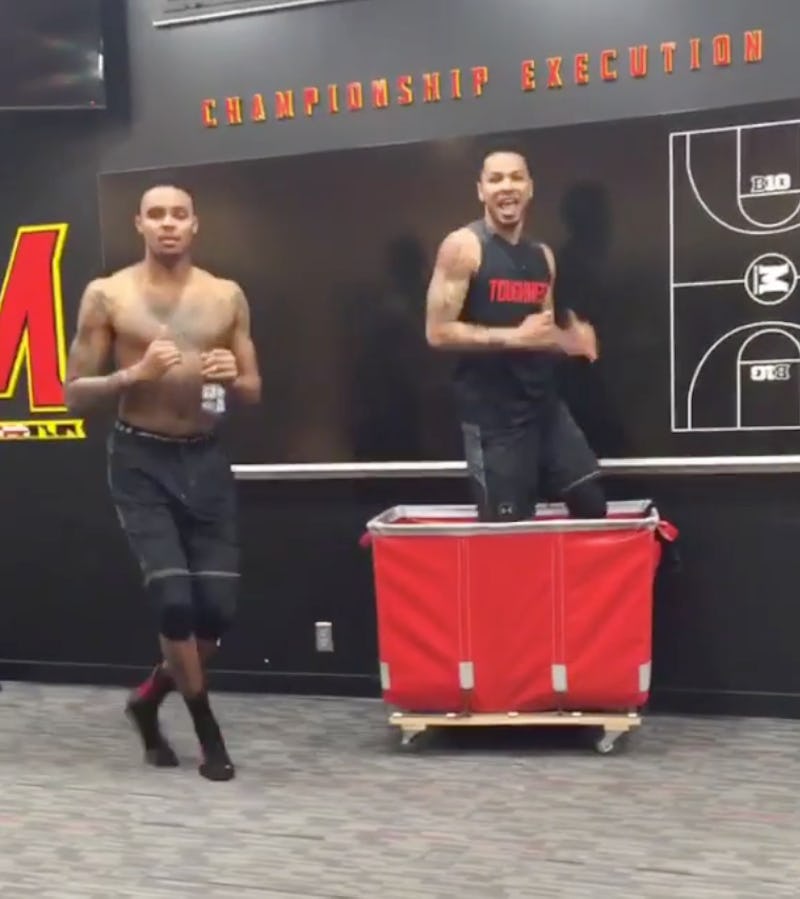 Ever since I saw the Harlem Shake viral video I was hoping another dancing trend would pop up — and it looks like my prayers were answered. Thanks to the efforts of two University of Maryland basketball players, we now have the best #RunningManChallenge videos to tie us over. So far it's been a real struggle not to make one myself, but with 24 years under my belt I know that nothing good can come of it. Instead, I will enjoy the variety of amazing #runningmanchallenge videos that have since sprung up.
What is this challenge, exactly? Well, it's quite simple really. Jaylen Brantley and Jared Nickens figured out a winning combination between doing the Running Man dance move and an amazing '90s hit song My Boo by Ghost Town DJ. The more people you get involved the better. The more outlandish the location the better. The more effort you put into this thing — the better. Just get creative with it.
So far, the response has been tremendous online. People are getting creative and it's really making my day. From YouTube to Vine and all the way to Twitter, the #runningmanchallenge is taking over. The original video featured Brantley and Nickens goofing around after practice, jumping out of a cart and out-dancing one another. The caption underneath stated "Who wanna battle??????" and it looks like a lot of people do!
So turn on those speakers, grab a friend and contribute to this hilarious challenge. If you need any inspiration, just check out these awesome videos below.
1. Miami Beach Police
I wish I had a job where I was dancing on the beach to cool tunes with co-workers.
2. Broward Sheriff's Office
This is a response to the Miami PD's running man challenge. And boy did they go all out! There's basically an entire parade squeezed into one video.
3. Sydney Jockeys
You might not think "great dancers" when you think of jockeys, but you would be dead wrong.
4. The Group Formation
Look at the amazing formation that these kids have going on right now. This took planning and choreography.
5. Location Is Key
Like I mentioned previously, the location is important. Switching up your locale can only benefit the overall aesthetic.
6. Middle Of The Street
The harrowing combo of being done at night and in the middle of the street deserves our respect.
7. Getting Down In The Club
Clearly no party would be complete without the musical stylings of this challenge video. Glad to see everyone was on board.
8. The Grocery Store
One of my favorites so far is this video. It took planning, nerve, and just the most perfect timing in order to avoid being thrown out of the store.
9. Mother Daughter Time
Where could have this woman gotten her sweet dance moves? Her mother, of course!
10. Working Out
Maybe if this was part of my workout routine I would be a lot more invested.
11. Class Work
That girl hiding under a blanket was the killer in this video.
12. Girls With Attitude
These girls killed it!
13. Themed Parties
If you're hitting up a '90s themed party this weekend, you can bust out this dance move and fit right in.
14. Dogs Get Down Two
Corgies know how to hit that running man with style.
15. Graduation Celebration
They say it doesn't matter what time in place — I say there is no better time or place than graduation, baby!
16. In The Classroom
The sweet sounds of a heart falling in love.
17. The Winner
I say this is the winner of the whole dang thing.
Images: Instagram/ Jaylen Brantley