Andi Dorfman Spills On Those Chris Harrison Rumors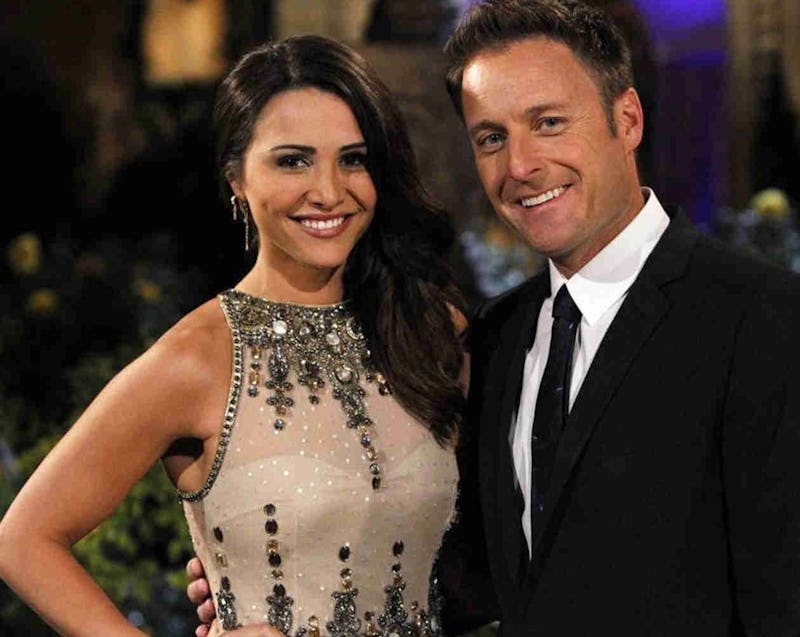 Who could forget when rumors hit the Internet in January that suggested Andi Dorfman and Chris Harrison were dating? Bachelor Nation certainly can't. And, who could blame them? Both stars are beloved by the franchise's fans, and even I am personally very invested in seeing them both happy. So, when Andi posted an Instagram pic of herself and Chris at dinner with the mysterious caption: "Distance makes the heart grow fonder and the wine flow stronger when it comes to @chrisbharrison," I hoped against all hope that the dating rumors were true. In the end, they turned out to be only rumors, as confirmed by the Bachelorette herself. Andi tells Bustle while promoting her book It's Not Okay, that she and The Bachelor host are not together. But, she wasn't offended by the snap judgement from fans.
"[The rumors] totally make me laugh because Chris and I are really, really good friends," she shares. "Everyone who knows us laughs about those rumors too, because they know us personally and as friends. So yeah, it's funny. You've got to laugh at that kind of stuff, otherwise I think you're going to go insane."
Like Andi, Chris certainly knows what it's like to have dating rumors surface about him and other contestants, despite his claim to YourTango that he isn't really into dating anyone from the show.
I'll never say never to anything — you get in trouble when you do that — but definitely while the show is going on, whether it's Bachelor or it's Bachelorette, I never really look at it as an opportunity ... I hate to say that it's clinical that I approach it as a job. I approach these people as friends, to a certain degree, but ... it really is work.
Andi doesn't see him with another Bachelor Nation member either. But, she does want him to find his own happy ending. "I'm desperate for him to date somebody," she says. "I'm always trying to set him up with people. I probably wouldn't pick anyone from the franchise." So, who would she pick? "I always joke that I want to set him up with Jennifer Lawrence because I secretly want to be best friends with her," the former Bachelorette admits.
And, if that isn't a good reason to set up your friend I don't know what is. To be honest, Lawrence might go for that blind date. Chris revealed to TV Guide that J. Law is a Bachelor Nation member herself. "I was really looking forward to meeting her," he shared with the outlet, "And then she walks up and she tells me how much she loves [the show]. I'm like, "You like The Bachelor?" and she was like, "Duh, I'm a girl."
So, let's make this pair happen Bachelor Nation matchmakers!
Image: ABC