Imari Could Stand The Test Of Time On 'Coupled'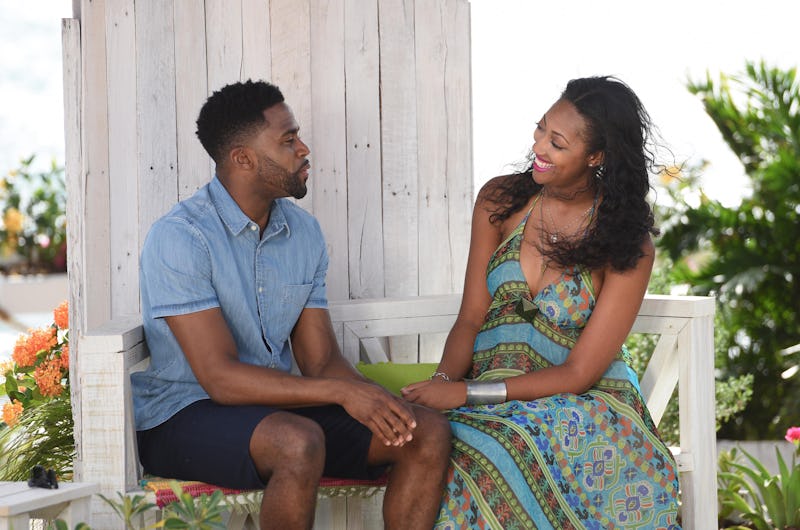 Even when a dating show switches up the formula, it is still a dating show at heart. FOX's Coupled is hoping to switch things up by having women get the first choice to say yes or no to the men they want to date, so who are these men they'll be voting on? Imari is one of the suitors on Coupled , a digital advertising professional who will be trying to win the heart of any of the dozen of women that make up the cast of the show.
While Imari is far from the focus of the show, he may end up as a long-lasting presence on the show if he ends up staying on the island and being courted by one of the island residents. Entertainment Weekly posted an exclusive clip of the show where viewers can learn a little more about Imari and he's looking for in a partner. "I love a woman who holds me accountable," he said in the clip. "You want somebody that's gonna say 'Hey. Imari. You're [expletive] up right now, get it together bro.'"
Does this mean that Imari may need someone to holding him accountable if he does something regrettable on the island? We'll have to watch to find out. But, for now, here is a look at some of the things that interest Imari, and what they might say about his character.
Moms & Dogs
Imari still has a close relationship with the maternal figures in his life, which is a great sign that he's a man who knows how to treat women respectfully. Also, his family owns that goofy-looking dog, which means that spending time with Imari means spending time with a goofy-looking dog. This is a huge benefit.
He's Not Afraid To Show Off His Bod
Imari has a body that seems to be designed for tropical climates like Anguilla, and it's likely that he's going to be showing it off every chance he gets. Whether this is a plus or a negative really comes down to attitude, but, from this video, it looks like Imari doesn't take himself too seriously which is always a great sign.
He's A Golfer
Imari seems to be a fan of the game of golf, a sport which values patience and precision, which happen to be two important qualities when connecting with someone through conversation. Just like in golf, less can often be more.
He's A Huge Basketball Fan
Imari doesn't go on Twitter often, but when he does, it's often to talk about new updates in the NBA. He seems to have some beef with Lebron James, but then again many dedicated basketball fans do.
He's Goofy
Imari has the capacity to get silly and goof around, as seen here while he riffs on Future & Drake's collaborative song "I'm The Plug," turning it into an ode to spark plugs and iPhone chargers. A sense of humor goes a long way in dating, and he'll probably use his unique taste to connect with the women on the island.
Imari seems to be a stand-up guy who could make a good fit for any of the women on Coupled. However, will Imari be considered good enough for any of the Coupled girls, or will no one be interested in him, resulting in him being sent off the island? It's all up to the women to decide Imari's fate on the premiere episode of Coupled on Fox, May 17th at 9 p.m. ET.
Image: Michael Becker/FOX