Let's Do The Time Warp Again… With A New Trailer!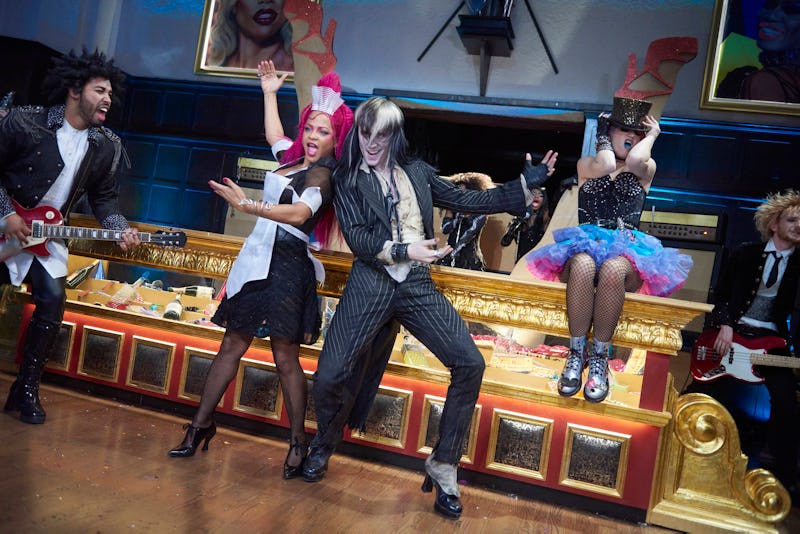 In the velvet darkness of the blackest night, burning bright, there's a guiding star… And that star is Laverne Cox, the Emmy nominated actress known for Netflix's Orange Is The New Black, who will soon be beaming into your television set as the twisted Dr. Frank-N-Furter in FOX's reimagining of The Rocky Horror Picture Show . Now, because I know you're absolutely shivering with antici… pation, I'm here to tell you that the network has released the first official trailer for The Rocky Horror Picture Show — and it looks every bit as delightfully zany as you could possibly hope.
If you're wary of a remake of one of the most beloved cult classics of all time, I understand. But there's plenty of reason to be optimistic here about the new version of the 1975 movie musical. It boasts a terrific cast stuffed full of performers both established and up-and-coming, all of whom have extensive experience with music, theater, or musical theater. There's newcomer Ryan McCartan (Liv And Maddie, off-Broadway's Heathers: The Musical) and Nickelodeon star Victoria Justice as hapless engaged couple Brad and Janet. The wacky trio of Riff Raff, Columbia, and Magenta are played by Reeve Carney (Penny Dreadful, Broadway's Spider-Man: Turn Off The Dark), singer Christina Milian, and Tony Award winner Annaleigh Ashford.
There's also, rock star Adam Lambert as Eddie, Broadway legend Ben Vereen as Dr. Scott, and Game Of Thrones ' newest Dothraki, Staz Nair, as Rocky himself — although we don't get to see any of them in the 30-second teaser. But the main attraction here is undoubtedly Cox as Frank-N-Furter. Tim Curry originated the larger-than-life role and obviously left incredibly large shoes to fill… But don't worry: Curry has put his own personal stamp of approval on the production by agreeing to appear in the scene-stealing role of the Criminologist.
There's talent behind-the-scenes as well. The remake was directed by Kenny Ortega, who turned a little project called High School Musical into a worldwide sensation. (He also helmed a movie you might have seen called Hocus Pocus.) Ortega is also producing the TV movie alongside The Rocky Horror Picture Show's original producer, Lou Adler — yet another stamp of approval from a major force involved in the original production.
If all of that talent isn't enough to get you onboard, consider the evolution of the recent trend of big musical productions on the networks. Things started off OK with The Sound Of Music and Peter Pan, but both NBC's The Wiz Live! and FOX's own Grease: Live were a smash with audiences and critics alike, elevating what's possible with the format. Of course, The Rocky Horror Picture Show will be different from those productions in one key way: it won't be performed live. While we'll lose some of the energy that sense of immediacy gives love productions, there also will be no possibility of audio problems or other technical snafus that have plagued the networks' previous attempts.
FOX's Rocky Horror may never replace the original in our hearts — but it doesn't have to. There's room in the world for both, and this trailer makes an excellent case for why this new version deserves its chance to shine:
FOX has yet to announce a specific air date for The Rocky Horror Picture Show, but the trailer's pronouncement of "This Halloween" makes it clear that we can expect it sometime in late October. Until then, let's do the time warp again! And again, and again, and again…
Images: Steve Wilkie/FOX (3)