The Best Thing About Justin Timberlake's New Video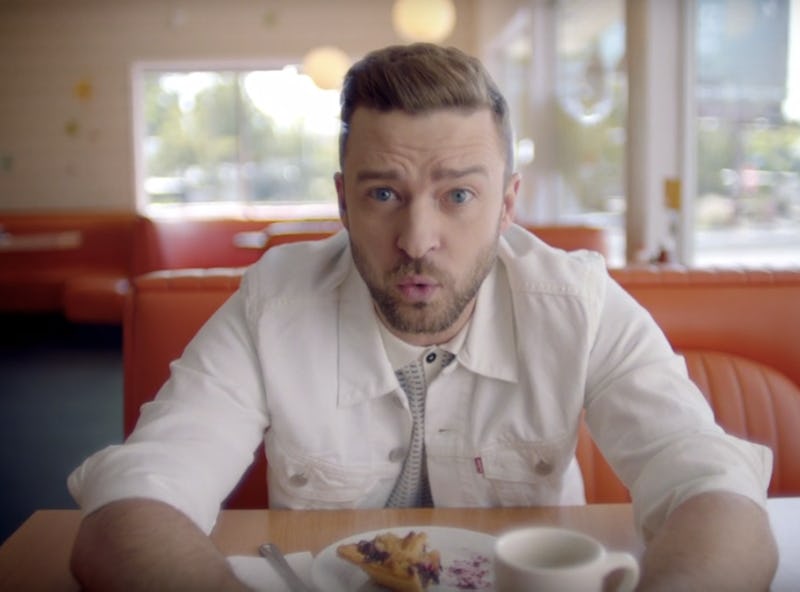 Unless you're living under a rock, you'll have heard Justin Timberlake's new song, "Can't Stop The Feeling!" by now. Taken from new movie Trolls, the song is completely catchy, and it has a music video to match. Featuring Timberlake and a whole host of dancers, the video for will have you jumping around the room, plus there are so many dance moves you can't help but copy when you see it. But who is the real star in the "Can't Stop The Feeling!" video? There's an important reason you should re-watch Timberlake's latest offering immediately, and, no, it's not Timberlake himself.
As well as dancing alongside a whole host of people, the pop star finds an unlikely companion to smash out a dance routine with in his new video. And that just happens to be... wait for it... a wacky inflatable arm waving tube man. That right. The wacky inflatable arm waving tube man is the real star of the "Can't Stop The Feeling!" music video. While I understand Timberlake is basically dancing with an inanimate object at this point, and not another person, the best moments of the video feature everyone's new inflatable best friend. And, once you've seen the waving tube man's moves, you'll know that I'm right.
The footage may well be manipulated, but that doesn't detract from the fact that Justin Timberlake is dancing with a wacky inflatable arm waving man, and their moves are completely in sync. It's the best part of the video because it proves just how contagious "Can't Stop The Feeling!" is, that even random objects on the street are inspired to start making shapes to the music.
The power of Justin Timberlake's dance moves is one of life's great mysteries. The singer basically has super powers as far as I'm concerned. And there's something so strangely beautiful about seeing the former *NSYNC star perform a dance routine with an inflatable man on the street. Not everyone could pull off this feat. For instance, if I tried to reenact this beautiful moment in real life I'd likely be asked to kindly stop what I was doing immediately as I was scaring off customers. But when Justin Timberlake wants to dance with you or your wacky inflatable arm waving man, you simply say yes. Timberlake is always just magical.
"Can't Stop The Feeling!" is the song to get you in the mood for summer, and the video will inspire you to dance around your house, the grocery store, or the street. Dance like you're an inflatable arm waving man and no one is watching.
Images: justintimberlakeVEVO/YouTube