The Timberlake-'Iron Man' Connection You Missed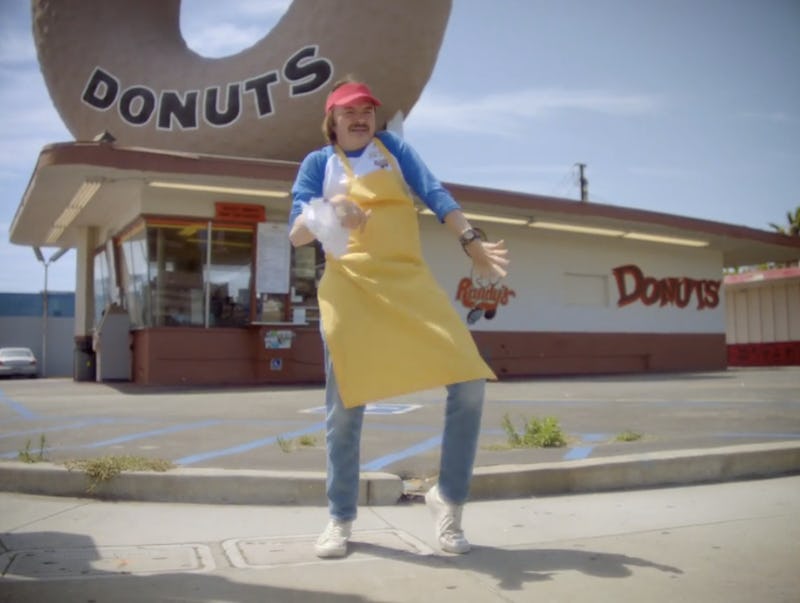 Justin Timberlake's new song "Can't Stop This Feeling!" is super catchy, and you probably know all of the words to it already. The video, too, is so memorable, and will inspire you to dance regardless of whether you're in a public place or not. But it's not just the people and inanimate objects in Timberlake's latest offering that deserve closer examination. The locations do too — and one place in particular looks very familiar indeed. I don't want anyone out there missing the surprising Iron Man connection in Timberlake's "Can't Stop This Feeling!" video, so let me slow your roll on re-watching the music video for the hundredth time and point you toward what you need to see.
If you've watched the video as many times as I have, you may have noticed that one of the people featured in it is dancing in front of a donut shop (and making some delicious looking donuts as well). It's not just any donut shop the crazy dance is happening outside of. Turns out, it's the donut shop featured in Iron Man 2. It makes perfect sense to me that Justin Timberlake's video would feature a superhero connection such as this one, as his dance moves are out of this world. So is there any meaning behind the use of this Iron Man 2 location?
As Radio.com reports, the video for "Can't Stop The Feeling!" was "filmed throughout local establishments in Los Angeles, including a laundromat, grocery store, diner, barbershop and Randy's Donuts." The donut shop is an important landmark in Inglewood, California, and Iron Man 2 is just one of many iconic movies and television shows that have utilized the building. Other credits include Entourage, Get Shorty, and TV shows like Californication.
The shop is iconic for several reasons. Completed in 1953, and still standing, the Los Angeles Conservancy says of the building, "Randy's Donuts is an unquestionable icon of 1950s Los Angeles, for obvious reasons: it is a typical mid-century drive-up restaurant with a giant donut on its roof." An unmistakeable landmark and the perfect location to include in the "Can't Stop The Feeling!" video, it's no surprise that both Iron Man 2 and Justin Timberlake used the shop as a backdrop.
The image of Robert Downey Jr. sitting inside the donut while eating a donut is unforgettable, and now Justin Timberlake has turned the shop into the perfect place to break into dance. I need to go there immediately.
Images: Giphy; justintimberlakeVEVO/YouTube (2)