'Legends' Could Learn From Its CW Sister Shows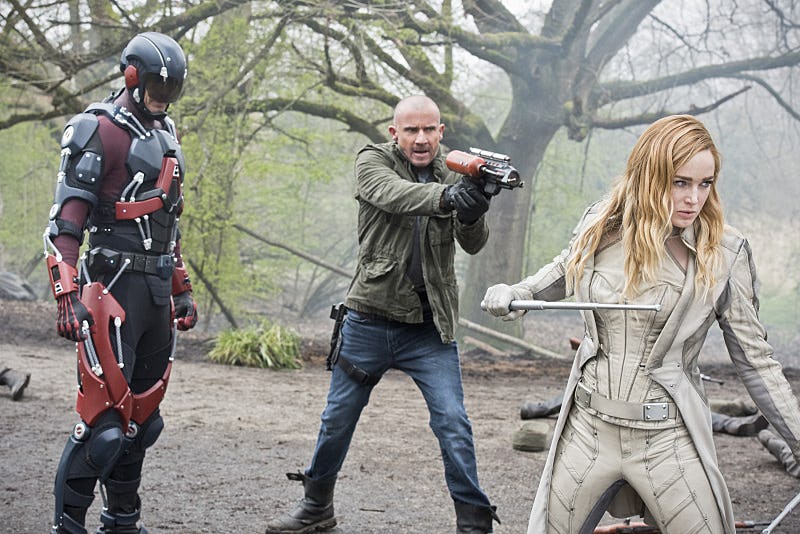 The DC comics domination of The CW continues. The Arrow and The Flash spin-off Legends Of Tomorrow joined the network's stable of superhero shows this season, and will be back again in the fall. The Legends renewal means more adventures and misadventures through time with Rip Hunter and his rag-tag group of improbable heroes, but where will the show go after its season-long battle with immortal baddie and stalker-of-all-stalkers Vandal Savage? That remains to be seen, although I'm hoping for a less confusing storyline than this year's. If the shifting time streams got you all turned around too, maybe a rewatch will clear things up — but if you're wondering when Legends Of Tomorrow will be on Netflix, you're not gonna like the answer.
Unfortunately, you may have to forgo bathroom breaks and sleep if you plan on marathoning all of Season 1 before the start of Legends Season 2. The show's Netflix release date has not been announced yet, but the release schedule of other CW shows provides some clues. For example, The Flash Season 1 didn't make it to the streaming service until October, specifically the date of the Season 2 CW premiere. The release of Arrow Season 3 followed the same pattern. So it's very likely that news about the Legends Of Tomorrow Netflix debut will be hot on the heels of a publicized season premiere date, which hasn't yet been announced but can be expected to be sometime in fall 2016.
While I want for Legends to finally arrive on Netflix, I'd like to propose that the show take the below cues from its CW sister shows when Season 2 comes along.
Embrace The Slow Burn
Legends pulled the trigger on too many 'ships this year, and did it way too soon. (I had barely realized Snart was into Sara before he was confessing some kind of longstanding crush.) The show needs to respect the exquisite pain of drawn-out coupling and unrequited love, i.e. Iris and Barry on The Flash and Felicity and Oliver on Arrow.
Let Emotional Moments Breathe
I haven't connected much with the characters on Legends, even though I do think they're a fun bunch to spend an hour with once a week. The key to inspiring empathy in its audience is for Legends to pause the adventures every once in a while to let relationship moments land. It's a fine line between not enough and too much, as Arrow has proven. But those human beats are necessary if the show is going to survive.
Shake Things Up With New Bad Guys
I can't be the only Legends viewer who is sick to death of Vandal Savage. His constant presence made each episode feel more formulaic than it should have. Like The Flash, Legends should sprinkle in some more one-off villains next year to punch up the plot.
Indulge In Some Team Bonding
I've spent a year with Rip's team, but I still don't have a strong sense of their personality as a group. Individual dynamics, like the one between Martin and Jackson, are better defined. This issue may be addressed by time, but I would still like to request that Legends turn up the team spirit.
There are countless more eras for the Legends Of Tomorrow time-travelers to visit (and period garb to don) in future seasons. You'll be able to experience again how it all started when Season 1 comes to Netflix — eventually.
Images: Dean Buscher/The CW; Giphy; irisandtheflash, wiccan92, zed-vision/Tumblr