'The 100's Season 4 Return Date Is A Mystery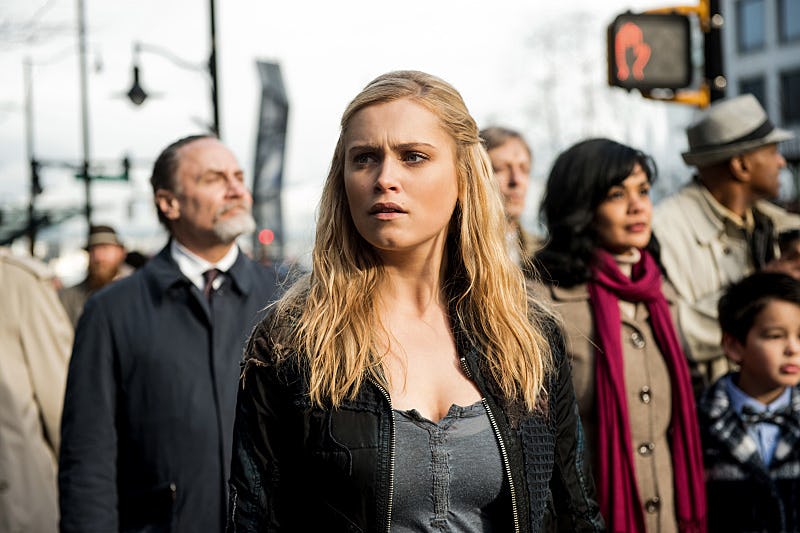 With just hours to go until The 100 Season 3 finale, it's hard not to feel a mix of both excitement and remorse. On the one hand, I have no doubt that the show will deliver an epic episode that I'll want to watch over and over again. But at the same, it also marks the beginning of a long hiatus for us diehard viewers. Because while it's true that The CW has renewed the post-apocalyptic series for a fourth season already, it's difficult to say when exactly The 100 Season 4 will premiere. Update: At The CW's Upfront presentation, the network announced that The 100 will return at midseason.
Earlier: So far, the network has yet to announce an official release date, but considering that Season 3 has yet to wrap, that's not all that unusual. And while normally I look at a show's past premiere dates in order to get a sense of when it will most likely return, The 100 is proving to make the process a little more difficult than that. You see, Season 1 debuted in March 2014, while Season 2 shifted gears and was released later that same year in October. Then they switched tactics yet again and had Season 3 premiere in January 2016. So I quite honestly have no idea where or when it will fall into The CW lineup.
Either way, though, I think it's safe to say that we have at least all summer to wait before the series will return, which means we could use a little distraction right about now. So instead of thinking about what we're temporarily losing, let's consider all the possible exciting team-ups we may have to gain come Season 4. This show has created some pretty dynamic duos in the past, but something tells me this alliances could be the best ones yet.
Jasper & Murphy
While Jasper's storyline has mostly focused on his friendship with Monty, I think it'd be interesting to see him spend a little more time with Murphy next season. They've both had a pretty rough go of it lately (though who hasn't on this show?) and I think their pent up anger and loss of the women they care about could prove to create an interesting friendship.
Octavia & Raven
I mean, between Octavia's insane warrior skills and Raven's genius intellect, their combine efforts would make them pretty much indestructible. Who run the world? These ladies run the world. (Or at least they should.)
Bellamy & Monty
On the surface, they might not appear to have all that much in common, but I think if they really got to know each other a real bromance could start to bloom. And when is that ever a bad thing?
Clarke & Jaha
I'm hoping Jaha will be able to snap out of the trance A.L.I.E. has put him under and be able to get back to his old self in Season 4. If so, I'd be interested to see him work more closely with Clarke. These two are natural-born leaders and it'd be great to see what their joint efforts could achieve.
Indra & Pike
I know they've already started to team up a little bit at the end of Season 3, but I am loving their dynamic with each other and want more. There's nothing more satisfying than watching former enemies become allies.
Suffice to say, it any of these pairings do end up coming to fruition, Season 4 will be well worth the wait.
Images: Diyah Pera/The CW; Giphy (4); fandomsandfeminism/Tumblr