These New 'RHONY' Taglines Are The Best Ever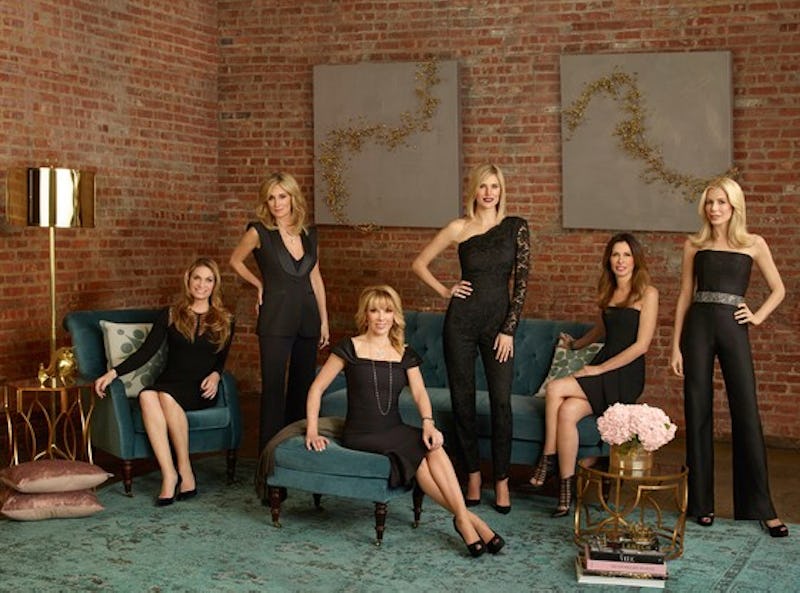 The Real Housewives of New York City are coming back on March 11 and they're bringing with them a new cast member, their attempts to be as dramatic as the other Real Housewives shows, and a severe lack of LuAnn de Lesseps. Another thing they're bringing with them are their show-opening taglines. The Real Housewives of New York City taglines for season six are some of the best ever. These taglines are always over the top, but these might be the most ridiculous yet. Atlanta housewife Kenya Moore's "People may think they have me figured out, but I am always the wild card" has nothing on these.
Heather Thomson — "A true New Yorker never backs down, and I'm no exception. Holla!"
This one is actually fine except for the "holla!" at the end. (Okay, fine. The "holla!" at the end is the best part.)
Kristen Taekman — "I may not be the sharpest tool in the shed, but I'm pretty!"
Aka "I'm dumb?" Taekman is the newest housewife and this doesn't sound promising.
Ramona Singer — "Get the Pinot ready, because it's Turtle Time!"
Okay Ramona, we're going to need you to throw in as many references about yourself as possible. Surely that will make people tune in!"=
Carole Radziwill — "If you're going to talk about me behind my back, at least check out my great ass."
This is a woman who won three Emmys and a Peabody award for her work in journalism. She was also on the New York Times bestseller list. That doesn't mean her ass isn't great, it just means that she's a surprising person to be reading a crazy Real Housewives tagline.
Aviva Drescher — "When people tell me I'm fake, I know they're just pulling my leg."
She has a fake leg. Get it?
Sonja Morgan — "Sometimes Sojna has to go commando. What can I say?"
Sonja is the best and this is easily the best tagline. It says nothing about her expect that sometimes she doesn't wear underwear. Or maybe it's her philosophy on life. That makes sense, right?
Image: BravoTV.com