'Shark Tank' Season 8 Should Have These New Faces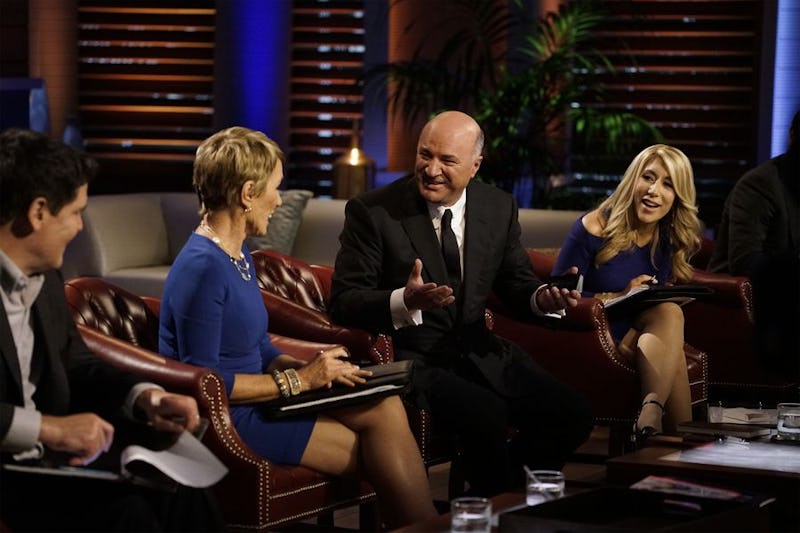 I can already tell that it's going to be a long summer. Why, you ask? Well, the Season 7 finale of Shark Tank airs this Friday night, which means the excitement of seeing entrepreneurs do whatever it takes to score a deal with some of the most accomplished millionaire and billionaire investors out there will be absent from my life for a few months. All I can do is hope when Shark Tank returns for Season 8, it won't be too long from now.
But let's focus on the good news, shall we? We definitely know that Shark Tank is going to have an eighth season. ABC announced that it had renewed the series for Season 8 back in March.
Unfortunately, that announcement didn't say when the show will be returning. But if I had to guess right here, right now, I would say that it'll most likely come back sometime in the third or fourth week of September 2016. That's approximately the time new seasons of the show have premiered the past four seasons, according to TV Guide. Since Shark Tank 's ratings have continued to be strong this season, I expect the series to return whenever ABC begins its fall schedule.
It seems likely that veteran Sharks Mark Cuban, Barbara Corcoran, Lori Greiner, Robert Herjavec, Daymond John, and Kevin O'Leary will all be back for another dip in the Shark Tank for Season 8 as well since how could the show really go on without them? But adding a bit of fresh meat into the show every now and again isn't a bad thing either. I think two of this season's guest Sharks, Ashton Kutcher and Chris Sacca, really breathed new life into the series.
So if you're listening, ABC, here are my dream picks for people to sit alongside our tried-and-true Sharks for an episode or two.
Oprah Winfrey
I'm going to go big or go home with this list, OK? Suggesting Oprah Winfrey right out the gate should prove that to you. Not only has Oprah built her own empire and have an estimated net worth of $3.1 billion, according to Forbes, but also everything she touches practically turns to gold. Many products (Spanx), books (Eckhart Tolle's A New Earth ), and personalities (Dr. Phil McGraw) have become hugely successful after she helped introduce them to the world on The Oprah Winfrey Show. What fledgling Shark Tank company wouldn't want the Oprah seal of approval?
Elon Musk
Whether he's revolutionizing automobiles with Tesla Motors or trying to make space travel accessible to all human beings with SpaceX, Elon Musk is always looking to the future, which is something many of the companies, which are often just starting out, desperately need guidance in. And don't think that Musk is just a dreamer. He originally made his fortune by co-founding PayPal, as Forbes describes, so he definitely knows how to make an initially far-out-sounding idea a reality.
Jay Z
These days, Jay Z is known for his business acumen as much as his music. His empire includes the entertainment company Roc Nation, the Tidal music streaming service, and at one time owning part of the Brooklyn Nets. Jay Z would definitely bring star power to Shark Tank, which, let's be real, would be fun to watch. But actually, he just oozes power, period.
Sheryl Sandberg
As a former Google executive and current chief operating officer of Facebook, Sheryl Sandberg knows what it takes to run a successful business in today's day and age. Although Sandberg may not actually be the biggest venture capitalist around, her investment in a company on Shark Tank would be invaluable since she's a pro at helping firms scale globally and a powerful force when it comes to getting a message across (Lean In, anyone?). Plus, Sandberg would be especially helpful inspiring the female entrepreneurs that appear on the show and even those watching at home since Shark Tank can sometimes struggle with its representation of gender.
Richard Branson
I think Shark Tank is in desperate need of more eccentric billionaires, and who better to enlist for that role than Richard Branson? With decades of experience in the spotlight, Branson would be entertaining in the Tank, if nothing else. But of course you don't get to an estimated net worth of $5.4 billion, Forbes reported, without knowing how to make money. The Virgin empire has had its fair share of ups and downs over the years, but the company is going full steam ahead, looking to have its commercial space travel company Virgin Galactic take off and a scheduled launch of Virgin Cruises in 2020, according to the company's website. Clearly, Branson is an adventurous person, so I don't really know what products he would say yea or nay to in the Tank. There's something incredibly exciting about that.
Diane von Furstenberg
Move over, Daymond! There could be a new fashionista in town. Diane von Fursternberg is a fashion legend, but she achieved icon status and a still-thriving business not only because of her designs but also because of her business smarts. She's also the board chairman of the Council of Fashion Designers of America, as listed on the trade organization's website, so von Furstenberg is clearly a leader. A lot of fashion comes through those doors on Shark Tank, and perhaps it could even be the next wrap dress one day.
With or without these guest Sharks, next season of Shark Tank can't come soon enough.
Image: Michael Desmond/ABC