'Empire' D-Major Has Many Layers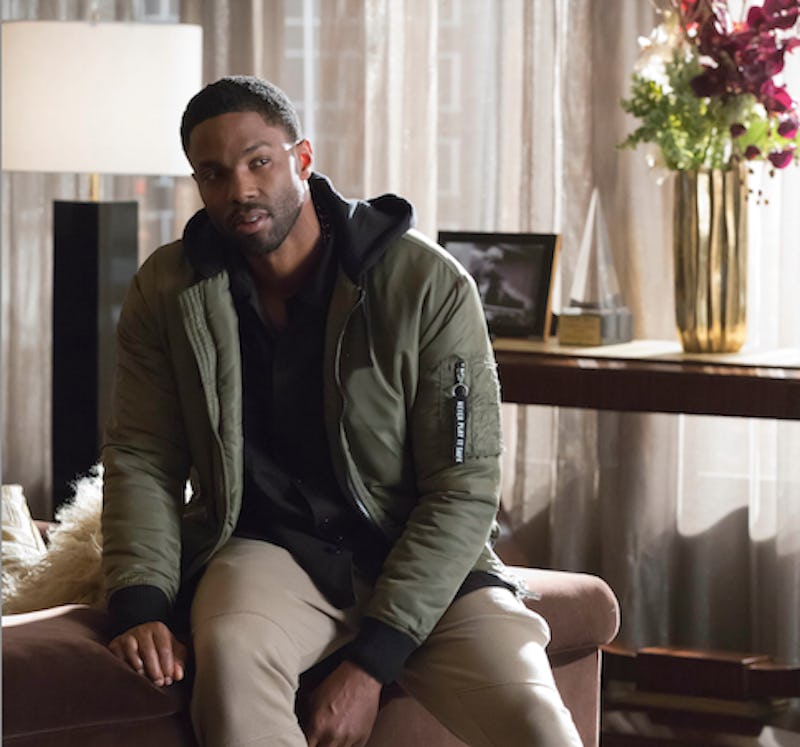 Last week, Empire finally showed fans the long-awaited and much talked about American Sound Awards and even introduced viewers to its music director, the appropriately named D-Major (aka Derek). But who is D-Major on Empire , aside from being Jamal Lyon's new secret lover? D-Major, played by Tobias Truvillion, is a music producer whose sexual orientation — and affair with Jamal — remains on the down low. As for Truvillion, you've seen the actor all over your TV, including on the soap opera One Life To Live and Law & Order: Special Victims Unit.
Already, Empire fans have seen D-Major and Jamal's relationship intensify over a short period of time — and even Lucious walked in on them during a lustful moment in last week's episode. Empire showrunner Ilene Chaiken told Variety earlier this month that D-Major will be featured through the end of Season 2 and that relationship is meant to be a challenge for the middle Lyon sibling. "Jamal is obviously a wildly attractive guy who is going to be attractive to a lot of people, but is also probably lonely," she said. "It's hard as a star to really find love and find someone who can move in the same circles as you and it's inevitable and it's bound to happen that those unexpected attractions are going to flare up."
Jamal has certainly had his ups and downs when it's come to love. Earlier this season, he reunited with ex-boyfriend Michael and flirted with a sleazy Rolling Stone photographer — and then he caught the two of them hooking up in plain sight at a party. After breaking up wth Michael again, Jamal threw himself into his work, which included a chemistry-filled duet with singer Skye Summers (Alicia Keyes) that to a bring fling. Confident in his sexual orientation, Jamal ended things with Skye before they really ever began, because he didn't want to lead her on. Michael is never really out of the picture, though, because he returned a few weeks ago, catering an Empire event and reminiscing with Jamal.
And now with Jamal shot by Freda, he'll need someone by his side more than ever. If Jamal lives, will D-Major stick by him, albeit in secret? Chaiken told Variety that she's in no rush to wrap up Jamal and D-Major's storyline, plus Truvillion told Bleu Magazine that he's just getting started with exploring the role. "He's a complex character," Truvillion said in the interview. "He has multiple layers to himself and he's looking to be accepted like us. We're all trying to find love and trying to figure out who we are in the world."
According to Bleu Magazine, Truvillion was a fan of Empire before he went through the audition process for D-Major. The New York City native began his career in theater and won an NAACP Image Award for his work as Vincent Jones on soap opera One Life To Live. His guest star credits include Blue Bloods, Person of Interest, and Law & Order: Criminal Intent.
The versatile actor told Bleu that he's enjoyed taking on a complex character on Empire. "From D-Major and everything that's going on with him, it's all boils down to those basic human needs, which is what I'm really looking at when I envision a character," he said. "What is his human need? Most of the time it comes down to love."
Image: Chuck Hodes/Fox