When Is 'Empire' Season 3?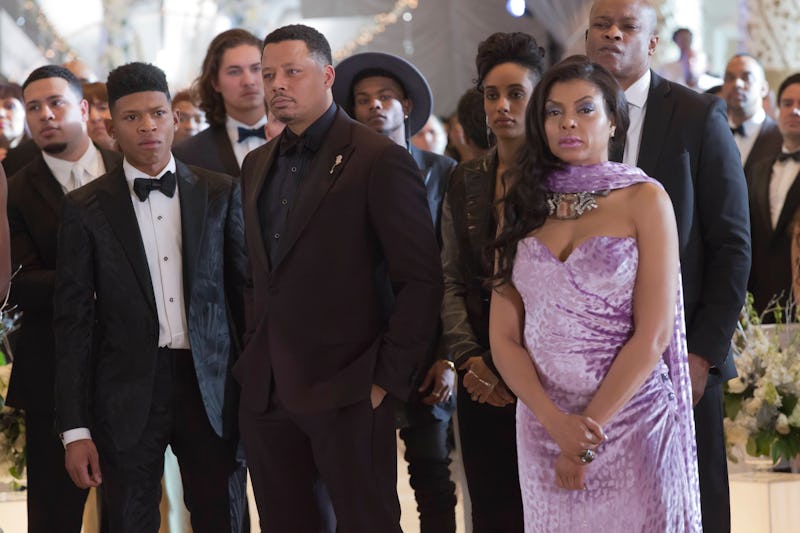 The May 11 episode of Empire left me on the edge of my seat — and it wasn't even the finale. The Season 2 finale of the show airs on Wednesday night and I'm sure many cliffhangers await the Lyon family to be resolved next season. So when will Empire Season 3 premiere to answer the burning questions we'll undoubtedly be left with? The hit Fox drama was renewed for a third season back in January, as reported by The Hollywood Reporter, but the number of episodes and exact premiere date have not been announced. According to Entertainment Weekly, Empire will return to Fox in Fall 2016 and though there is no specific date yet, since Season 2 premiered in late September, it's likely that Season 3 will follow suit.
Over the course of its first two seasons, the drama series has made stars out of its newcomers and increased the star-power of already-known actors Terrence Howard and Taraji P. Henson, who won a Golden Globe for her already iconic portrayal of fierce matriarch Cooke Lyon. Howard and Henson hosted their own holiday special last December, which included a performance by co-stars Jussie Smollett (who plays Jamal) and Bryshere "Yazz" Gray (who plays Hakeem). Throughout last year, Smollett and Gray performed several of Empire's well-known songs at Pitbull's New Year's Revolution, the Billboard Music Awards, American Idol, and the Teen Choice Awards.
So, what's next for the cast? A lot, aside from filming the third season of Empire.
Taraji P. Henson
The actor will star in the movie Hidden Figures , which is due out next year. It tells the true story of a team of brilliant African-American women who worked as mathematicians for NASA, and also stars Octavia Spencer and Janelle Monae.
Terrence Howard
Howard's other show on Fox, Wayward Pines, kicks off its second season on May 25, and, yep, the actor is back as Sheriff Arnold Pope, according to Deadline. The sheriff isn't Lucious, but the quirky character will hold you over for the summer.
Jussie Smollett
The actor and singer gave fans a scare last week when he tweeted the above after his character Jamal got shot. In an interview with E! on May 17 he said of the tweet, "I sent out a tweet and apparently it got fans spinning, that's all I can tell you about that ... Listen, I mean it's all love and everything will, you know, all come together in the season finale and all will make sense." No matter what happens in the finale, it sounds like Smollett will have a productive hiatus. According to Entertainment Weekly, Smollett said that his long-awaited album was scheduled to drop this summer.
Andre Royo
The actor who plays the deliciously shady lawyer Thirsty Rawlings appears in two films this year: Billy Boy, which also stars Super Girl's Melissa Benoist, and Hunter Gatherer.
Gabourey Sidibe
In addition to playing Becky on Empire , the Oscar-nominated actress appears in the Hulu series Difficult People and she co-starred in the Sascha Baron Cohen movie The Brothers Grimsby earlier this year.
Kaitlin Doubleday
The actor who plays Rhonda on Empire recently appeared in Po , an independent drama feature about a widowed father (Covert Affairs' Christopher Gorham) raising his autistic son.
While it's great to see the cast being successful, it'll be tough to replace Empire over the summer. Hopefully Season 3 will have a very early fall premiere date.
Image: Chuck Hodes/Fox