31 Books To Add To Your Summer Reading List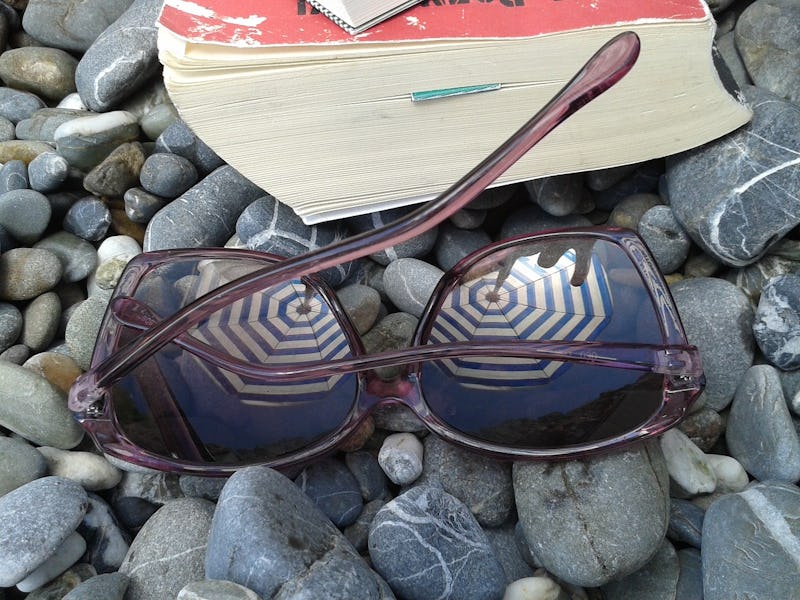 Summer is finally, finally here! Reading new summer books is the best kind of reading because you can give it your all: you can throw yourself into a completely new world, dance on the billowy clouds of a guilty pleasure, or stick your nose to the page in a serious, mind-blowing excursion. And this summer, we're getting some new releases that you are going to absolutely fall for.
It's fitting that so many of these books have the word "fire" in their title — like Jesse Ball's How to Set a Fire and Why or Robin Wasserman's Girls on Fire or Joe Hill's The Fireman. This list has books that will make your world go up in flames, will sear you with their prose, will burn themselves into your brain. What I'm saying is that these books are hot.
Roaring journeys, epic friendships, illicit romances: all the ingredients that make a fantastic summer are alive and well in these reads. Pleasure, pain, and hope are all raging forces throughout these books, lighting sparks under your fingers as you turn the pages.
So ready your tropical drink, your beach towel, and put on plenty of sunscreen. Book season has arrived! Kick back and let these reads take you to whole new worlds:
Poet and rapper Kate Tempset will sweep you up in this story of Londoners Becky, Harry and Leon as they flee their lifelong home with a suitcase full of stolen money.
2. The Assistants by Camille Perri (May 3; G.P. Putnam's Sons)
When Tina, the personal assistant to a media mogul, accidentally steals company money to pay off her student loan debt, the situation snowballs into a massive conspiracy among the assistants. With heaping helpings of romance, friendship, and revenge fantasy, this is one you'll tear through in a weekend. (And be sure to catch Bustle's interview with Camille Perri!)
4. Keep You Close by Lucie Whitehouse (May 3; Bloomsbury USA)
When Rowan's estranged childhood best friend, Marianne Glass, falls to her death, Rowan is the only one who suspects the death wasn't accidental. When she launches an investigation of her own, she uncovers a trove of dark secrets hidden beneath the glamour of Marianne's life.
5. LaRose by Louise Erdrich (May 10; Harper)
Legendary Pulitzer-prize-winning author Louise Erdrich has delivered a beautiful new book for us to sink into this summer. Set on an American Indian reservation in North Dakota, this book begins when a man accidentally shoots his neighbor's child and gives them his own son in exchange for the accident.
6. Girls on Fire by Robin Wasserman (May 17; Harper)
In the wake of a suicide at their school, two teenagers — "good girl" Hannah and "bad girl" Lacey — form an unlikely friendship fueled by passionate rebellion. They become steadily obsessed with each other... and their secrets could spell more chaos than they possibly imagined.
7. The Fireman by Joe Hill (May 17; William Morrow)
A disease called Dragonscale is sweeping across the planet, causing people to spontaneously combust. When a nurse, Harper, discovers that she is pregnant and she has Dragonscale, she begins an epic fight for her life. Mixed up in all of this is an enigmatic man known as The Fireman, who, among his many mysteries, has the ability to control fire.
8. The Weekenders by Mary Kay Andrews (May 17; St. Martin's Press)
This book has all the makings of a beach read. Set on Belle Isle, North Carolina, this is the story of what happens when a woman's husband disappears during the summer season. The perfect blend of drama, humor, intrigue, and just a touch of murder.
9. Sweetbitter by Stephanie Danler (May 24; Knopf)
Tess, a 20-something woman with plenty of spunk, moves to New York and enters the food service industry as a waitress. As she finds herself drawn to two of her fellow servers — a handsome bartender and an older woman whom she sees as a mentor — she also develops an infectious appetite for life that will rub off on every reader.
10. Homegoing by Yaa Gyasi (June 7; Knopf)
This is one of the most anticipated books of the summer — for good reason. Spanning from 18th century Ghana to 21st Harlem, Homegoing follows the divergent paths of two half-sisters and their descendants. Effia is married off to an Englishman and given all the privileged comforts of royalty. Esi is imprisoned and shipped off to America to become a slave. As their stories weave in and out of each other, you'll be absolutely blown away.
11. Lily and the Octopus by Steven Rowley (June 7; Simon and Schuster)
Get ready for all the feels. Ted's love life is dried up, and he spends his nights gossiping about movie stars and playing Monopoly with his dachshund/best friend, Lily. But when an octopus/tumor takes hold of Lily, what unfolds is the sweetest story you've ever read about companionship and love.
Summer is a time to shake things up, and that's exactly what Dr. Georgia Young does in this great new read from the acclaimed Terry McMillan. When restless Georgia makes some major changes in her life, she finds herself on the verge of discovering herself and discovering a new love.
13. Rich and Pretty by Rumaan Alam (June 7; Ecco)
Set in NYC, this is the story of two life-long best friends who are struggling to navigate their roles in their new adult lives. A resounding story about the demands of friendship, this book and these characters will dazzle you. Every woman will be able to relate.
14. End of Watch by Stephen King (June 7; Scribner)
A new Stephen King book just in time for summer? Could there be any better news? This is the third book in the Bill Hodges Trilogy, and it's sure to take you for a wild ride. Brady Hartsfield, perpetrator of the Mercedes Massacre, has awoken from his vegetative state... and he has some deadly new powers.
15. The Girls by Emma Cline (June 14; Random House)
Reading this book is the cool thing to do this summer. Set in Northern California in the '60s, this book follows Evie as she falls in with a group of older girls. When she suddenly finds herself in a spinning world of cults and danger, Evie is pushed towards a previously unthinkable act of violence.
16. Barkskins by Annie Proulx (June 14; Scribner)
Brokeback Mountain author Annie Proulx is delivering this masterpiece of a novel this June. The book begins when indentured servants René Sel and Charles Duquet arrive in New France to be woodcutters, or "barkskins." The story hurtles forward through the lives of René, Charles, and their descendants as they travel across North America, Europe, China, and New Zealand, eventually landing in modern times, where humanity is on the brink of ecological disaster.
17. The Woman in Cabin 10 by Ruth Ware (June 19; Gallery/Scout Press)
Fans of Agatha Christie-style mysteries will revel in this suspenseful read. Travel writer Lo Blacklock is on assignment on a small, luxury cruise. But when Lo sees a woman thrown overboard, the delights of paradise become dark and dangerous. The most terrifying part: all of the ship's passengers are accounted for. So who could that woman possibly be?
18. Vinegar Girl by Anne Tyler (June 21; Hogarth)
Shakespeare nerds, holla! Beloved author Anne Tyler's modern retelling of The Taming of the Shrew has everyone buzzing. This book is part of The Hogarth Shakespeare Project, which has been churning out one fantastic book after another, including the recent The Gap of Time by Jeannette Winterson (an adaptation of A Winter's Tale ) and Shylock is My Name by Howard Jacobson (an adaptation of The Merchant of Venice ).
19. The Last Continent by Midge Raymond (June 21; Scribner)
You've heard of people who will go for the ends of the earth for love? Well, the romance in this debut literally takes place at the end of the earth: Antartica. Deb and Keller spend weeks together working the travel and research season on the earth's most remote continent. But one year, Keller doesn't appear. When there's news of a ship in trouble, Deb must fight to save Keller.
Following a cast of characters as they each make their own way across the country to attend comic-cons, this book is the ultimate road trip read. Whether you're geeking out about all the references or simply falling in love with these characters lives, this book has all the weirdness and heart of a good con.
Teenager Lucia's father is dead, her mother is in a mental institution, and her life seems to have fallen of the tracks. She sticks to one rule, through it all: don't do things you aren't proud of. But when she discovers her school's Arson Club, Lucia is fascinated — and soon, her rule flies out the window.
22. Absalom's Daughters by Suzanne Feldman (July 5; Henry Holt, & Co)
This sparkling book combines magic and identity in breathtaking ways. This read follows two half-sisters, one black and white, as they drive through the American Deep South during the era of Jim Crow.
If you love dogs (and I certainly do), you'll absolutely fall for this delightful read from National Book Award finalist and Printz Award winner Meg Rosoff. This is the story of a New Yorker who feels stuck and helpless, and the two dogs that inspire him to lead a different life.
24. Sarong Party Girls by Cheryl Lu-Lien Tan (July 12; William Morrow)
This is a retelling of Jane Austen's Emma set in the glitzy, glamorous world of modern-day Singapore. The story of a group of girls determined to lock down rich, Western husbands, this book is filled with riches large and small for every reader.
25. Losing It by Emma Rathbone (July 19; Riverhead)
Julia is 26 years old, a virgin, and feeling absolutely stuck. So she decides to do something about it, uprooting her life to move in with her eccentric aunt Vivienne in North Carolina, where she plans to finally lose her virginity. But when Julia discovers that her aunt is still a virgin at age 58, it all becomes far more complicated for her. Rathbone approaches the idea of virginity with a keen nuance and flavor that will completely engage any reader.
26. Here Comes the Sun by Nicole Dennis-Benn (July 19; Liveright)
Nicole Dennis-Benn has delivered a really special read with this one. Set in Montego Bay, Jamaica, this book follows Margot, a young woman determined to protect her younger sister, Thandi, from a world in which sexuality must be traded for survival. But when a new hotel opens in their village, Margot sees an opportunity for independence — and perhaps a chance to finally admit her forbidden love for another woman.
27. You Will Know Me by Megan Abbott (July 26; Little Brown)
When a violent death strikes in the heart of her daughter's gymnastics community, Katie Knox must fight to hold her family together, all the while being drawn to crime itself. This is the roller coaster ride you've been waiting for.
28. Another Brooklyn by Jacqueline Woodson (August 9; Amistad)
You probably know Jacqueline Woodson from her National Book Award winning-book Brown Girl Dreaming . This story follows August as she grows up in 1970s Brooklyn, a time and place filled with danger and discovery for a young black girl. Woodson's story brilliantly explores girlhood, womanhood, daughterhood, and neighborhood.
29. When Watched by Leopoldine Core (August 9; Penguin Books)
Leopoldine Core is the author that's turning everybody's heads. These 20 stories set in NYC form an unforgettable work about sexuality, identity, and gender.
If you're looking for a dangerous, shocking, and unexpectedly touching story, this is it. Eight-year-old Wavy is the daughter of a meth dealer. When one of her father's thugs, Kellan, crashes his motorcycle and she helps him, a deep relationship blooms between them. This is a book that will shake you to the core.
31. Behold the Dreamers by Imbolo Mbue (August 23; Random House)
This debut novel is the story of Jende Jonga, who immigrated to NYC from Cameroon in 2007 with his wife and daughter. Jende lands a job as a chauffeur to a senior executive at Lehman Brothers, giving him a look into the glitzy world of Wall Street privilege. But as the story hurtles towards the 2008 recession, Jende watches as the exteriors of his employers crack and crumble, revealing the dark secrets underneath.
Images: schleichpost0/Pixabay