Where Is Meredith From 'The Parent Trap' Now?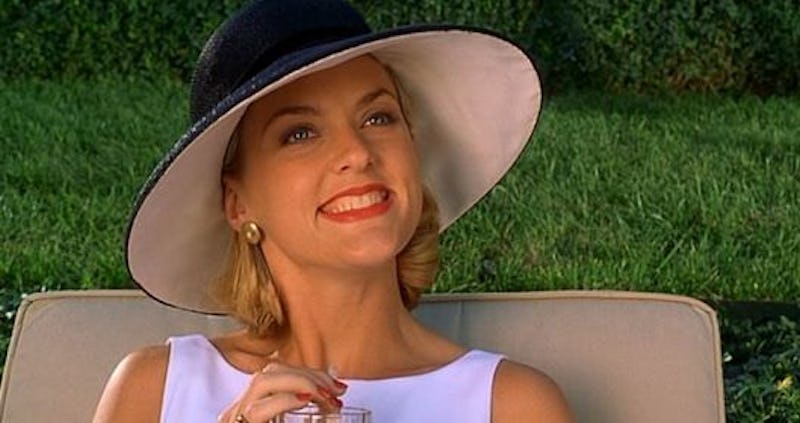 Ahem. I'd like to make a disclaimer before I begin: I do not condone any of the actions taken by the Meredith Blake character throughout the entirety of The Parent Trap remake. In fact, I hate her. Like, a lot. But there comes a time where, unfortunately, we all have to grow up. Being an adult and a professional means that I have to put personal feelings aside. Also, she's fictional, so I kind of have to get over it, or people are going to think I'm crazy and unable to distinguish between fact and fiction. Which isn't a great look. Let's get down to it: Where is Meredith from The Parent Trap now? If I had to guess without any research, I'd say that she's probs somewhere being evil.
Hey, it's a tough job, but somebody's gotta do it. To give Elaine Hendrix, the actress who played Meredith, some much due credit, she totally rocked that role. She sold it so hard that at 25, I'm still annoyed by the mere thought of her and endlessly pleased when I remember that she not only didn't get the guy, but also ended up on an air mattress in the middle of a murky lake. It's that talent that has allowed Hendrix to have a prolific career that's continued long after playing Lindsay Lohan's evil, almost-stepmother.
While Hendrix's list of credited roles is quite literally too long to type out, I'd be remiss if I didn't mention some of the standouts. After all, she isn't really Meredith, so I'd actually like to let the public know more about her accomplishments. Specifically, she has starred or guest-starred on The Chronicle, Joan of Arcadia, 90210, Fetching, Mistresses, and Anger Management. And that's not including her appearances in films such as Here on Earth, Superstar, and LA Blues.
That's in the past, though. Currently, Hendrix stars in the FX series Sex&Drugs&Rock&Roll. As if that wasn't enough, the busy actor also has a list of films lined up, two of which are set to debut in 2016. They are TCB Baby and Swing State (as well as Shot, which doesn't have a premiere date yet), according to IMDb. Earlier in the year, The Parent Trap star appeared in Boys On Film 14: Worlds Collide.
Finally, if you're still somehow sour over Meredith, then I may be about to ruin your deep-seated dislike of her. Get this: She's an activist of the animal, health, and equal rights variety. She even has a page dedicated to her activism and encouraging others to become activists on her website. She's the real deal, guys. A good egg.
She writes, "Along with creativity, 'getting involved' is my purpose … my deepest passion … my greatest pleasure. It inspires and motivates me. From animal rescue to human rights to cancer awareness — they are a huge part of my life."
Damn it, Meredith! Why'd you have to go and be so great in real life?
Images: Buena Vista Pictures; Giphy