'Bachelorette' Suitor Alex Is Quite Accomplished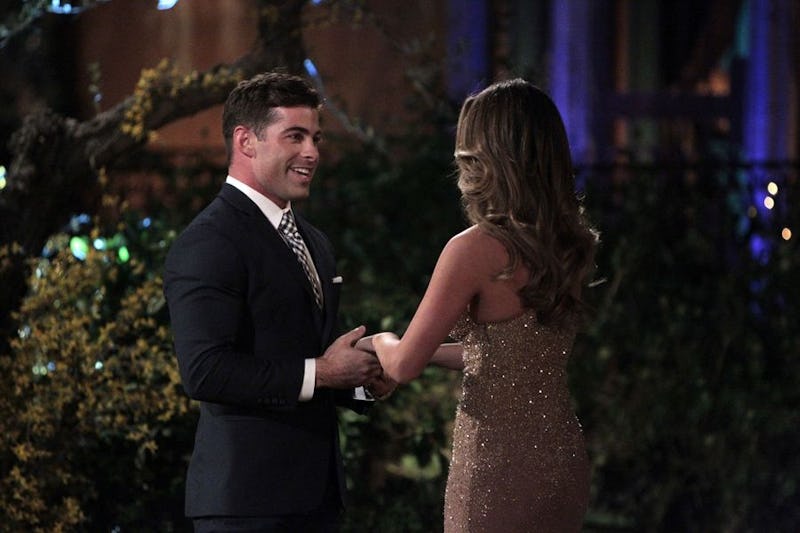 There are many truths of the first night of The Bachelorette, including the fact that there will almost certainly be a handful of truly unique limo exits, an introduction of some contestants with rather quirky professions (hipster comes to mind), and that JoJo will be forced to narrow down her pool of suitors with the help of only first impressions and a few hurried conversations. Basically, after night one, JoJo will know abut as much as viewers know about the men, which is pretty much just what comes in their ABC bios like how many tattoos they have and what their height is. So, how tall is Bachelorette contestant Alex?
According to his Bachelorette bio, Alex is 5'7" and his bio will also tell you the basics of who he is (a U.S. Marine with dreams of earning his master's degree and running a business with his brother). Alex also has tattoos according to that bio. But that's not all there is to know about this Bachelorette contestant. So, I did some digging into Alex's social media to find out why he could be a potential good match with JoJo on this season of The Bachelorette — and here's what I found.
He Admits JoJo's Amazing
In a recent Facebook post teasing the premiere of The Bachelorette, Alex simply stated that JoJo is "amazing" (and with the heart eyes emoji for added effect). This is either a sign that Alex won the whole season and he and JoJo are going to live happily ever after, or JoJo sent Alex home at some point throughout the season but he holds no ill will toward the Bachelorette. Either way, he seems to genuinely like JoJo, so that's a good sign.
He's Adventurous
Listen, JoJo's been on a date where she swam with pigs. So, if Alex has any chance of winning her over he's going to have to top that. Luckily, he seems to enjoy swimming and other adventurous activities so these two may be well-matched.
He Served His Country
Who doesn't love a man in uniform? But, seriously, his time in the Marines seems to have helped him grow and become the person he is today. Though I can't be sure, that person seems to be someone who's ready to be a good partner to JoJo.
He's Close To His Family
Alex's family appears in a lot of his Instagram posts, including his twin brother Adam, his young cousin, and his mom Loren (who, according to his Instagram, single-handedly raised Alex and his brother). So, it seems Alex spends a lot of time with his family. Of course, that could make working out a relationship with JoJo tricky since they'd both likely want to stay near their respective families, but it's something the two can surely bond over.
Based on all this, these two might be able to find a real connection this season. Stay tuned!
Images: Rick Rowell/ABC