This Is What ColourPop X Jenn Im Includes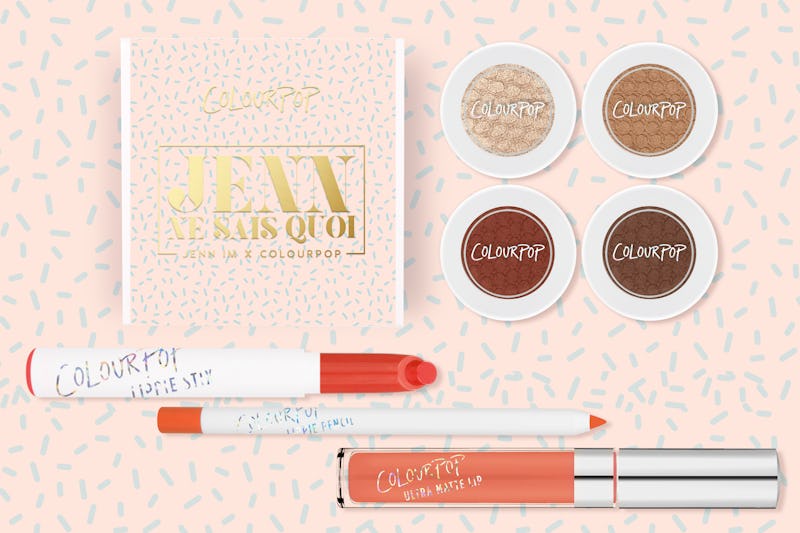 This fashion vlogger has got a certain je ne sais quoi, and she's here to prove it to you with her latest collaboration. ColourPop's teamed up with Jenn Im to bring you a collection of fun colored beauty must-haves. What's in the ColourPop X Jenn Im range? Well, allow me to explain.
The collection, dubbed, Jenn Ne Sais Quoi (how cute!) features coral lippies that are perfect for summer. But, the fun doesn't stop there. There's also an eye shadow palette that will give you a lighter-looking smoky eye that's quite fitting for the season. This collection is going to lighten up your look in all of the best ways. What I mean by that is, they'll give you a bright, glowing face without lightening up your wallet too much. Because did I mention that these products are also super affordable? Because they definitely are! See what I mean? This range is light and bright in all of the right ways!
So, if you're in the mood to rock a peachy tinted pout and swipe some neutrals across those lids this season, then this is the collection for you. The products will be available to shop on the ColourPop website as soon as May 26! So, get ready to shop the only items you'll be using for the next few months.
Yep, that's what I want my summer color palette to be right there!
1. Jenneration X Lippie Stix
Jenneration X Lippie Stix, $5, ColourPop Cosmetics
How could you say no to a coral color like this?
2. Dohee Lippie Pencil
Dohee Lippie Pencil, $5, ColourPop Cosmetics
Get the perfect pout every time using this colorful liner.
3. Dohee Ultra Satin Lip Stain
Dohee Ultra Satin Lip Stain, $6, ColourPop Cosmetics
Shiny, satin coral lips are a must.
4. Shadow In Un
This is the lightest shade in the $20 Jenn Ne Said Quad eye shadow palette. It'll perfectly highlight underneath those brows!
5. Shadow In Deux
This coppery shadow is going to pair so well with those coral lips.
6. Shadow In Trois
Sweep a little of this warm brown shade across your lid for a dramatic flair.
7. Shadow In Quatre
A deep brown in the crease of your lid will help complete your summertime smoky eye.
So, there you have it, folks, all of the makings of your go-to beauty look, in one affordable collection! Oui! Oui!
Images: Courtesy ColourPop Cosmetics (8)