'black-ish' Has A "Dyn-O-Mite" Season 2 Finale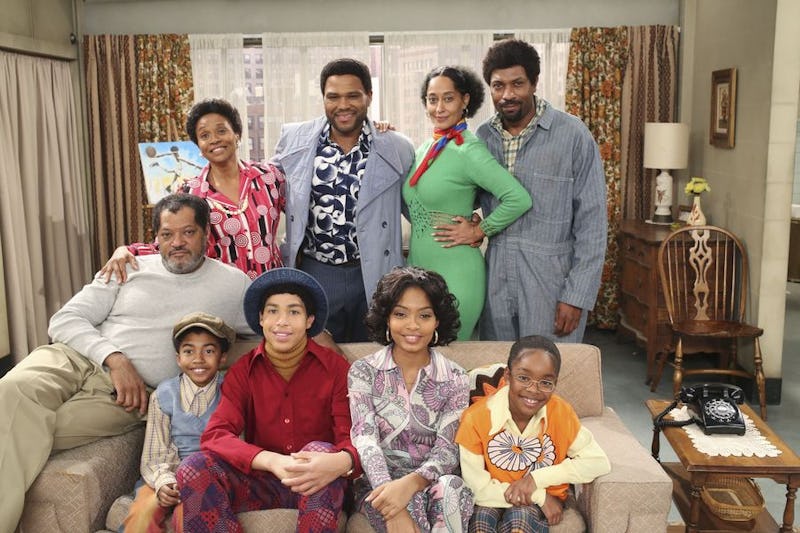 The Season 2 finale of black-ish shows just what this show is capable of, making for a confident ending to a truly fantastic season with a full-blown parody of 1970s sitcom Good Times representing Dre's worries about potentially losing his job right as Bow needs to cut back on work because of her pregnancy. While watching a Good Times marathon, Dre dreams about how his life would change if he was plunged back into the low-income status that he grew up with, and it looks a whole lot like the famous 1980s sitcom classic, with black-ish's characters standing in as the Evans family. In the dream, Dre is Keith, and he's an NFL hopeful who recently got his girlfriend, Thelma, pregnant, while she's still in school and living with her parents, Florida and James.
When Keith's football tryout is a bust, there are real consequences (the same way there would be if Dre were to lose his well-paying corporate gig). Thelma has to quit her studies, and the family is still struggling to make ends meet in their tiny apartment, set direction copied directly from the original series. But even so, they all agree that if they have to struggle, there's no shame in struggling together. And when Dre wakes up, he realizes that his real family will be by his side too.
The show's cast is clearly having a lot of fun in front of the live studio audience that's watching them "scratchin' and survivin" for the purposes of the episode. Particularly adept are Tracee Ellis Ross, who has lots of practice with the format after Girlfriends, Marcus Scribner, who gets to play overgrown weed JJ, and Marsai Martin, who just wishes she could get a pair of glasses with the right prescription.
The writers also have a great time writing classic jokes, and while they're not quite as subtle as the laughs that can be found in a normal black-ish episode, this is supposed to be a tribute to both the characters' and the show's roots — and that includes the catchphrase and charisma driven jokes of 1980s shows like Good Times. My favorite bit was that Ruby's affinity for Dre and hatred of Bow extends into the fantasy, even though Thelma is supposed to be her actual daughter.
It's similar to the Season 1 finale, where Dre had another dream, this time a fantasy of what his Prohibition-era family history must have been like. And I love that the "very special episode" is the kind of TV tradition that black-ish is keeping alive. And while they've often used their special episodes to comment on serious issues, it also works well for this comedic take. It doesn't really push the story of the new baby forward, but closing the season on a fun character exercise is A-OK after such a fantastic season.
Image: Ron Tom/ABC