Will The CW's 'Frequency' Differ From The Movie?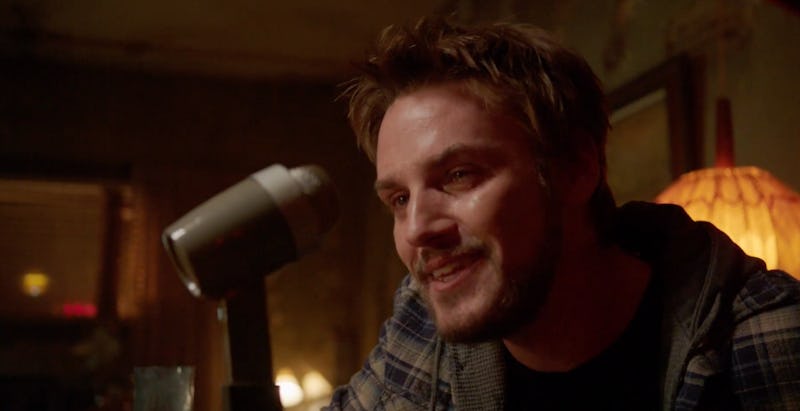 If there's one television trend that seems here to stay, it's adapting TV shows from popular movies. We've already seen it with CBS' Limitless, A&E's Bates Motel and SyFy's 12 Monkeys, and now The CW is also getting in on the game: The CW just released a "first look" preview for Frequency, a new series based on the 2000 Dennis Quaid movie of the same name. The sci-fi flick is a twist on a classic time travel story: a man named John discovers that he can communicate with his late father Frank across time via a ham radio, and in doing so, alter the past and present. John is able to save his father — a firefighter — from dying on the job, which creates a new timeline with its own series of problems. So how will the Frequency TV show be different from the film? Bustle spoke to star Riley Smith at The CW Upfronts about how the series will diverge from the original film.
According to Smith, who stars on the series as the father character Frank, the show maintains a premise very similar to the original, but won't have the exact same formula. One of the bigger differences is that the John character is played by a woman — Peyton List stars in the series as Raimy, Frank's daughter. Smith told Bustle at the CW Upfronts:
[I]nstead of a son I have a daughter and that dynamic is always different than a father/son. And then the major difference is it's a series, so it's gonna be ongoing, we're going to get to follow these characters longer, see where it would have went, could have gone. So there are differences, but the foundation is still the same.
Fans of the original film can look forward to seeing the unique device that propels the action of this time-changing mystery:
Well the HAM radio stuff is pretty much the same, in fact some of the scenes are literally almost the same dialogue. That was the most touching part for me in the movie, and it definitely was the most touching part to perform in the show.
It seems that the TV series is staying true to the heart of its source material, even though it will ultimately follow a different trajectory than the original film did. Check out the preview for Frequency below:
Additional reporting by Samantha Rullo
Image: The CW Television Networks/YouTube