'True Detective' Season 2 Becomes a Meme & Inspires Awesome Casting Ideas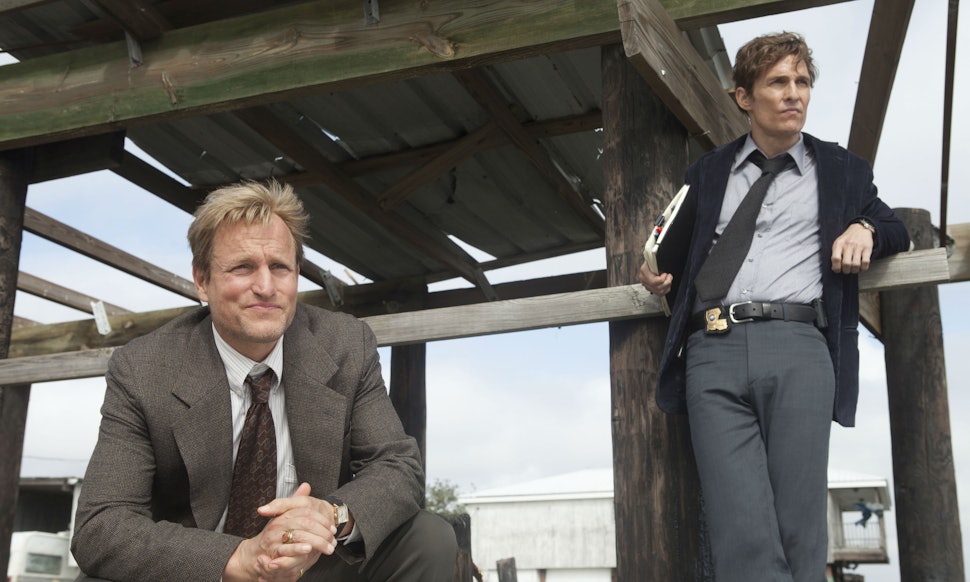 If you were watching the Olympics instead of Twitter on Thursday night — that pesky final figure skating competition always distracting you from silly Internet things — you probably missed the glorious creation of #truedetectiveseason2. Because while True Detective's inaugural season, starring Woody Harrelson and Matthew McConaughey, is ramping up to its sure-to-be thrilling conclusion, it's already time to start thinking about who HBO will cast for Season 2. After all, the series is built to get an entirely new cast and storyline each season.
And all this silliness on Twitter has got us thinking: Yeah, it's fun to think that Tina Fey and Amy Poehler could take on the series (is there anything they can't do, if you think about it?) or that Justin Timberlake and Jimmy Fallon could continue their best friendsmanship into the dark crevasses of Nic Pizzolatto's mind, but there have to be some meme-worthy duos that would actually be solid picks too. You betcha we've got some ideas that will likely never happen, but we can dream, can't we?
Image: HBO
Queens Meryl Streep & Helen Mirren
Duh. Sure, a pairing of this magnitude might cause a rip in the space-time continuum and sure, True Detective would probably have to pack up after just two seasons because its second round was just too damn incredible, but it would be worth it, wouldn't it? (Yes, yes it really would be.)
Amy Adams & Jennifer Lawrence
I can't be the only one who thought the two talented women needed their own movie after seeing them go at in their explosive American Hustle scene. And while True Detective isn't exactly a movie, it's not exactly television either (It's not TV, It's HBO — they've trained me well). These two could be amazing (again). Just think about it.
Image: Columbia Pictures
Lupita Nyong'o & Literally Anyone Else
Alright, so this slide is just an excuse to praise Nyong'o for being amazing. And yeah, we'd watch anything as long as it meant more screen time for this incredibly talented actress. So sue us.
Kate Winslet & Cate Blanchett
How could we not absolutely love this pairing? Their impeccable, intoxicating, lyrical voices would combine in such harmony, we might be forced to write a soliloquy of Rust Cohlean levels to properly praise such a well-matched detective duo. If only we could actually be so lucky.
Gaby Hoffman & Adam Driver
Can we all just agree that the insanity these two performed together on GIRLS is worthy of reprisal? Imagine the fireworks Hoffman and Driver could create as two crime-solving maniacs. Besides, Driver has to get some reward for portraying the only character on GIRLS' third season with a soul.
Image: HBO
Idris Elba & Equally Handsome British Actor TBD
Tom Hiddleston, perhaps? Benedict Cumberbatch? Or maybe — dare we even dream this big — combine Elba's commanding timbre with an Irish accent from none other than Michael Fassbender? Actually, on second thought, please don't do this, HBO. I don't think we could handle that much handsome brooding and whatever insane mystery Season 2 holds.