17 Of The Best YA Books Of June 2016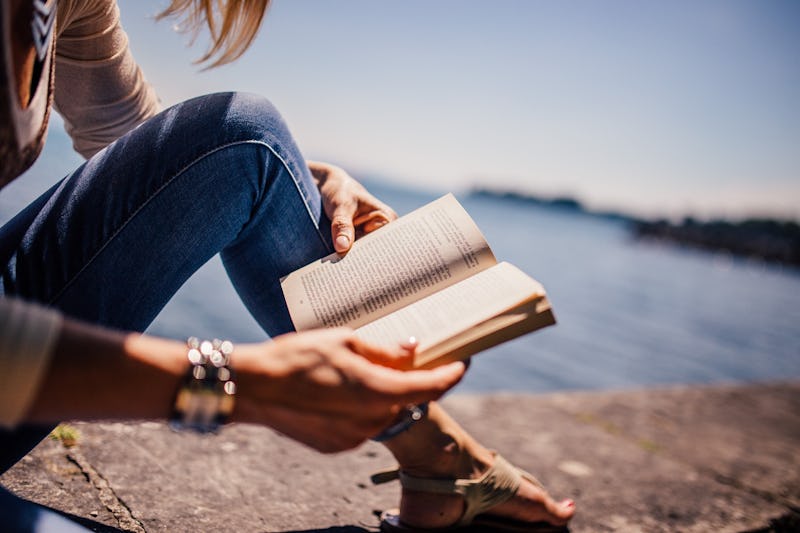 Things are starting to heat up — both with the pre-summer weather and with the YA publishing world. The temperatures are rising and so will the list of books on your TBR pile, especially once you take a look at 17 of the best YA books of June 2016.
This month, YA authors like Two Boys Kissing's David Levithan, The DUFF's Kody Keplinger, Everything Leads to You's Nina LaCour, the Paranormalcy series author Kiersten White, and the (fictional) rumored 10,000-year-old Loric alien Pittacus Lore have new YA gems to share with the world. And not to be outdone, debut authors are finally releasing some of their buzzy novels. These are the soon-to-be big names in young adult literature that you'll be able to say you knew about before their books even hit bookstores and libraries.
And just some of the places we're traveling to by reading YA this month?: A cult-like compound in the woods, the Ice Age, San Francisco's PRIDE celebration, 1550s England, a cruise ship, the Ottoman Empire, an alternative Neverland where teens never grow up, Comic Con, and an elite theater camp. There's high fantasy, heartbreaking contemporary, historical re-imaginings, eerie mysteries, X-Files-like science fiction, and first love stories. No matter what you are into, the first official month of summer is going to do wonders for your summer reading pile.
James Liddell can only be honest and spill his true feelings in the letters he writes but never intends to send. His classmates see him as the star athlete, the happy guy in a relationship with Theresa. But James knows that's not the whole truth: he isn't attracted to Theresa, no matter how hard he tries, because he's gay. Anyone who ever remembers putting on an act, a facade, for middle school or high school or college or work (or who still are as an adult) will see themselves in this story, no matter their sexual orientation.
2. The Leaving by Tara Altebrando (June 7; Bloomsbury USA Children's)
I like my summers full of eerie mysteries, and The Leaving 100 percent fits the bill. Eleven years ago, six kindergartners disappeared without a trace after they were spotted getting on a school bus together. But now, five of them have come back with no memory of what happened to them, only strange feelings of who they were and their bonds together. But it's not just those five who are struggling with their return; the people who were left behind, their siblings, their friends, and their parents all are having their world upended. And the family of the boy Max, who didn't return, have a lot of questions.
3. The Cresswell Plot by Eliza Wass (June 7; Disney-Hyperion)
The Cresswells are the outcasts in their high school. Castley and her siblings Caspar, Mortimer, Hannan, "Baby J" Jerusalem, and Delvive are under the spell of their cult-leader-like, abusive father. They live deep in the woods, and were taught to believe that their time on Earth would be short, that their true place was in heaven, that they are bound together forever, every sibling marrying another. But after police force the Cresswells into a "normal" high school, each sibling reacts differently to the unknown, outside world.
4. With Malice by Eileen Cook (June 7; HMH Books for Young Readers)
Jill Charron doesn't remember that accident that put her in the hospital — the one that killed her best friend Simone. Her wealthy father whisked her away from her school trip in Italy after the accident and quickly employed a lawyer and a public relations team for Jill. But Jill is still trying herself to piece together what happened in this page-turning psychological thriller. Meanwhile, the Justice for Simone campaign is digging in to what happened, and readers get to check out not only their blog posts, but police transcripts, text messages, social media comments, and even TV episodes of the Dateline-esque Crime Watch.
5. Lucky Few by Kathryn Ormsbee (June 7; Simon & Schuster Books for Young Readers)
First of all: I need this book cover as a giant framed print on my wall. Second: You have got to read this sweet, quirky (and yes, diverse!) novel about three misfit teens. There's home-schooled Stevie Hart and her BFF Sanger, who happens to be bi-cultural and the child of a lesbian couple. The friends' world is all shaken up when they meet Max, the new boy in the neighborhood with a quest to fake his death in 23 different ways after surviving a near-fatal accident. But the "faking" starts to be questioned as Stevie falls for Max, and things come tumbling down when Sanger announces she is moving and a real death hits them hard.
6. Ivory and Bone by Julie Eshbaugh (June 7; HarperTeen)
Ivory and Bone takes readers to a mostly untapped world for its fantasy series kickoff: prehistoric, Ice Age Earth. Oh and Austen lovers take note: The premise is loosely tied to a gender-flipped Pride and Prejudice. Set in the times of hunting and gathering, Julie Eshbaugh tells the story of Kol, the eldest son of a clan who meets Mya when a group of unmarried women are paraded into their home for the men to choose from. However, Mya's quick and fierce rejection leads Kol to Lo, the daughter of another clan. However, hints abound that Mya and Lo's two clans have a bitter and violent history that's about to bubble up to the present again.
7. American Girls by Alison Umminger (June 7; Flatiron Books)
Fifteen-year-old runaway Anna researches the Manson Girls and finds parallels between herself and the infamous "lost girls" of L.A. in the late '60s in this smart, poignant novel. Fed up with her life at home, Anna steals her mother's credit card and runs away to Los Angeles to move in with her actress half-sister. There, she gets a gig researching Charles Manson's female followers for a movie. Told from Anna's POV, readers delve into this dark U.S. history with her, and we see how this era still influences our culture.
8. You Know Me Well by Nina LaCour and David Levithan (June 7; St. Martin's Griffin)
Two YA titans team up to tell You Know Me Well in alternative points of view. Though Mark and Kate have set next to each other for an entire school year, they've never spoken. So it's surprising to everyone when the two form an unshakable bond in the middle of the night, quite by serendipity. Kate sees Mark at a Pride celebration in San Francisco, so they team up to spend a meandering, magical evening together. The two are each struggling with their own romantic lives: Mark is pining over his closeted crush, and Kate's nerves block her from meeting up with Violet. These and more emotional truths are cut open as Mark and Kate open up to each other.
9. My Lady Jane by Cynthia Hand, Brodi Ashton, and Jodi Meadows (June 7; HarperTeen)
Teenage Lady Jane Grey's reign as queen of England only lasted nine short days, but that's plenty of fodder for Cynthia Hand, Brodi Ashton, and Jodi Meadows to re-imagine her story in this quirky, hilarious novel. "Bloody" Mary I, in real life, had Jane and her marriage-of-political-convenience husband executed for high treason, but in this retelling of history, Jane and Gifford Dudley escape using their magical abilities to shapeshift into animals. And that's just the start of this totally oddball, modern-pop culture-referencing story that gives new magical life to the history books.
10. The Loose Ends List by Carrie Firestone (June 7; Little, Brown Books for Young Readers)
Her beloved Gram's unexpected terminal cancer diagnosis shakes up 17-year-old Maddie's summer plans. Instead of hanging with her best friends pre-college, Maddie embarks on a two-month cruise with Gram and her entire extended family for one last hurrah, per her fun-loving Gram's orders. Maddie bonds with her boisterous, dysfunctional family as they travel around the world, and basically you'll wish you were traveling with her, despite the sad circumstances. And it wouldn't be summer without a little romance, so of course Maddie falls for fellow passenger, Enzo.
11. The Geek's Guide to Unrequited Love by Sarvenaz Tash (June 14; Simon & Schuster Books for Young Readers)
Sarvenaz Tash writes a love letter to fan culture in The Geek's Guide to Unrequited Love. The titular geek is Graham Posner, a comic book nerd who's fantastically in love with his best pal and next door neighbor Roxana "Roxy" Afsari. So when he finds out that Roxy's favorite comic creator will be at Comic Con, Graham decides he must score tickets and bring her, so he can have the perfect backdrop when he expresses his true feelings. This totally fun, totally relatable story will appeal to fellow geeks, but it won't alienate people who don't have much comic book knowledge.
12. Look Both Ways by Alison Cherry (June 14; Delacorte Press)
Look Both Ways is as much a first-love story as it is a story about finding yourself and your own place in the world. Brooklyn Shepard scores a coveted theater apprenticeship at the famous Allerdale Playhouse, but she still can't seem to move out of the shadow of her actress mother. Her roommate Zoe, meanwhile, is thriving, earning the lead role in their production and already prepped to enrol in Juilliard. Brooklyn and Zoe's tight friendship starts to blossom into something more romantic, which goes against everything Brooklyn thought she knew about her sexual orientation and her identity. And there's something about exploring outside your destined path that makes Brooklyn come alive.
13. Mirror in the Sky by Aditi Khorana (June 21; Razorbill)
After a mirror planet is discovered, teenagers down on Earth start to question their own life paths. This new alternate Earth, Terra Nova, makes teenager Tara question whether there's another Tara up there in the universe, making different decisions and choosing different roads for her life. Is she living a better life on Terra Nova than on Earth? This scientific discovery starts to cause small shifts in the world on Earth, people start acting a little differently, and Tara even starts to get attention from the most popular boy at her elite school. Aditi Khorana tells a stunning, quiet story that raises the big questions about life and identity.
14. Never Ever by Sara Saedi (June 21; Viking)
Peter Pan is hella hot this year, but Sara Saedi takes a unique spin on the classic story. Set in modern day, Never Ever follows our Wendy stand-in Wylie Dalton as she meets our Peter Pan, Phinn, and is whisked away to a magical, tropical island off the coast of New York. Wylie is happy to be disappearing from her life; her brother is headed for juvie the next morning, and now she can escape this fate and all of her real-world responsibilities. But this "Neverland," where no one ages past 17, has its own secrets and inner machinations that will cause Wylie to question staying.
15. And I Darken by Kiersten White (June 28; Delacorte Press)
Kiersten White's new series kicks off with And I Darken, which imagines an alternate history where Vlad "The Impaler" Dracul (aka Dracula) is instead Lada Dragwlya, a woman. This is your ultimate anti-hero story. Lada is the opposite of her kind younger brother Radu; she is brutal and vicious and angry, and she wants nothing more than to rebel against her upbringing in the Ottoman courts, where she was raised after her father abandoned them. But Lada is also a feminist of her day, and she is attracted to the Ottoman sultan's son and her childhood best friend, Mehmed, because he treats her as an equal in power, which causes a further rift between Lada and Radu. This series opener will certainly leave you begging for more.
16. Run by Kody Keplinger (June 28; Scholastic)
The DUFF's Kody Keplinger takes a different look at female friendship in Run, a story of two best friends who go on the run together. While legally blind Agnes Atwood has always played by the rules, her best pal Bo Dickinson has a wild reputation, a deadbeat dad, and an addict mom. But reputations don't always speak the truth. So when Bo climbs into Agnes' window as police sirens trail her, Agnes doesn't hesitate to help her steal a car and run away, starting a search for her father.
17. United As One by Pittacus Lore (June 28; HarperCollins)
The fictional Pittacus Lore (and real author James Frey) drop the latest I Am Number Four novel, United as One, this month. The Mogadorian invasion has already begun on Earth, and human teens are developing their Legacies — special powers — in a last-ditch effort to save their planet. This science fiction epic already has legions of devoted fans, but if you're not one of them, you officially have a month to catch up on the first six books. Don't worry, they're page-turners.
Image: StockSnap/Pixabay