Before 'Nancy & Tonya' Documentary Airs, Find Out If You Can Tell These Facts from Fiction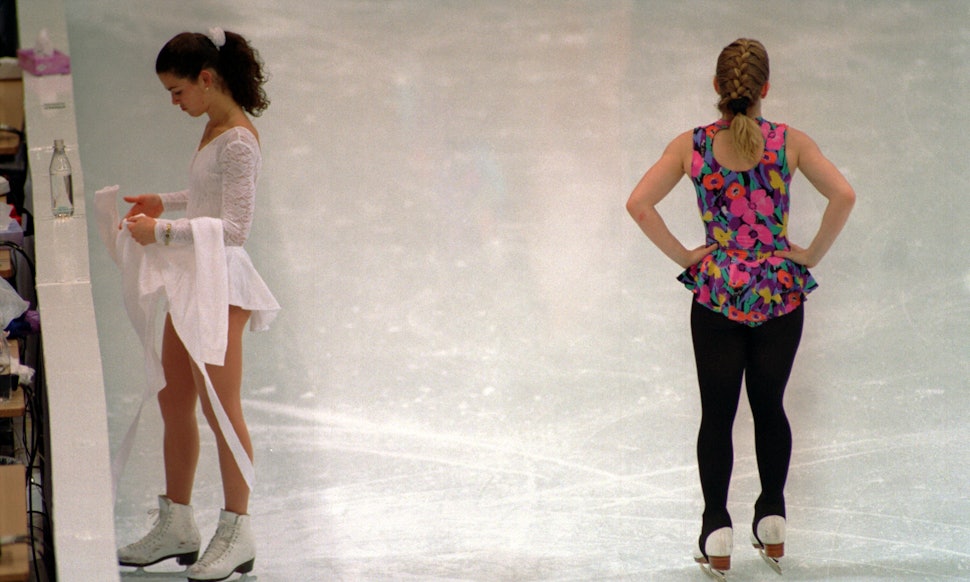 Pascal Rondeau/Getty Images Sport/Getty Images
Oh boy. Twenty years after the violent controversy that shook the figure skating world, NBC is going to air a retrospective documentary about Nancy Kerrigan and Tonya Harding. The two were competitive rivals in the early 1990s and in 1994 Kerrigan was viscously clubbed in the knee during the US Figure Skating Championships. The attack was orchestrated by Harding's ex-husband Jeff Gillooly (who now goes by the name Jeff Stone).
The documentary Nancy & Tonya, which airs on NBC this Sunday at 7 p.m. EST is going to be juh-uicy as Kerrigan rarely speaks out about the the events that transpired in 1994. It will be be interesting to hear the story from her perspective after having so much time to process and move on.
Since two decades have passed since the scandal, a lot of facts have been scrambled and accusations have been hurled. So! Here's a little fact or fiction refresher on the story to get you prepped for Sunday.
Nancy Kerrigan's Career Was Ruined by the Injury
Fiction: Kerrigan made an amazing seven-week recovery after her attack. She also went on to win Silver that very same year at the Lillehammer Winter Olympics. And she still makes appearances on the ice today.
Nancy and Tonya Are Still Rivals
Fact: Well, sort of. In 1998 the two appeared together in a special called Breaking the Ice in which Harding kiiiiiiind of apologized to Kerrigan. It was quite obvious that Kerrigan was far from forgiving and to this day Harding is highly defensive about the scandal.
Tonya Harding's Ex-Husband Did it
Fiction: It wasn't actually Harding's ex-husband Jeff Gillooly who attacked Kerrigan. His associate Shane Stant was the one who ran onto the ice and clubbed Kerrigan on live television. Both men along with another accomplice Shawn Eckhardt were arrested and imprisoned for the crime. They were also caught before another planned attack at Kerrigan's home could occur.
Tonya Harding Got Away Scot-Free
Fiction: Ohhhh how un-true that little rumor is. Harding was stripped of her National figure skating title and was permanently banned from the sport by the US Figure Skating Association. Sure, she's appeared on various reality TV shows (including Celebrity Boxing) and plenty of interviews, but she certainly hasn't had an easy go of it. Harding has more or less been completely disgraced by the scandal.
The Media Fueled Their Rivalry
Fact: Yes, these two were fierce competitors going head-to-head at the height of figure skating's popularity, however, much of the narrative surrounding their story was constructed. They were pitted against each other on a more personal level for mostly arbitrary and made-up scenarios. But since the attack, Kerrigan has remained quieter on the subject while Harding has attempted to tell her side of the story dozens of times from E! True Hollywood Story to Nancy & Tonya.