'The Bachelorette' Throws It Back With All-4-One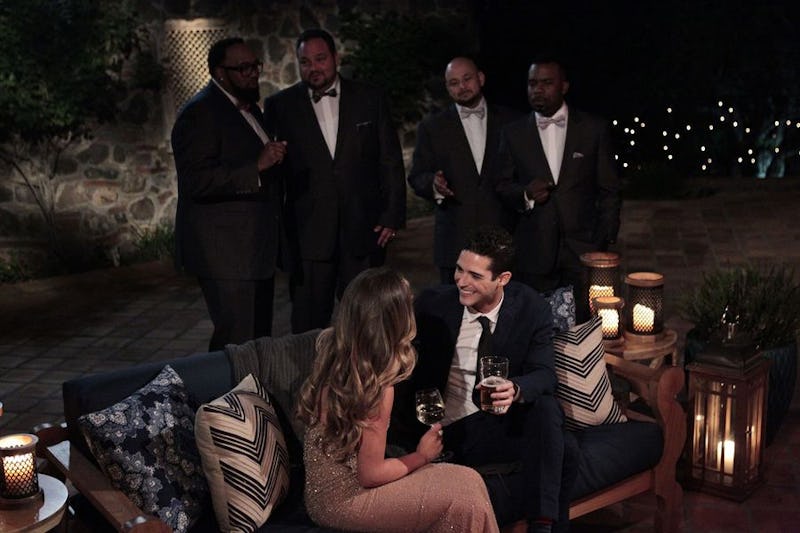 The first episode of The Bachelorette is all about those first impressions. The choice to go romantic or goofy is crucial, nay, vital to your survival of the show. So I'm curious as to how All-4-One's appearance on The Bachelorette is going to go over with JoJo, because that's an incredibly risky move.
According to the official ABC press release for the season premiere, "a DJ brings a classic R&B group, All-4-One, to serenade her." It looks like they're performing a capella, as well. Everyone likes harmonized singing, right? What could possibly go wrong? So much! There are so many factors at work here that I'm already stressed out about this. I suppose that if you're on The Bachelorette there's no need to worry about JoJo not liking the attention of a public serenade, but sharing the spotlight with performers could still backfire pretty easily.
Who is All-4-One? Even if you don't recognize these men when they appear in the episode, I guarantee that you've heard them before. Let me catch you up. All-4-One is an all-male R&B group from the early 1990s. To get you amped for what should, hopefully, be a sexy 90s throwback, here is the group in action.
"I Swear"
If you've ever heard any All-4-One, this is the song you've heard for sure. This is their biggest hit, even though it's technically a cover of a country song. It should invoke awkward Middle School slow dance feelings, even if that means your school's DJ was throwing it back a bit.
"I Can Love You Like That"
This was another country song by the same artist, John Michael Montgomery, that All-4-One popularized. It's
"Someday" from The Hunchback Of Notre Dame
YES. One of the best things about the Disney movies of the 90s was the hip singles that accompanied them. My personal favorite will always be Mulan's "True To Your Heart" by 98 Degrees & Stevie Wonder, but this is a close second.
"Smile Like Mona Lisa"
Everyone stop what you're doing and watch this video right now. These screen saver graphics are doing the most.
"She's Got Skillz"
Even if you're not the Bachelorette, make this song your daily aspiration.
"So Much In Love"
This was All-4-One's first single, before "I Swear" solidified their hit status.
"Baby Love"
Let's close on this song, which is super light fun. This is the single off of All-4-One's 2015 album Twenty+, which was released in 2015. Hopefully their Bachelorette appearance goes smoothly and doesn't hurt the chances of the suitor who called them!
Image: Rick Rowell/ABC