Hanna & Jordan Could Still Have Their Wedding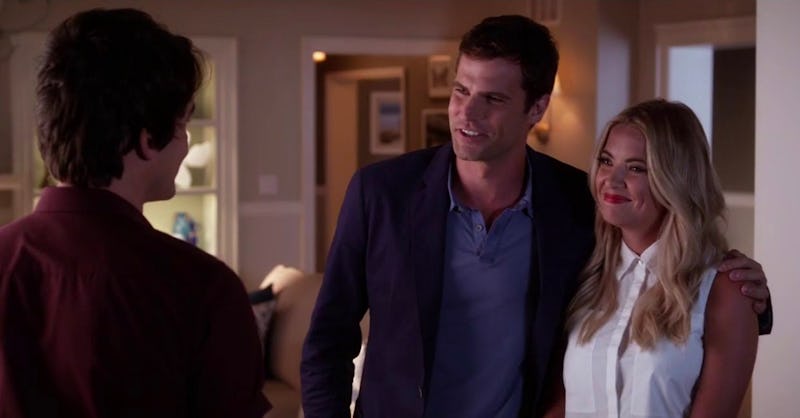 If your heart didn't break into a million pieces when you saw that Hanna was engaged to someone who wasn't Caleb five years after the Big A reveal, then you are probably dead inside. After all, Haleb wasn't just any couple on Pretty Little Liars — they were the couple. Alas, Hanna's high-stress fashion career and Caleb's disinterest in her new "world" eventually broke these two apart, and caused them to seek romance elsewhere. For Caleb, it was with Hanna's BFF Spencer, which, naturally, has taken fans some time to adjust to. However, while Spaleb is a hardcore "thing," it's Hanna who is now engaged to Jordan, an Australian dude whose worst quality is that he's not Caleb. Will Hanna really marry Jordan? According to showrunner I. Marlene King, there will be a wedding in Season 7 of PLL , but even if it is Hanna and Jordan's, Haleb shippers shouldn't lose hope.
King teased that there is a wedding coming up in what could be the final season of PLL, but neglected to mention which Liar is involved in the upcoming nuptials. Of course, given Hanna's engaged status, it's fairly likely that she'll be the one making wedding plans — though I'm not entirely sure that Hanna will be saying "I do" at the alter. Why? Well, King's tweet teased something that could suggest that life has bigger plans for Hanna than marrying Jordan:
King's hashtag #MostRomanticSeasonEver could definitely refer to an uber romantic wedding, but it could also suggest something else entirely. We know that Hanna plans to marry Jordan, but we also know that her feelings for Caleb are still strong — and that the feeling is mutual. Caleb and Hanna kissed in the Season 6 finale, despite Caleb and Hanna being involved with other people. Could Hanna decide to put her feelings for Caleb aside in order to give Spencer a fair shot at the relationship? It's quite possible that Hanna chooses to marry Jordan in part to protect Spencer's feelings — which could lead Caleb to pull a move that is straight out of a romantic comedy.
Interrupting a wedding to confess your love for one of the betrothed might not be an ideal scenario (I mean, it's certainly not the nicest thing to do) but it definitely would rank pretty high on the romance scale. If Hanna does decide to wed Jordan, her nuptials might be just the thing to make Caleb realize how much he loves Hanna. Having Hanna marry Jordan would basically mean losing her forever, and considering that most of us wouldn't want to live in a world where Haleb isn't endgame, that simply can't happen.
Ultimately, I really don't think fans should worry about a Jordan/Hanna wedding. Even if it happens, it could put Haleb one step closer to getting back together. Fingers crossed that the most romantic season ever is the one that puts Hanna and Caleb back where they belong.
Images: Freeform; Giphy