7 Beautiful Harry Potter Collections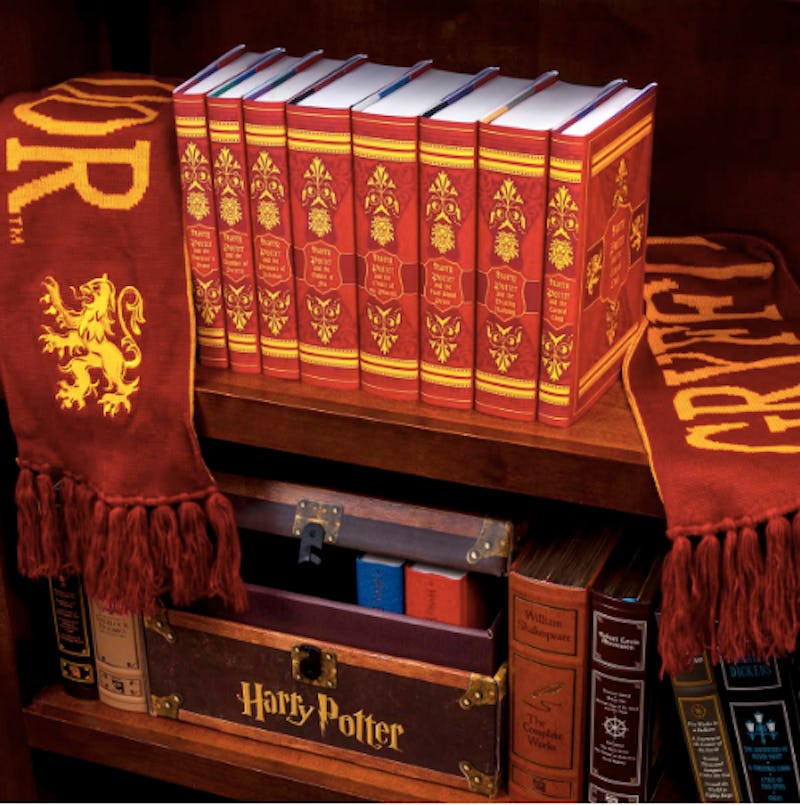 I don't like knick-knacks, and I've never been much of a collector, but I do hoard books. They're stacked on shelves, clumped in piles around my room, and basically take up every nook and cranny I have available. And even though I have an entire shelf of books to read, I still can't resist the siren song of the bookstore.
I can't help it — I love new books. I love the smell, the crackling of fresh pages, the glossy covers, and the beautiful writing. I love finishing a book and then choosing the perfect place for it on my carefully ordered bookshelf (ahem…bookshelves…). Maybe e-readers are convenient, but they can never replicate the love I feel when I see a colorful, well-organized shelf.
If you're a book-lover, you probably know exactly what I'm talking about. And if you can't stop collecting books, you've probably felt the tug on your heart (and wallet) when you see a beautifully designed cover for one of your favorites.
Of course, you would never judge a book by its cover, but as for the books you know and love, you naturally want the covers to reflect the treasure inside. And for Harry Potter fans looking for some beautiful collections to grace their shelves… the following sets definitely do this great series justice.
This beautiful collection from Juniper Books is available in four different designs: Gryffindor, Ravenclaw, Slytherin, and Hufflepuff. I received the Gryffindor set as a gift, and can personally attest that it is just as beautiful in person (and on a bookshelf) as in the picture.
The illustrated edition of Harry Potter and the Sorcerer's Stone came out just in time for the holiday season, and now Harry Potter and the Chamber of Secrets has been released as well. That means it's time to start collecting the beautiful illustrated versions! With gorgeous artwork throughout, this book is also different from your other HP books, so you can justify buying yet another copy of Sorcerer's Stone and Chamber of Secrets. You can find the illustrated editions for sale from Barnes & Noble.
This set is the perfect addition to your bookshelf, because all of the books' spines match up to form a picture of Hogwarts. Just don't lose any from the series... You wouldn't want the Hogwarts castle to be missing a tower or two! Kidding, kidding... of course you would never misplace your Harry Potter books. You can buy this collection from Scholastic.
When I was in London, I fell in love with the British covers of Harry Potter. It was so fun to see new artwork, and I immediately wanted to collect them all. While I love the traditional US covers, these Bloomsbury covers were fresh and enchanting and metallic. Plus, they say "jumper" instead of "sweater" inside — an added bonus. You can order them from Bloomsbury.
Bloomsbury has several box sets of Harry Potter, but this children's hardcover version is truly beautiful. The bright red box will immediately catch your eye, especially if you're a Gryffindor at heart and can't resist the scarlet house color. Give it as a gift to a kid who has yet to discover the magic of Harry Potter... or, of course, keep it for your bookshelf!
Yet another beautiful set from Bloomsbury: the adult paperback set is a modern and sleek version of Harry Potter. If your aesthetic is minimalist, this set is the perfect design for you — and the color scheme would look perfect on a shelf full of bright and modern books.
This gorgeous box set includes Quidditch Through the Ages, Tales of Beedle the Bard, and Fantastic Beasts and Where to Find Them. If you already own the Harry Potter series, but you still want to add to your collection, this box set is the perfect pick to round out your shelf. Plus, you need to catch up on Fantastic Beasts before the film comes out this year! Buy the box set from Barnes & Noble.
Image: Juniper Books