Is Jordan On 'The Bachelorette' For Fame?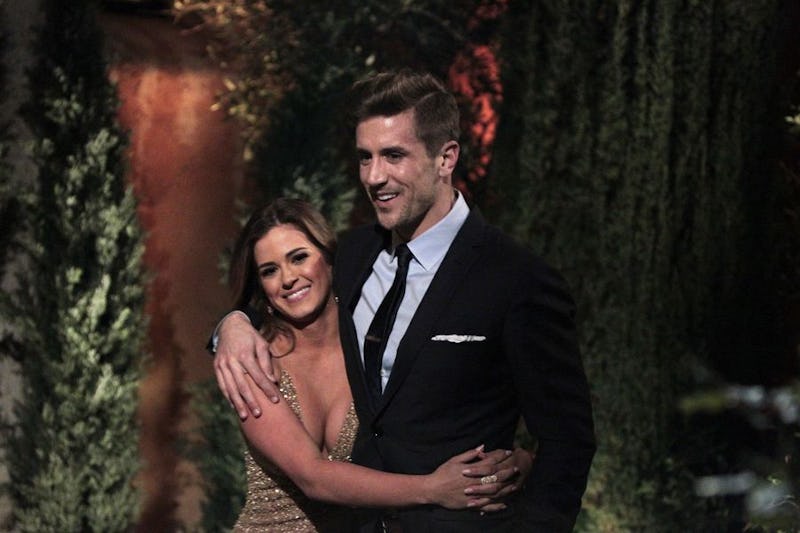 "The right reasons": A phrase and a topic of debate that inevitably comes up during every season of any Bachelor franchise show, and this season of The Bachelorette is not going to be an exception. The standard definition of "the right reasons" is usually going on the show for love and love alone, but that's obviously not the only reason people sign up for a gig like this... and sometimes, they can be pretty sneaky about it. But is JoJo's First Impression Rose one of those people? In the promo for the season ahead that aired after Monday night's premiere, it seems like Jordan could be on The Bachelorette for fame. So is he?
If you caught the first ep of JoJo's season, you already know she and Jordan hit it off right off the bat. With their first kiss already under their collective relationship belt, either he's a really good actor or he is genuinely into JoJo. But, he can have chemistry with her and use the opportunity for fame rather than love at the same time, and since it's happened before in past seasons, it's hard to totally discount that possibility, especially after hearing what the other guys have to say about him in the trailer. Yeah, um, they don't like him.
But does Jordan really need fame? He was already a pro football player, and his brother is Aaron Rodgers. Couldn't he obtain even more spotlight in other, less emotionally taxing ways? The other dudes in the mansion aren't convinced that his intentions with JoJo are pure, and it sounds like they're definitely going to call him out for it.
"Jordan, superstar. obviously came here for fame and fortune," one guy says in a voiceover. Then, Robby adds, "The best thing about Jordan is his brother. The worst thing about Jordan is that he's not his brother." Ouch!
It's obviously too early to tell exactly what will go down, so for now, I'm giving him the benefit of the doubt. Maybe it's because of his instant connection with JoJo, or maybe it's his fabulous hair, but there's something about him that makes me want to like him. Don't let me down, Jordan! I can't handle that kind of heartbreak for JoJo twice!
Image: Rick Rowell/ABC